When Yelp inc (NYSE:YELP) IPO was announced, Seeking Alpha contributors scoffed at the company's future prospects. Many believed the IPO pricing was too high, that shareholders should prepare for a collapse, and that Yelp made for an attractive short. Well it has been two years and Yelp has defied the odds. Yelp ended up well above its expected $15 IPO pricing opening at $22 a share and has kept on running.
Price/Cash Flow: 506.4
Price/Sales: 16.58
Price/Book: 9.45
EV/EBITDA: 436.94
Market Cap: $5B
Revs TTM: $300M
But I'm not here to defend Yelp's valuation. In fact, I'm here to talk about it's competition.
I love using Yelp. But one thing that has always bothered me about the company is that I spend so much time helping a business out but get nothing in return. This was exactly the same thought process that Alex Haditaghi had when he came up with the concept of MoPals (OTCPK:PALS).
MoPals: The World's First Crowd-Sourced Loyalty Program
Don't worry if you haven't heard of MoPals. It is a tech start-up from Toronto that only recently launched its iOS loyalty and rewards platform in North America.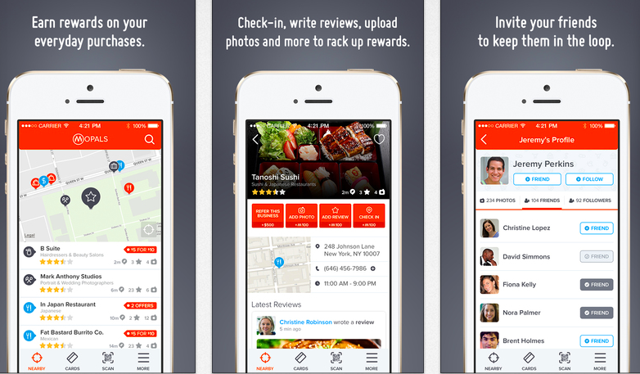 MoPals is a loyalty rewards application that gives members something back for their feedback and social media interactions. Members earn "MoCoins" for all the things they normally would do with social media apps like "checking-in" or "writing a review." Members also can earn rewards for making purchases online. There are many businesses that are already part of the MoPals network.
What can you get with MoCoins? Pretty much anything: clothes, gift-cards, gadgets, you can even get a Emmo GT5 Electric Scooter right now for 79,000 MoCoins or your very own MacBook Air 13.3 for 80,000 MoCoins. That's the equivalent of $100 each.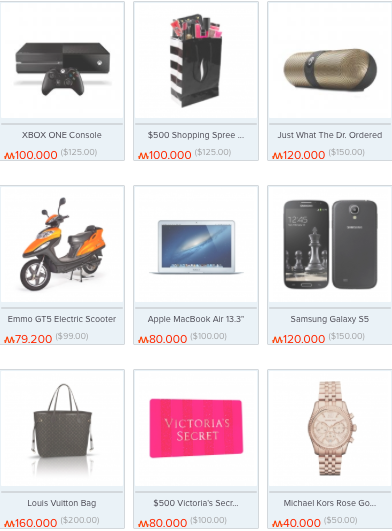 MoPals prides itself in its "Big Data-driven IQ Engine" that it believes "allows businesses to identify key consumers and their behavior, attract new customers and convert existing customers into loyal customers." MoPals expects to earn revenues from business subscriptions who wish to receive ongoing consumer data as well as taking a percentage of promotion-based sales from participating businesses"
MoPals recently received a prestigious COLLOQUY award as the "loyalty program to watch." Three other companies were presented with awards: Tesco, Bloomingdale's, and Starbucks. COLLOQUY is considered the go-to resource for "loyalty-intelligence since 1990."
Risks
MoPals is still in its early development stage and still does post revenues. MoPals 2.0 App was launched in July 2014 and does not seem to have active users. It may take months, even years, before MoPals becomes mainstream.
MoPals also trades on the OTC-Link exchange, which makes it volatile and illiquid. I took a very small position, seeing very high risk/reward prospects. Worse case scenario, it may end up just never catching on and the stock will be worthless paper. But there is the off-chance that the concept will become popular with users and grow into something big. If you add up all the reviews you've written or places you have checked-in, you might have already earned yourself a new laptop.
Conclusions
MoPals is still in its development stage and presents numerous risks. Nevertheless, it is a novel concept and it could become popular. Because the company is not recording revenues, it remains extremely difficult to value. It is something to keep on your radar.
Depending on the success or failure of MoPals, it also presents Yelp investors an interesting opportunity. If MoPals is able to aggressively penetrate the social media market, it might rattle Yelp's already astronomically high valuation. If MoPals' concept of essentially paying members to use its services cannot sway the Yelpers who essentially do all of the same work but for free, then the Yelp short-sellers may have to rethink their strategy. In essence, I believe MoPals will test just how solid Yelp's social media platform is. If MoPals can capture market share and even take users away from Yelp, then Yelp investors may want to kiss that $5B market cap goodbye.
The Yelp shorts may have been right all along since Yelp's concept can essentially be duplicated and improved. Should investors be concerned?
Disclosure: The author is long PALS.
The author wrote this article themselves, and it expresses their own opinions. The author is not receiving compensation for it (other than from Seeking Alpha). The author has no business relationship with any company whose stock is mentioned in this article.
Additional disclosure: The author may initiate a short position in Yelp in the next 72 hours. The information in this article should not be considered a solicitation, offer or recommendation for the purchase or sale of any securities or other financial products and services discussed herein.