Stock Promotion Goes Awry
Please Note: Blog posts are not selected, edited or screened by Seeking Alpha editors.
Summary
Widely followed Pink Sheet stock promoters' latest alert, Data Call Technologies, goes sour within minutes.
Some ex-followers have lambasted the promoters as having not acted in good faith by essentially leading said followers as one would lead a 'sheep to slaughter.'.
Red flags about the promoted company raise concerns.
Stock promoters are becoming more creative in how they pump penny stocks. A couple of penny stock promoters that go by the names "Silk Dynasty" and "Big Blankenship" alerted their followers on Facebook of their newest 'pick.' Within one minute and twenty seconds after the alert, DataCall Technologies (OTCPK:DCLT), the stock jumped from .007 to .013 a share, or 86%. However the stock closed right back at .007.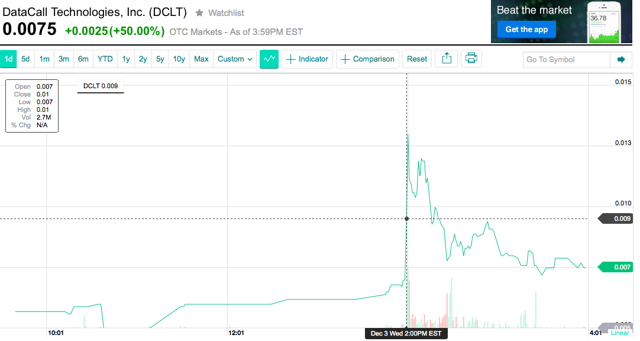 Source: Finance.yahoo.com
Within minutes of the 'alert', roughly 10 million shares were traded. By the end of the day, 46 million shares exchanged hands. Consider that in one year, the total number of shares that have been traded is roughly 40-50 million. In other words, the equivalent of a ticker's entire year's worth of volume occurred within the span of two hours. That's extremely impressive but also a huge cause for concern.
The reason I felt compelled to cover this particular alert is due to ostensible influence the promoters seem to exert as well as the pervasive resentment held by many against these two.
For instance, criticism has been waged that the orchestrated alerts are nefarious in nature, such as being 'front-loaded' as well as 'pumped and dumped':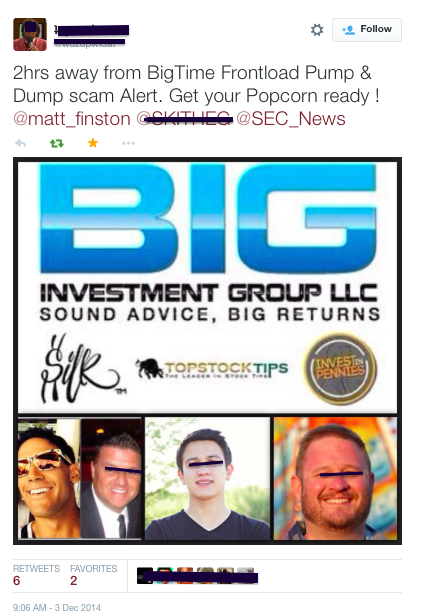 While I cannot speak to the legality of their promotional efforts, the simultaneity of both price and volume appreciation the very moment the 'alert' was announced is hard to ignore.
The two have a considerable number of social media followers on Facebook, iHub, and Twitter. Whether or not all of their followers are legitimate is debatable. Nevertheless, it stands to reason that their alerts do have considerable impact, generating a lot of volume as well as immediate price appreciation.
Some of their followers however have intimated that they might be stuck in some tickers that they have alerted such as New World Gold Corp (OTC:NWGC), Solanbridge Group Inc (OTC:SLNX), Marani Brands Inc (OTC:MRIB), or NanoTech Entertainment (OTC:NTEK). Each sharing some common features: pink sheets, illiquid, and trading near subpenny range.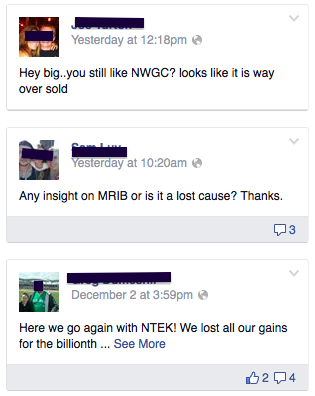 Now, no stock analyst can pick winners every time. In fact, according to stock analyst aggregator website tipranks.com,
86.5% of analyst recommendations are "BUY", they are wrong 50.2% of the time."
While there is no way to know whether they purchased shares prior to the promotion and dumped immediately after promoting, in a letter to their followers they stated:
"1.). We absorbed two large sellers today. Confirmed to holders who had been holding for over a year one with 5MM shares and the other with 3.7MM. They both sold out today."
Oddly specific. Two sellers. And a total 8.7 million shares dumped. How could they know that kind of information?
When I asked one of the promoters whether he had sold into the promotion, he was very adamant that he did not and even added that all of this was simply above my comprehension level.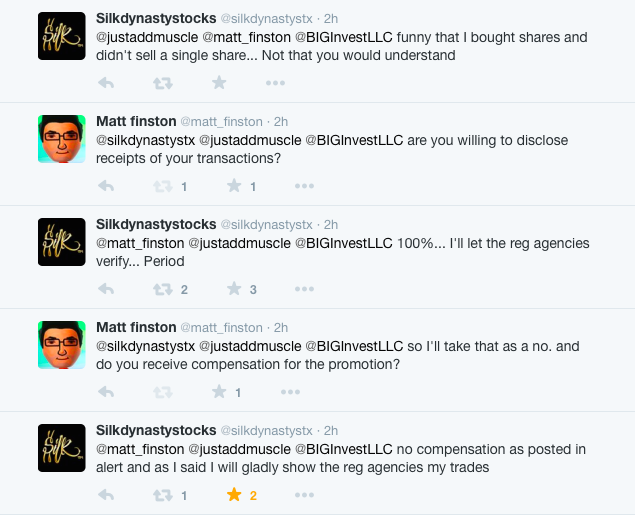 Let's assume that both "Silk" and "Big" alerted their followers of this company because they sincerely believe it has superb fundamentals.
The company's primary business operations involve "digital signage" aka an electronic sign. Rather than having to replace a poster every couple of weeks/months, the content of the sign can be electronically changed.
So, the business sounds interesting. But according to some sources, the digital signage business actually has historically made for a poor investment due to lackluster growth and poor ROI.
After doing some due diligence of my own I discovered several red flags:
1) As mentioned previously, the illiquidity suggests that it will be very difficult to sell this particular ticker.
2)It would appear that the CEO of the company, Timothy E Vance, voluntarily filed for bankruptcy in 2002.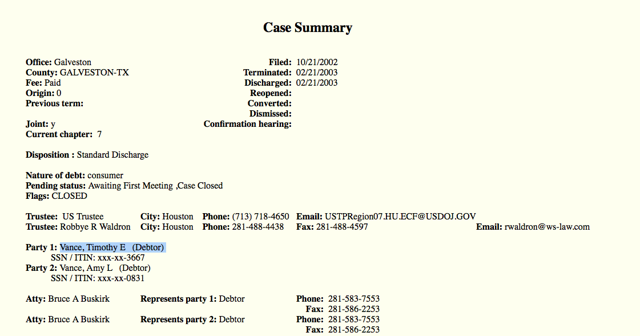 Sept 25, 2013 the company paid The Penny Stocks Profile Team $15,000 for stock promotion.
Sept 25, 2013 the company paid Stock Publisher $35,000 for stock promotion.
Sept 25, 2013 the company paid PennyStocks101.com $4,000 for stock promotion.
Sept 29, 2013 the company paid StockBomb.com $15,000 for stock promotion.
Sept 30, 2013, the company paid PennyStockLocks.com $15,000 for stock promotion
Sept 30, 2013, the company paid Wall Street Buzz $4,000 for stock promotion
Sept 30, 2013, the company paid Whisper from Wall Street $5,000 for stock promotion
October 7th, 2013, the company paid WinningPennyStockPicks $10,000 for stock promotion.
October 7th, 2013, the company paid WePickPennyStocks $10,000 for stock promotion.
October 7th, 2013, the company paid SuperNovaPennyStockPicks $10,000 for stock promotion.
October 7th, 2013, the company paid WinningPennyStockPicks $10,000 for stock promotion.
October 7th, 2013, the company paid Rising PennyStocks $10,000 for stock promotion.
October 7th, 2013, the company paid StockMister $28,500 for stock promotion.
And this just barely scrapes the surface. In other words, this penny stock has paid a pretty penny to generate volume. Paid stock promotion is arguably the quintessential red flag.
4) And this disclosure:
The Company has accumulated losses, negative working capital and without additional sales or capital will not be able to meet operating needs for the next twelve months, all of which raise substantial doubt about the Company's ability to continue as a going concern. "
This kind of doomsday language can be found in nearly every (if not all) Pink sheet/OTC-link stock's financial statements. It should not be brushed off as irrelevant. Due to the lack of any financial reporting standards, Pink Sheet tickers are extremely risky and probably best left untouched (unless you are okay with the possibility of losing your entire investment AND not being able to find a buyer for your shares).
The prolific anti-stock promoter @PUMPSandDUMPS indicated that not one of "Silk" and "Big's" followers profited from the 'alert'

In conclusion, I'm avoiding this company. No matter what any promoter tells you, there will always be another chance to make money in the stock market. And with 46 million shares traded after the alert, it is likely that there are 46 million shares that investors may feel anxious to get rid of in the coming days. This in all likelihood will drive the share price down.
But hey, maybe this Pink Sheet will defy all odds and make everyone rich. I'm not putting my faith in the promoters nor the CEO who filed for bankruptcy.
Analyst's Disclosure: The author has no positions in any stocks mentioned, and no plans to initiate any positions within the next 72 hours.
The author wrote this article themselves, and it expresses their own opinions. The author is not receiving compensation for it (other than from Seeking Alpha). The author has no business relationship with any company whose stock is mentioned in this article.
Seeking Alpha's Disclosure: Past performance is no guarantee of future results. No recommendation or advice is being given as to whether any investment is suitable for a particular investor. Any views or opinions expressed above may not reflect those of Seeking Alpha as a whole. Seeking Alpha is not a licensed securities dealer, broker or US investment adviser or investment bank. Our analysts are third party authors that include both professional investors and individual investors who may not be licensed or certified by any institute or regulatory body.