Why did Medican (OTCPK:MDCN) tank from $1.50 to .04?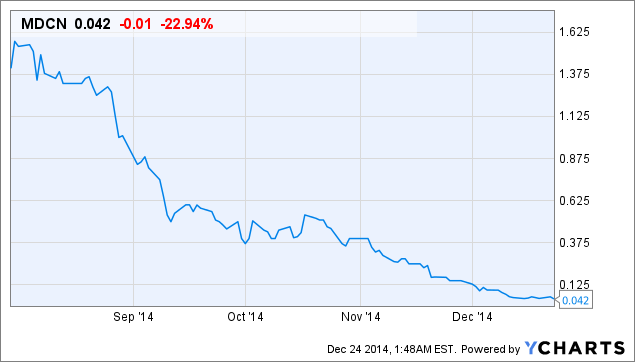 From July 30th to the present, Medican has lost -96% of its value. Why did investors lose confidence in the company? There are six events that could have be construed as bearish.
1: Delays Finalizing Deal With Zenabis
July 30th, company announces that it was restructuring its LOI with Zenabis.
IHMML is a party to an April 2014 subscription agreement under which a subsidiary of Medican, CanaLeaf Systems, Inc. (CanaLeaf), was to purchase 50% of IHMML for CDN$52 million. Under the terms of the transaction as set out in the LOI, CanaLeaf's subscription rights would be restructured as follows:
Worries that the deal would not close, stock begins to bleed. This was clearly a major fulcrum for the company. Close the deal, stock price is safe. Fail to close the deal, and the whole thing could unravel.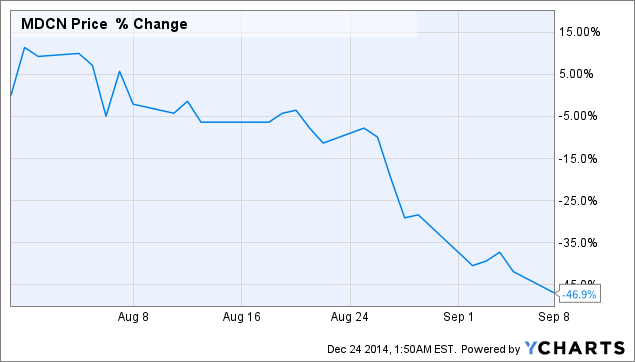 No news till September 8th.
2: Chris Parry Warns of MDCN Halt
Chris Parry called it a pump and dump scam on September 8th, instigating another sell-off. The stock price opened at .80 a share and closed at .75 a share.

At the other end of the respectability spectrum, a large scale social media pump is happening for Medican (OTO:MDCN, Stock Forum) right now, using a network of online 'bot' accounts, all following each other, all with odd names, all set to do nothing but repeat an endless loop of phrases in support of a small number of tickers.

That these accounts are fake isn't hard to work out. Just searching for a simple phrase from one of them brings up dozens of others using the same phrasing with slight variations for other tickers in the scheme, usually at the same time as one another, like midnight on a Sunday.

This is the kind of stuff that gets the SEC halting a stock, and though there's no evidence that Medican management have paid to be part of this scheme, that often doesn't matter. That someone, somewhere, did, and that it might affect the markets, is of paramount importance.
Parry's warning is heeded. September 30th is to be the deadline for Zenabis and MDCN to close the LOI.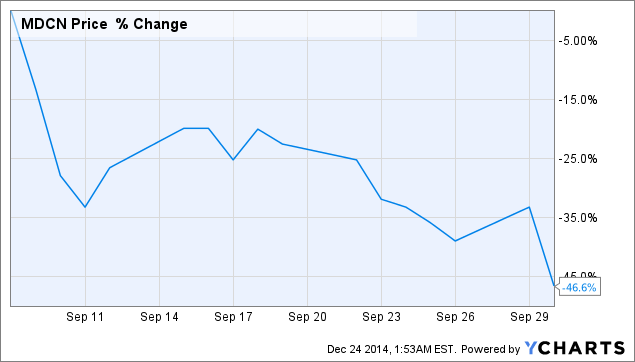 Stock drops -46.6% in the meantime from Sept. 8th to Sept. 30th.
3: Medican Does Not Close on Its Deal With Zenabis
The reason I liked this company was because of its LOI with Zenabis. But it could not close the deal. It had numerous chances to finalize the deal and it never did. Finally, the company just gave up on it September 30th.
"Unfortunately, we have faced structuring and regulatory issues that are making the consummation of this transaction, for both ourselves and our Canadian partners, challenging at this time. We will continue to monitor and explore this opportunity as we believe in its potential, but we must also now turn to address other opportunities, including in the U.S. through the creation of our new subsidiary. We look forward to providing additional updates on our efforts to establish our business in the near future."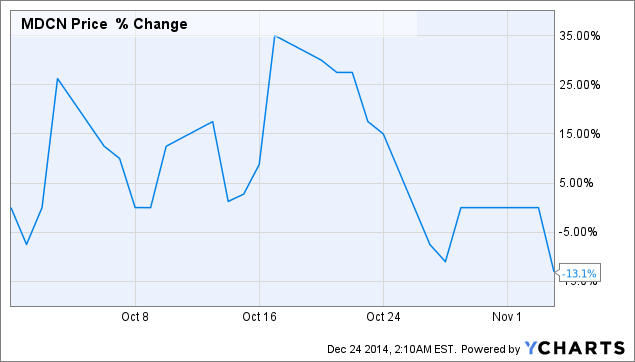 The company also pays $5,000 for stock promotion. This was an extremely negative sign. Stock price is erratic.
4: A New LOI, A -92.66% Dive
Up until this point, share price was wavering in the .50s. Perhaps it didn't hit shareholders until this point that Medican was not going to pursue its mega marijuana facility in Canada. Then it came out with a new LOI:
Under the terms of the letter of intent, Medican Systems will acquire a 70% interest in Future Harvest (with an option to acquire the remaining 30%) for approximately $5 million in a combination of cash and Medican Enterprises common stock in a transaction involving Prestige Worldwide Holdings Inc., an entity which currently holds an option to acquire Future Harvest. The acquisition is subject to the preparation and execution of definitive documentation and an audit of Future Harvest.
In other circumstances this may have been something pot stock investors jumped all over. This time, it was a bear signal that management could not keep its promises. Although this new promise sounded good, it was just that. And sure enough, the company fails to close this deal.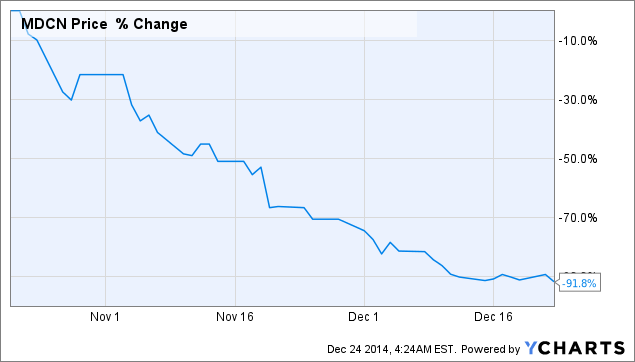 From October 21st to the present, the stock dropped -91.8%. That's a very steep fall in a short amount of time.
5: Town of Atholville and Zenabis Reports Frustrations With Health Canada
Zenabis has not received a license. The mayor of Atholville expresses his frustrations with regulatory process. On November 4, 2014.
Officials in the Campbellton area are urging residents to put pressure on the federal government and Health Canada to accelerate the licensing process for medicinal marijuana facilities.

Zenabis bought an old warehouse in March and promised to hire 400 people to work in its medicinal marijuana plant.

The facility will be located in northern New Brunswick, a region hard-pressed for jobs. So far, 1,400 people have applied to Zenabis to work for the company.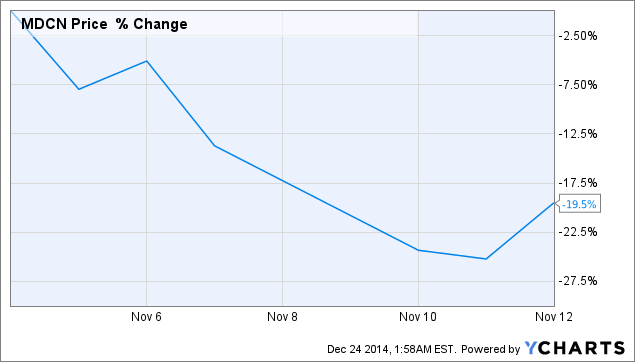 All signs are bearish by this point.
Finally: More Stock Promotion
Medican paid an additional $15,000 for stock promotion on November 12th. After that, I publicly admitted my own disappointment with the company

I did not expect it to get this ugly. I also thought that the company's political connections would have guaranteed it a license by now. I grossly overestimated this company and its management. Never will make this kind of mistake ever again.
Price has dropped an additional -85% since it paid for promotion.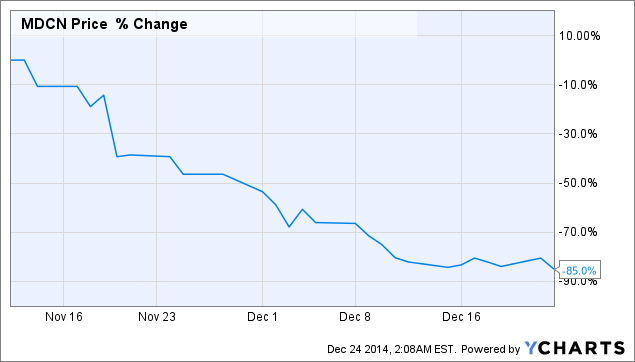 Conclusions
We all know that investing in equities runs the risk of losing your entire investment. It is one thing to understand this intellectually. It is another to see it happen. This has taught me to avoid any stock that lacks liquidity and trades on the OTC.
Medican has put out a couple of other press releases with new LOIs, one which it also failed to close. At this point, I will wait till the company actually achieves not just one but several important milestones before reconsidering this stock.
I also plan on looking more deeply into the people involved with the company. At first I thought Gary Johnson, former governor of New Mexico, was a positive sign that the people involved could be trusted.
Who knows, perhaps there is another reason for the sell-off that I missed.