Hong Kong was expected to be one of the lowest priority markets for Tesla's (TSLA) Model 3.  It is far from North America, which has been prioritized to date, it requires the additional complication of producing RHD vehicles, and demand for Tesla products has fallen off a cliff since government subsidies were reduced.  Even the recent slight enhancement of subsidies is expected to benefit few, if any, of the currently offered Model 3 variants. 
Why is the Model 3 Marketing Campaign starting so early?
Today (July 29), an organization named Charged Hong Kong sent out an invitation to a Model 3 viewing in Hong Kong in the next couple of weeks.

Charged Hong Kong was established and is led by local Tesla owners and Tesla is, so far, the only EV manufacturer represented in the organization.
Why would Tesla be marketing the Model 3 in Hong Kong if it were still expecting the first deliveries to be 12-18 months away?
One obvious explanation is that Tesla now expects to reach its lower priority markets much earlier than planned, due to a low conversion rate of reservations to orders and a low rate of net new orders.  This would seem to conform with the excellent analysis recently offered by jaberwock.  Another credible and related explanation is that Tesla is trying to raise cash from overseas reservations because the cash coming in from North American configurations has disappointed.
Other possible explanations seem less likely.  Does Tesla have so many spare Model 3s lying around that it makes sense to ship one 7,000 miles from Fremont to Hong Kong?  Maybe the sales team just felt like some authentic Cantonese cuisine?
Why the secrecy?
The email enjoins recipients to keep the viewing secret and not to discuss it on social media and/or forums.  The stated reason - the exclusivity to Charged HK members makes little sense.  Since this is an invitation-only event, the fact that people without invitations may be aware of it is of little importance.
The real reason is probably Tesla's extreme sensitivity to giving away clues on levels of demand.  It was a demand question (on conversion rates) that led to Musk's famous meltdown on the Q1 earnings call.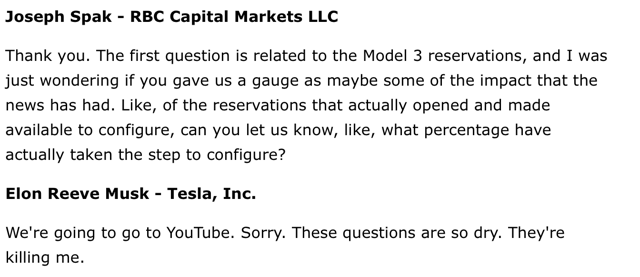 Additionally, while Montana Skeptic has been a Tesla critic for years, it was not until he recently increased his focus on Model 3 demand that Musk took the incredible step of bullying him out of the discussion.
Conclusion
This is evidence, not proof, of a lack of Model 3 demand.  Readers should consider this together with both the bulls' case, presented here, and the bears' case, presented here.  However, given the importance of this issue to Tesla's future survival, I would suggest regular checks on Tesla's websites in RHD countries - not only Hong Kong, but also the UK and Australia.  Should the expected Model 3 wait times decline substantially, that would be a confirmation of this evidence and a very negative sign for Tesla.
Disclosure: I am/we are short TSLA.
I wrote this article myself, and it expresses my own opinions. I am not receiving compensation for it (other than from Seeking Alpha). I have no business relationship with any company whose stock is mentioned in this article.
Additional disclosure: Short via Puts.

Elon, I am retired - no boss to call.