According to complains of Forex traders around the world, the 418-th build of the MetaTrader 4 client terminal has a problem with interpreting of floating point type values (such as price or volume) returned from an external library used by an expert advisor, a custom indicator or a script.
The issue is critical for the majority of the Forex robots, because use of external libraries is a common practice. As the result the expert advisors may not work correctly during forward trading and back-testing. The same is true for custom indicators and scripts.
I have created easy solution on how to downgrade MT4 to build 416. Read on!
2 easy steps on how to downgrade MT platform to previous version
First of all, make sure your terminal build version is below 418. If it's so just do not update until the next stable build is released!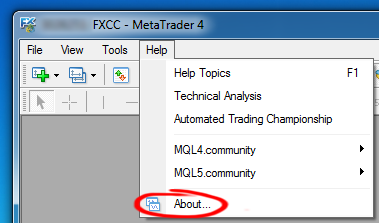 (Click to enlarge)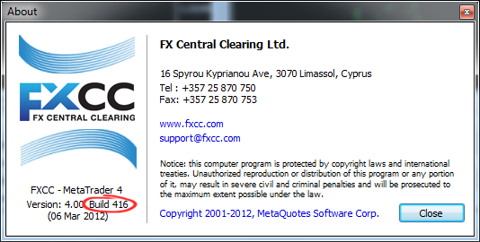 If you have updated to version 418 don't worry! I'll tell you how to downgrade to a stable release. It's easy!
Close your client terminal and open the folder where it is installed (for instance, my is in "C:\Program Files\FXCC - MetaTrader 4".)
Download the archive contains the previous version of the executable file, extract terminal.exe from the archive, and replace the same file in your terminal folder (in my case, I replace the file "C:\Program Files\FXCC - MetaTrader 4\terminal.exe".)
Note
, the file is compatible with all brokers. In other words, if you trade with Alpari, FinFx or other broker (instead of FXCC as I do), these steps are true for you, too. It's because the executive file is the same for all brokers (just configuration files differ.) That's it! Launch your MetaTrader 4 Client Terminal and enjoy the stable version.
Please, spread the word about this topic with your Forex peers via social networks, it will help them to downgrade Meta Trader 4 build 418 and trade on stable MT4 build 416 until all bugs are fixed.
PS: Don't miss my Forex freebies for traders and subscribe to updates for more essential articles.
Source: http://pipburner.com/metatrader-build-418-bug-alarm-how-to-switch-back-to-previous-version/
Disclosure: I have no positions in any stocks mentioned, and no plans to initiate any positions within the next 72 hours.