After surging over 10% on mediocre earnings last week, Nvidia (NASDAQ:NVDA) is down $1.64 or 6.40% as the broader market melts down on turmoil in Libya and concerns that the "jobless" and "houseless" economic recovery could potentially be derailed by surging oil prices i.e. the Bernanke manipulated rally could prematurely end as investors finally take profits on non-sense news out of the middle-east.  

Note that last week Nvidia absolutely surged on a beat on the bottom line despite coming in very weak on revenue.  So it's no surprise to see the stock sell-off as investors have digested Nvida's earnings results.  Expect further selling pressure as investors continue taking significant built-in profits in the name.  

Now this fundamentally driven sell-off (wink-wink) in Nvidia sets up a potential double top in the $26 area and it would behove investors to watch the $22-$23 range for a confirmed breakdown.  If Nvidia loses support at $22 a share, the stock will likely go into free-fall testing at least the 50-day moving average if not lower.  The stock is up nearly 65% in 2011 alone so it would make sense to see the stock retrace some of those gains.  The 50-day moving average sits at $20.38.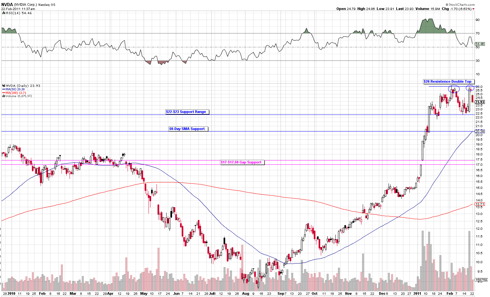 If broader market concerns continue to persist and the market undergoes a correction, shares of Nvidia will likely see continued selling pressure opening up potential opportunities at the $17-$17.50 gap line.  Yet, on the other side of the tape, if Nvidia can get above its $26 resistance level its a clear road all the way to $30 a share.  

Still, at the current moment, the risk is clearly to the downside given this potential double top set-up off of muted earnings results last Tuesday.  The next few trading sessions will be very key for Nvida's intermediate term direction.  Though Nvidia's fundamentals have been strengthening as of late, investors should realize that fundamentals only play a very small part in overall price discovery and that today's key news in Nvidia is the fact that the stock is setting up for a double top breakdown.  Nothing else is nearly as important today with Nvidia today.


Disclosure: I have no positions in any stocks mentioned, and no plans to initiate any positions within the next 72 hours.

Additional disclosure: I have no intentions on taking a position in Nvidia one way or the other and simply call it as I see it.