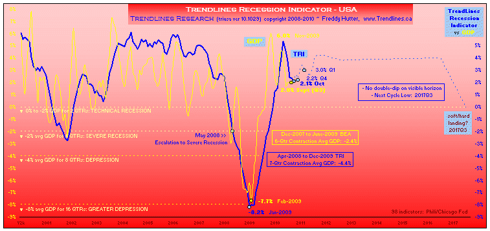 Trendlines Recession Indicator (NYSE:
TRI
) infers USA GDP 2.1% in October
March 20th delayed FreeVenue release of Oct 29 2010 guidance @ our MemberVenue ~ Economic data released by BEA today reveals the USA enjoyed a 2.0% Real GDP growth rate in Q3.  The 2010Q3 figure is a tad below the 2.3% sensed by the TrendLines Recession Indicator (TRI).  Our analysis of multiple indicative data series suggests October GDP was 2.1%, and projects 2.2% & 3.0% for Q4 & 2011Q1 respectively.  TRI has a fuzzy horizon of 8 quarters which is subject to and guided by current/future mitigation activity by the Fed & Treasury Secretary via monetary/fiscal policy.
 47-yr graph & full discussion at our website...