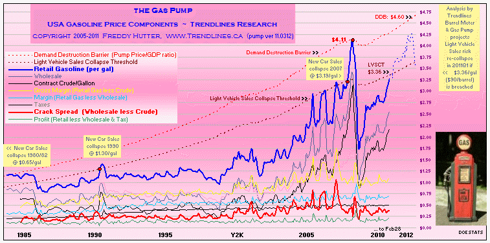 June 12th delayed FreeVenue public release of March 12th guidance @ our MemberVenue ~
In yesterday's Barrel Meter we introduced the Fundamentals Fair Value inset which shows the magnitude of over/under pricing of Contract Crude Oil since 1999. It revealed spot crude was selling at a premium of 10% over its value inferred currently by its fundamentals (Extraction Cost, USDollar Debasement, Inventory Balance & Surplus Capacity).
None of the metrics justify the rationalizations by TV pundits for $200-225/barrel oil this Summer. There are merely repeat musings of the ilk we heard surrounding the July 2008 spike. Some of their insane projections are saved for posterity in our COPF chart.
Regardless, the irrational exuberance befriending crude makes its presence felt on gasoline and pump prices are now only 6 cents below the Light Vehicle Sales Collapse Threshold. Should there be a sustained breach of the $3.36/gallon demarcation, the impact on the auto sector should be clear in Q2.
The main forcing of gasoline prices continues to be the USDollar Debasement. It is currently a $17/barrel component of the Contract Crude Price. Failing any political mitigation, we project pump prices will peak @ $4.27 in 2012Q3. If caveats prevail, a price run should be arrested by the Demand Destruction Barrier @ $4.60/gallon.
Last month's Retail Price of $3.26/gallon is comprised of $2.54 Wholesale refinery product & a $ .72 Margin. In turn, Margin is made up of $ .49 Taxes & $ .23 Profit. One would think the retailers are getting very rich, eh. Well, analysis reveals Margin is only up from $ .54 in January Y2k. Taxes & Profit are up from 42 & 13 cents in that year. In other words, nominal Profit today is virtually unchanged.
The post-Y2k Crack Spread (diff betw Wholesale & Contract Crude) for Refiners can be seen ranging from $1.06 & $ .18 per gallon ($44 & $8/barrel) and is currently $ .38/gallon ($15.84/barrel). When this figure drops below $ .48/gallon ($20/barrel), Refiners prefer to produce diesel and import less expensive gasoline. This current lack of profitably is behind the recent shuttering and sell-off of facilities.


USA Gasoline Price/gallon Components:

Trendlines Research

Feb-2011 average
2012Q4
2016 March
Demand Destruction Barrier
$4.28
$4.66
$5.41
Light Vehicle Sales CollapseThreshold
$3.34
$3.64
$4.23
Retail Pump Price
$3.26
$3.53 target
 
Wholesale
$2.54
 
 
Taxes
$ .49
 
 
Profit
$ .23
 
 
Metrics:
 
 
 
Contract Crude
$2.16
 
 
Gross Margin (Retail less Crude)
$1.10
 
 
Margin (Retail less Wholesale)
$ .72
 
 
Crack Spread
$ .38 ($15.84/barrel)