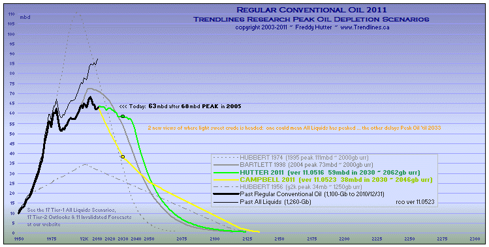 Colin Campbell drawn from Retirement once again for 2011 update
Regular Conventional Oil Scenarios: ~ Aug 23 2011 delayed FreeVenue public release of May 23rd guidance @ the MemberVenue:  There have been only 4 modellers worldwide who have published long term production profiles for
Regular Conventional Oil
... the light sweet crude: 
Albert Bartlett
(NYSE:
USA
),
Colin Campbell
(Ireland),
M King Hubbert
(
USA
) & Trendlines' own
Freddy Hutter
(Yukon Canada).
Hubbert's initial RCO thoughtful graphic bell-curve presentation commenced the general discourse on Peak Oil in 1956.  It's Y2k Peak Date was intuitive but the model was flawed by its lowly 1,250-Gb estimate of URR.  His 1974 update boosted the resource base to 2-Tb, a figure that is still relevant by modern standards, but the second projection and its 1995 111-mbd peak were truncated by OPEC interference the following year.
A much later effort was the 1998 Bartlett model with its forecast of a 73-mbd peak in 2004.  In actual fact, RCO extraction peaked in 2005 (68-mbd), while the midpoint of its URR/EUR was crossed in Dec-2007.  2011 extraction is running @ 63-mbd.
Jean Laherrère & Colin Campbell have been the sector's most stalwart peak oil study practitioners.  Both have openly shared their annual analysis with fellow modellers for two decades.  This week, we coaxed Campbell to come out of retirement with an update for a second time.  Campbell's 2011 Depletion Model extends RCO's dramatic 2.6%/yr post-peak production decline rate thru to 2030.  It increases RCO's URR by 83-Gb to 2,046-Gb ... a career high estimate.
Conversely, the Hutter Peak Scenario-2500 (the only other active model) has reduced last year's URR by 68-Gb to 2,062-Gb.  While Campbell forecasts the annual flow rate deteriorates to 38-mbd (up 3) by 2030, Hutter takes the position 59-mbd is more probable.  On the longer term, whereas Campbell predicts the annual Decline rate softens after 2030, Hutter sees major resource constraint after 2039.
The PS-2500 model has determined the steep RCO decline (2006-2009) was not the result of rapid depletion but rather a mirage created by shifts to Surplus Capacity.  As such, it projects RCO production over the next two decades will decline @ a gentler 0.6%/yr avg.
The future path of All Liquids is directly related to these opposing views of RCO's demise.  One trajectory cements the McPeakster position that Peak Oil is upon us.  The other supports the optimism that production keeps rising 'til Peak Demand in 2033 determines terminal decline...

----------------------------------

Using the proper historic narrow definition of Regular Conventional Oil, these production profiles exclude NGL, processing gains & the non-conventionals (Bitumen, X-heavy, Arctic, Deep Sea, Biofuels, GTL, CTL & Kerogen).  Hence, we have excluded the wider "conventional" projections by Guseo, Korpela, Kuwait University, Laherrère  & Walsh.  RCO comprises only 72% of All Liquids production today, and it is clear that NGL & the non-conventionals play an ever increasing role.  The PS-2500 model projects RCO will fall to less than 50% of All Liquids in 2041 ... a significant threshold for posterity.

original article:  trendlines.ca/free/peakoil/Scenarios/sce...