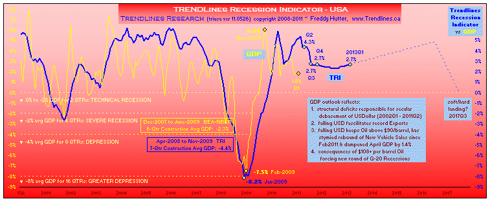 Aug 27 2011 delayed FreeVenue public release of May 26th guidance @ our MemberVenue ~ The USA Trendlines Recession Indicator continues to reveal a stable economic expansion (recovery completed in 2010Q4) albeit partly founded on fiscal stimulus & quantitative easing.  May's GDP growth rate is gauged at 5.2%, down from 5.3% in April.  The TRI's leading indicators are presently projecting 4.3% Real GDP in Q2, 2.7% for Q3 & 2.7% in Q4.  BEA today announced its second estimate for Q1 Real GDP annualized growth rate @ 1.8% (TRI = 5.2%), maintaining a divergence that commenced in September.  TRENDLines estimates the cumulative effect of several quarters of high petroleum costs reduced May's GDP growth rate by 1.5%.  This ties the record dampening mark of 1.5% in October 2008.
In the realm of unintended consequences, it is increasingly apparent the failure by Congress to extinguish the Bush-era Tax Cuts has met a terrible reception by international investors.  Together with the Obama Administration's decision to unveil a record $1.5 trillion Deficit (9.7% of GDP), these measures have been construed as a signal there is little will to address the USA's looming structural deficits.  This failure in fiscal management has caused a resumption of the secular decline of the USDollar.
This debasement commenced in January 2002 and is today responsible for a $24/barrel component in the USA contract price of crude oil (April = $113).  This component was only $1 at Barack Hussein Obama's inauguration.  While the falling USDollar will have beneficial effects on the export sector, crude continues to be in breach of a definitive Oil/GDP ratio (marked today by the $90/barrel threshold) which in the past has decimated Light Vehicle Sales.  Unit volumes are still battered from the 2007 breach so the present episode which began early February is responsible for the current lack of rebound.  Similarly, a new round of G-20 Recessions can be expected upon sustained crude prices over the $108/barrel threshold.
TRI has a fuzzy horizon of 8 quarters.  Its view of the future is dynamic and subject to and guided by current/future mitigation activity by the Fed & Treasury Secretary via monetary/fiscal policy, geopolitical and weather related events.  Today's outlook reveals most of 2012 has deteriorated due to the dampening effects on the economy of protracted cumulative high petroleum prices.  At this time, TRI is projecting a GDP target of only 2.7% in 2013Q1 and an absence of the normal 6% cresting on the medium term.  Finally, Monetary Policy enacted by the Fed & the Treasury Secretary's guidance to Congress with respect to Fiscal Policy will determine whether the current cycle's contraction bottom in 2017Q3 will be a hard or soft landing.

TRI USA GDP Targets  (2011/5/26)

2011Q1

5.2

%

2011Q2

4.3

%

2011Q3

2.7

%

2011Q4

2.7

%

2012Q1

2.5

%

2012Q2

2.4

%

2012Q3

2.3

%

2012Q4

2.5 %

2013Q1

2.7 %

-

-

2017Q3

end of cycle