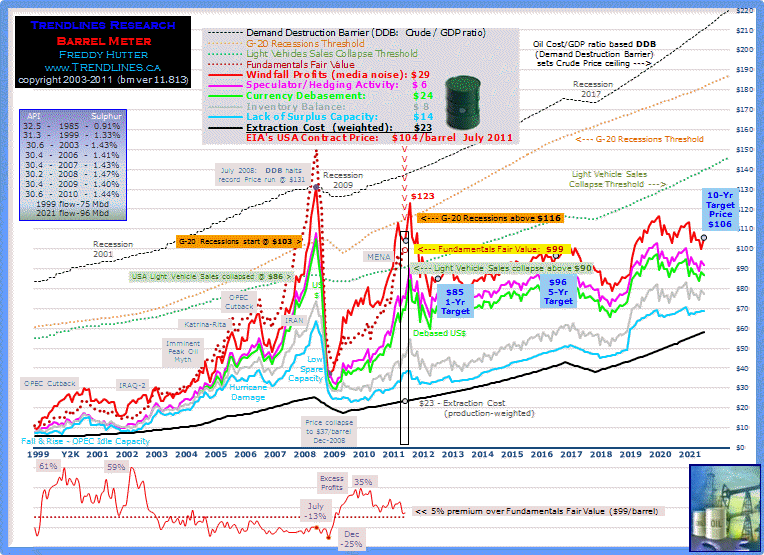 Nov 13 2011 delayed FreeVenue public release of Aug 13th MemberVenue guidance ~ The USA Contract Crude Price averaged $104 in July, down $1 over the last thirty days and at this time resides only 5% over its $99/barrel Fundamentals Fair Value.  The decrease was mostly attributable to less tight Inventory Balance ($-2 - thanx IEA!) & less Speculation/Hedging activity ($-1);  offset by higher Windfall Profits ($1 - the fear factor associated with media noise) & further USDollar debasement ($1).  At month end, the cost of imported oil ranged from $89/barrel for Canada Heavy to $124 for Indonesia Minas Light.  Including spikes, the USA's contract crude oil monthly average could exhibit a trading range spanning $87 to $140/barrel thru the balance of Q3 & Q4.
Global production has increased dramatically from the Recession low of 83.1 Mbd (Jan/2009), setting yet another monthly record (88.8 Mbd) in July 2011.  The oil sector is on pace to shatter last year's annual record and monthly production is poised to break the 90-mbd threshold in January 2013, the 95 milepost in 2019 & geologic peak should be pre-empted by Peak Demand of 98 Mbd in 2029.  International Inventories are well above the 5-yr avg and 5% of global capacity is presently idle eagerly awaiting new Demand.
Very large Inventory draws in August & September should add several weeks to the ten-month price run leading to a culmination peak of $123/barrel.  New 2011 price highs can be averted by maintenance of July's record production rather than a seasonal lull or via a second IEA injection of 120 million barrels from national strategic reserves.
FFV INSET ~ The (dashed red line) in the chart above depicts the "fair value" of Crude Oil when considering its fundamentals:  worldwide Extraction costs (production-weighted), global Surplus Capacity, monthly international Inventory Balance (draw vs build) & level of US$ Debasement.
In general it is apparent Crude Price (red line) tracks quite close to oil's Fundamentals Fair Value.  Significant exceptions (see FFV chart inset) were:  (a) the 61% premium during the 1999/Y2k OPEC cutback;  (b) a 59% premium in the lead-up to the Iraq2 invasion; and (c) the 25% deficiency in December 2008 - at the depth of the Great Recession.  It is this FFV analysis that should crystallize my consistent (and controversial) position that the July 2008 record price spike was indeed "not a Bubble".  The graph clearly illustrates that at the $131/barrel (monthly avg) peak crude price was actually 13% "below" Fundamentals Fair Value.  The components table (above right) dissects the Crude Price forcings for both that 2008 spike and today.
The inset reveals Crude Price detached once again from FFV in March 2009, attaining a premium of 35% by January 2010 - a level not seen since late 2002!  As TRENDLines predicted, Producers were rewarded with obscene record reported earnings.  Price discovery was utterly non-existent during this episode.  Yet only $5/barrel was attributable to spec/hedging activity.  The early 2010 spike was heavily media (fear-factor) driven, as evidenced by a record $31/barrel assessed to Windfall Profits.
After calming to a 6% premium in September 2010, the juices began flowing once again with the start of MENA geopolitical activity last December.  The FFV premium flirted briefly @ 22% in January but has since subsided to 5% in July ... $5/barrel above Crude's $99 fair value.  Regardless of Barack H Obama's faux rage in recent speeches, only $12 of the April 2011 price high ($113) is traceable to NATO strikes in Libya.
PEAK of 2nd US$ DEBASEMENT SPIKE IMMINENT ~ The $131/barrel monthly record was set in July 2008.  The current price run is actually the culmination of a secular trend commencing June-2004.  At that time the secular devaluation of the USDollar which had started Jan-2002 finally began to be factored in as a price component of Crude Price by frustrated stakeholders.  By July 2008, compensation for US$ Debasement comprised $31 of Crude Price (see table - above right).
The bursting of the USA's housing bubble led directly to the financial crisis by exposing the subprime mortgage fiasco.  The irony of the matter is that by March 2009 (just weeks after the Recession trough), the USDollar had regained virtually all its loss as the international investment community ironically sought safe haven in American treasury notes.  Upon inauguration of Barack Hussein Obama, US$ Debasement was in remission:  a mere $1 component of Crude Price.
In early 2009, Wall Street & the White House took glee in shining a light on Deficit & Sovereign Debt to GDP ratios of a plethora of jurisdictions.  The lamestream media were enablers in focusing on the ills of Iceland, Dubai, Ireland, Greece, Portugal, Hungary, Spain & Italy.  Inevitably when they ran out of nations, the same scrutiny was finally applied on the US Federal Gov't.  Just as savvy currency traders had lost faith in Congress ability to address its long-term Structural Deficits in 2002, now the international investment community is being clued in and taking stock of the USA's own fundamentals - and the secular decline of the USDollar has resumed...
As a component of Crude Price, USDollar Debasement was only $1/barrel in January 2009 after the USA's first celebrity President was inaugurated.  Growing unease with the socialist leanings of his Administration led to the Debasement factor running up as high as $12 over several quarters.  A pause occurred in the Summer of 2010 when it appeared the CBO had convinced the President & Congress to let the Bush-era Tax Cuts expire in December.  This sentiment was so entrenched that our own Barrel Meter extinguished its forecast of a $141 2011 spike in September 2010.  And the Debasement factor drifted back to $9.
Unfortunately, the mid-term Elections intervened and irresponsible electioneering reversed the momentum via promotion of an extension of the Bush-era Tax Cuts as a means to maintain fiscal stimulus in the face of a phantom double-dip.  The Trendlines Recession Indicator sported the earliest alerts of a potential downturn but had already dismissed a renewed contraction by its Sept/2010 outlook.  But, facts were not allowed to ruin strategic campaign rhetoric.  The Tea Party won big in November.
Regardless of a newly Republican-dominated House of Representatives, Congress severely disappointed the international investment community by its irresponsible disposition of the Bush-era Tax Cuts by extending them fully intact ... even for the top 1%.  The Obama Administration then added to the disgust with its own proposal of a $1.5 trillion Deficit 2011 Budget ...  and the Debasement factor rocketed to $24 by April.
There is an assumption in today's update of the Barrel Meter that the USDollar will continue to decline 'til the international investment community is satisfied a sea change in legislative attitude towards the structural deficit prevails.  The November 2012 Elections should present itself as that critical opportunity.
The combination of a rising Debasement & effects of a large Summer Inventory draw should result in a final peaking ($123) of this price run in September.  Concern over worldwide economic recessions should see Windfall Profits wane to the point where Crude Price falls to $76 by next Spring ... en route to the 1-yr target of $85/barrel (Aug-2012).
EFFECT on G-20 ECONOMIES ~ The USA contract crude price has exceeded $90/barrel ($3.29/gal pump) since early February.  This threshold represents a definitive Crude-Cost/GDP ratio about which the Barrel Meter has cautioned since November 2009 that if breached would strangle the post-Recession rebound of USA Light Vehicle Sales.  The TRENDLines Gas Pump model analysis reveals New Car Sales were decimated upon the crossing of this line-in-the-sand in 1980, 1990 & 2007.  The last event saw volume collapse from a 16-million unit annual rate to 9-million.  Sales had rebounded to 13.2-million by February 2011, but dropped back to an 11.5-million unit/yr pace in June (see blue chart) as the auto sector again suffers pump price shock.  It is improbable that sales will surpass the 14-million/yr area 'til Crude Price drifts back below $90 ... perhaps in Q1.
The TRENDLines Recession Indicator calculates cumulative high petroleum prices over past Quarters trimmed 1.4% off the annualized GDP growth rate in July.  That's only a whisker below the record for this GDP headwind set back in Oct-2008.  Even if the current price spike is short-lived, it will take the economy a couple of years to shake out the "baked-in" dampening effect.
Similarly in January 2010, Barrel Meter chart annotations began to warn breach of a second critical threshold which would signal a new round of G-20 Recessions.  That definitive Crude-Cost/GDP ratio saw 12 G-20 nations sink into technical or severe Recessions after Crude Price passed the $103 mark in early 2008.  Today this ratio is demarked by $116/barrel oil and as crude touched its 2011 high of $113 in April several nations were already reporting contractions.
In a perfect storm of events Crude Price would have a tendency to rocket to $163 in September, but the model has high confidence a late Summer spike would be blocked by the same Demand Destruction Barrier (DDB) that firmly arrested the 2008 price run @ $131/barrel ($4.11/gal pump).  The negative effects of rising energy costs on the disposable income of consumers and the profits and viability of businesses and institutions eventually takes a toll against the economy.  The DDB represents a definitive Crude-Cost/GDP ratio ($138/bbl & $4.34/gal) where certain feedbacks come to fruition.  As happened in the Summer of 2008, Demand will be reversed as alternative energies, substitutes and conservation measures are pursued.
5 YEAR OUTLOOK ~ Looking down the road, we expect Crude Price to enter a period of softness as the USDollar recovers and international controls on speculation/hedging activity restore Price Discovery from the presently dysfunctional state.  The Barrel Meter predicts Crude Price could dip as low as $76 by May-2012 before reaching its 2016 target of $96/barrel.
10 YEAR OUTLOOK ~ After recovering from probable 2017 Recession softness, Crude Price is projected to rise to the 2021 target of $106/barrel.
2035 OUTLOOK  (see chart below) ~ Ever-rising Extraction Costs despite Peak Demand in 2029 will drive marginal costs towards a two decade secular uptrend.  Probable business cycle Recessions in 2017, 2026 & 2034 may give short respites but waning USA dominance over time will result in decreasing adverse effects on global GDP.  Crude Price will permanently encroach the Light Vehicle Sales Collapse Threshold in 2030.  Any demand destruction will be mopped up by eager developing markets.  It is at this juncture policy makers and stakeholders must aim all their efforts to have infrastructure in place for the transition away from dominating gasoline/diesel transportation fleets.
Our Peak Scenario-2500 oil depletion model assumes Saudi Arabia's MSC (maximum sustainable capacity) peaked @ 13.05 Mbd in 2009.  This historic event was masked by its high Surplus Capacity (still 2.2 Mbd today) & post-Recession OPEC quota restrictions.  PS-2500 currently projects maximum production will occur upon a Demand Peak of 98 Mbd in 2029 ... not the 2039 Geologic Peak of 117-mbd based on the current trend of converting proved reserves to new capacity.  The benefit of a Demand-inspired scenario is that it puts less pressure on exhausting Surplus Capacity in Saudi Arabia and elsewhere.  Losing significant spare capacity would be the most critical forcing for higher Crude Prices over the next two decades.  Peak Oil will not be as much a problem as would be the maintaining balance in Inventories & sufficient Surplus Capacity in avoiding price shocks in the future.
The Barrel Meter projects Crude Price to hit an all-time high of $379/barrel in 2034 before settling to $331/barrel - the 2035 target.
NYCE WTI FUTURES COMPARISON ~ In comparison to my outlook, the similar NYMEX WTI Futures Contracts for the 1-yr & 5-yr targets are $102 (down $10 from 30 days ago) & $97 (same) respectively today.  Look for the futures prices to plummet $17 on the short term & fall $1/barrel for 2016, as they catch up with current realities.  Our comparative figure for the final futures date of Dec/2019 is $114/barrel, $15 higher than the $99 (same) for today's contract.
PRICE DISCOVERY ~ There are over three dozen grades of oil across the globe.  Long ago, most were sold on long-term contracts via fixes price lists.  The prices are often sold at a discount/premium to several standard blends often with consulting assistance from Platts.  Unfortunately, a new crop of mostly neophyte buyers have been found to be quite vulnerable to media noise.
Less than 20% of crude is transacted on the WTI/Brent spot venues.  Most of the stakeholder activity there involves hedging.  An increasing trend is to contract some grades @ the front or second month of futures.  For the most part, futures contracts are side bets to guessing final outcomes ... akin to sports betting.  In periods of increased volumes (eg March 2011), these activities add no more than $9/barrel during spiking conditions.

Since Dec 2009, Trendlines Research had warned Crude Price was re-approaching a definitive Oil-Cost/GDP ratio which decimated Light Vehicle Sales in 1980, 1990 & 2007.  Upon surpassing $90/barrel in early February 2010, oil again breached this critical threshold and as seen in the (right pane) chart, the post-Recession rebound of New Car & Light Truck sales are in reversal from the 13.2 million unit/yr pace.  Sales fell to 11.5 mil/yr rate in June.  It is improbable the pace will exceed 15 mil/yr 'til Crude Price dips below $90 in Q1.
FAILED OUTLOOKS ~ The McPeakster blogosphere was burning up once again in anticipation of Steven Kopits (Douglas-Westwood) forecast of an American and worldwide economic Recessions upon Crude Price exceeding $90/barrel.  Kopits subscribes to the myth that high oil prices are the main cause of Recessions.  Unfortunately, correlation is not causation.  Crude oil is a miniscule portion of the consumer price index in most nations and the breach of the $86/barrel threshold passed unceremoniously.  The IMF reported in  June 2011 that Q2 GDP was running at a robust 3.9% pace.  The Barrel Meter addresses this forcing and has found only when Crude Price attains the definitive Crude/GDP ratio represented by $116/barrel would there be headwinds sufficient to result in a new round of G-20 Recessions.
As did Colin Campbell before him, Kopits appeared before the USA House of Representatives Energy Subcommittee (2011/2/18) upon Crude Price breaching his $86/barrel line-in-the-sand.  He could have avoided subsequent embarrassment of his impotent screaming and hand waving had he learned from many of the same analysis errors made three years prior by economist James Hamilton (Univ of California).  As a neophyte to the oil sector, Hamilton had adopted absurd assumptions passed to him by the McPeakster fraternity with respect to inadequate global surplus capacity, demonstrated annual new capacity build abilities and very liberal UDRO (underlying decline rate observed) assessments that were all terribly wrong.  Hamilton's failure to recognize USDollar debasement as one of the largest forcing of price spikes spoke volumes to the rude demise of his study.
PUNDIT IDIOCY ~ There continues to be absolutely no merit to the plethora of pundit forecasts for $200-$250 oil (& $5-$7 gasoline) by this Summer disseminated by the lamestream media, McPeaksters & McDoomers since late February.  We heard all the same rationalizations in the Summer of 2008 and our COPF chart (below) is testament to those similarly hysterical musings.  Conversely, there was no hint of the MENA geopolitical event back in April 2010 when the present spike and its founding on devaluation of USDollar was initially foretold by TRENDLines!

original article