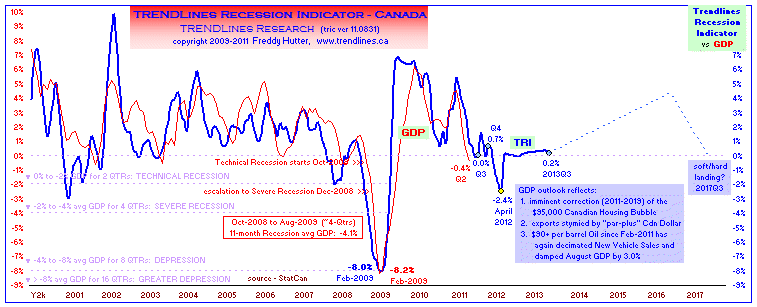 TRI-Canada Targets  (2011/8/31)

2011Q2

o.9

%

2011Q3

0.0

%

2011Q4

o.7

%

2012Q1

- 1.7

%

2012Q2

o.1

%

2012Q3

0.0

%

2012Q4

o.2 %

2013Q1

o.3

%

2013Q2

o.4 %

2013Q3

o.2 %

-

-

2017Q3

end of cycle
Dec 1 2011 delayed FreeVenue public release of Aug 31st MemberVenue guidance ~ The TRENDLines Recession Indicator continues to project an utter collapse of the new business cycle.  The growth rate of economic activity has declined six consecutive months with inferred Real GDP of -o.1% in August, down from o.7% pace in July.  StatCan announced data today implying June's (Q2) GDP growth rate was -o.4%  (TRI = o.9%).  TRENDLines leading indicators are projecting 0.0% in Q3 & o.7% for Q4.  This will be followed by three more months of contraction with an ultimate -2.4% trough in April 2012.  The model's fuzzy horizon forecasts a mere o.2% GDP in 2013Q3 on its journey to a business cycle high over 4% followed by an ultimate end-of-cycle low in 2017Q3.
Canada's economic recovery commenced September 2009.  Business cycle expansion began afresh upon Real GDP surpassing its 2008 peak in August 2010.  At 7.2% in July, the Unemployment Rate is not yet half way back to its pre-Recession 2007 low of 5.3% after rocketing to an 8.7% peak in Aug/2009.  Being in expansion mode, any extended contraction would be a Technical Recession ... not a double-dip.
Headwinds:  Factors contributing to perceived weakness in the TRI outlook continue to be:  (a) high oil prices;  (b) the Canadian Housing Bubble;  (c) an Export killing "par-plus" Loonie & (d) exhaustion of Fed/Prov fiscal stimulus cheques
High Crude Oil Prices ~ TRENDLines estimates the cumulative effect of several quarters of high petroleum costs reduced August's GDP growth rate by 3.0% ... just a whisker below this factor's record damping set back in October 2008.
Upon breaching $90/barrel in early Feb-2011, Crude Price passed a definitive Crude-Cost/GDP ratio which has a history (1980/1990/2007) of inducing a collapse of Light Vehicle Sales (see our Gas Pump & Barrel Meter analysis).  The present episode was responsible for USA Sales retreating (13%) to a 11.5-million units/yr pace in June from $13.2 mu/yr in February.  It is little known Ontario has been the #1 production jurisdiction since 2005.  Canadian auto sales are down 6%.  It is unlikely auto manufacturing will pass the 14-mu/yr pace 'til Crude Price gets back below $90.
Canadian Housing Bubble ~ According to the TRENDLines Realty Bubble Monitor, the USA's avg house price peaked in 2005 upon achieving a threshold 35% above the long-term Price/Family-Income ratio trend.  Upon hitting that same metric in May 2011, Canadian avg home prices have been plunging by $1,700 per week.  High mortgage and rent costs are a severe burden on Disposable Income, preventing families from desired durable goods, holidays, clothing, etc.
Falling values further impede the economy as deteriorating "wealth effect" associated with an correction of the record $95,000 overpricing poses a probable assault on consumer/business confidence and investment plans.  TRENDLines forecasts a 2.0% rise in 5-yr mortgage rates by the end of this business cycle will accelerate the correction.  In spite of this growing reality, CMHC has not yet heeded TRENDLines long-time recommendation to raise required downpayments for residences to 10% from 5%.  Since the first plea (March 24 2010) targeted at CMHC, average home price has unnecessarily increased $24,ooo.
Par-plus Loonie ~ Added to the assault on manufacturing within the auto sector, Exports are declining as foretold as consequences of a "par-plus" Loonie.
Fiscal Policy stimulus ~ Hayek & Friedman are fairly convincing in their arguments for using Monetary Policy rather the Fiscal Policy during economic contractions.  But, when Central Bank rates reach "zero" Fiscal policy is preferred to Quantitative Easing (QE) since the latter spurs imported Inflation via debasement of its currency.  Canada is one of a decreasing number of nations able to use fiscal stimulus.  Greece & the USA represent a sorry lot of jurisdictions that cannot as failure to run Surpluses at the crests of business cycles left them with Sovereign Debt/GDP ratios exceeding 90%.
Deficit borrowing for fiscal stimulus harms the economy in long run as debt servicing usually outweighs rising safety net costs.  However the realities of democracies and republics require governing parties to bow to media and public pressure to combat the social costs of rising unemployment rates.
Canada paid down its national debt by 15% over the past decade and was in fine shape to take on the task, but waning Federal & Provincial stimulus cheque


original article