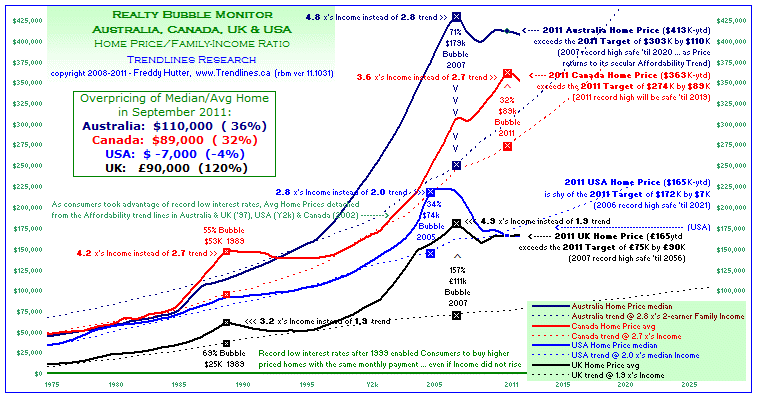 Oct 31 2011 monthly update ~ Realty Bubble Monitor

Overpricing of Median/Avg Home in September 2011:

Bubble Today

price rise/fall past 90 days
med/avg price
Bubble Today
Bubble @ Peak
$110,000
$ -300/week
Australia
36%
$179k & 71% (2007)
$ 89,000
$-1,500/week
Canada
32%
$89k & 32% (2011)
$ - 7,000
$ -800/week
USA
-4%
$74k & 34% (2005)
£ 90,000
$ -200/week
UK
120%
£111k & 157% (2007)
Jan 31 2011 delayed FreeVenue public release of Oct 31st MemberVenue guidance ~ Over the past 90 days, the average/median home price fell $300/week in Australia, $1,500/week in Canada, $800/week in USA & £200/week in the UK. The USA realty bubble over-corrected this Summer and the annual median home price is 4% below the long-term Price/Family-Income ratio trend. The UK, Australia & Canada face a prolonged stifling of economic activity due to the assault on disposable incomes by the weight of home mortgages and rent. Adding in the burden of cumulative high petroleum costs, the fundamentals are in place for Technical Recessions in all three jurisdictions.
Families most at risk are in the UK where the average home is overpriced by 120%. The Australian median home is currently 36% overpriced. Canada's realty bubble finally burst in June 2011, but the average Canadian home is still 32% overpriced and 2.1 x's its American counterpart. As such, the Canadian economy contracted in June & July and the TRENDLines Recession Indicator projects sub 2% GDP 'til 2014Q3.
The Conservative Federal Gov't & Bank of Canada talking points blame the Japanese earthquake, EURO troubles & Justin Bieber but CMHC is clearly at fault for this situation. Canada was the last G-20 nation to fall into Recession in 2008 and the first one out - not by clever fiscal/monetary policy but because CMHC was enabling the housing bubble by condoning 5% minimum downpayments for its high-ratio mortgage insurance coverage. The present economic downturn is solely a
"made-in-Canada"
malaise and has been foretold in this venue since March 24 2010. It is scandalous the measure continues in place and Canadian taxpayers are clearly at risk. If there is any sense of accountability in Ottawa, look for heads to roll at CMHC.
end of highlights - original article
Disclosure: I have no positions in any stocks mentioned, and no plans to initiate any positions within the next 72 hours.