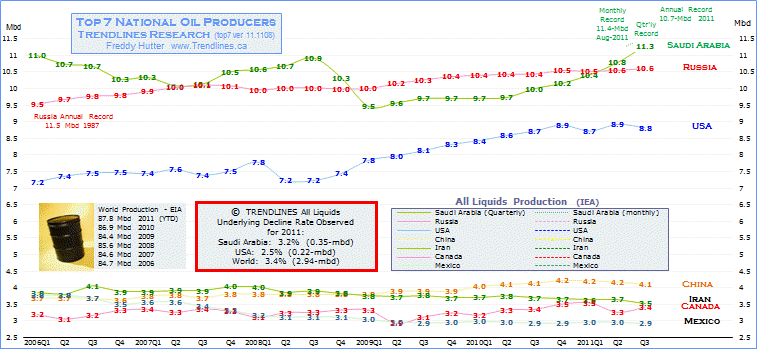 Feb 8th delayed FreeVenue public release of Nov 7th website MemberVenue guidance
In a grudge match that spans three decades, Saudi Arabia has overcome OPEC quota restrictions to surpass Russia as World's top
All Liquids
producer. In the process, the Kingdom broke its annual record (10.7 Mbd) and also set a new global quarterly record (11.3 Mbd) and global monthly record (11.4 Mbd) as it boosted flows in its role as swing producer to replace lost Libya extraction. That said, it is improbable Russia's 1987 annual/quarterly/monthly records (11.5 Mbd) will ever be surpassed.
In 3rd place, the USA flow of 8.8 Mbd is down a tad from its recent Quarterly high. Following are: China (4.1), Iran (3.5), Canada (3.4) & Mexico (2.9 Mbd).
Trendlines Research's All Liquids Underlying Decline Rates Observed in 2011: Worldwide 3.4% (2.9-mbd), Saudi Arabia 3.2% (0.35-mbd) & USA 2.5% (0.22-mbd)
Disclosure: I have no positions in any stocks mentioned, and no plans to initiate any positions within the next 72 hours.