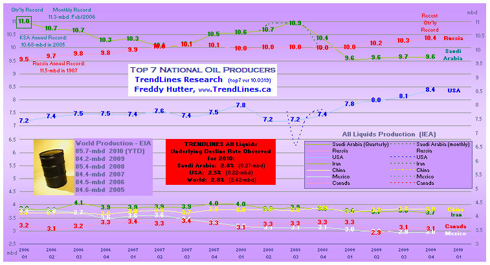 In a grudge match that's lasted 25 years, Russia has regained the lead as World's top All Liquids producer.  Russia's 1987 annual/quarterly/monthly records of 11.5-mbd appear unattainable.
Russia ended the year @ 10.4-mbd, as Saudi Arabia sits at an OPEC quota restriction OF 9.6-mbd.  At 3rd place with 8.4-mbd, the USA has recovered well from Hurricane repercussions.
Following are China (3.8), Iran (3.7), Canada (3.1) & Mexico (3.0-mbd).
TrendLines Research's All Liquids Underlying Decline Rates Observed in 2010:  Worldwide 2.8%, Saudi Arabia 2.8% & USA 2.5%
Disclosure:
(no positions)