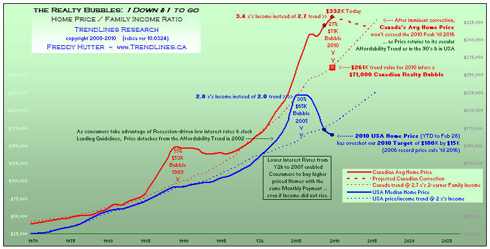 Canada's Housing Bubble Rose to $71,000 in February ... Canadian Homes now double USA
March 24th ~ February sales figures reveal the average Home Price in Canada is for the first time double the similar price of a home in the USA:  $332k vs $165k.  The 2010 Canadian Housing Bubble has gained ground ($4k) over the past two months, setting a new record of $71,000.  The avg Home Price is now 3.4 x's two-earner Family Income compared to the long time trend factor of 2.7.  The Year-to-Date $332k Home Price for 2010 is 27% higher than the trend-indicated $261k.
TrendLines Research first drew attention to the topic of Canadian Housing Bubbles in 1989.  Although that particular Bubble was only $53k, it was actually a more severe event as the average price of the time was an unprecedented 55% above the trend metric ... double the current episode.  Families were paying an astonishing 4.2 x's their Income.  At its peak, the USA Housing Bubble was 30% ($65k) above the P/I trend in 2005.
Rather than the recent plunge-type four-year correction (-28%) witnessed in the USA, it took ten long years for the Canadian average price to surpass the 1989 high.  Avg Home Price fell a mere 6%.  Considering the momentum in play within the present economic Recovery, it is not unreasonable to expect a repeat of the long-term sideways correction ... with perhaps an absence of new highs 'til 2016.  It would be prudent for CMHC to temporarily increase its down-payment requirements for high-ratio insured mortgages to 10% from 5% until the downside risk dissipates.
This recommended action may be difficult in an environment where economists for four of Canada's largest banks have been unequivocal in recent weeks that "there is no real estate bubble in Canada".  We heard their same rationalizations in 1989 & from their counterparts south of the 49th in 2005!  Both events posed an assault on the Disposable Income of consumers, and wealth effect ramifications resulted in imminent Recessions within twenty-four months.  As elaborated in our Canadian Recession Meter, failure by the Bank of Canada & CMHC to address a winding down of the Housing Bubble could easily turn the expected 2012 economic downturn into a full fledged Recession.

 USA Housing Bubble has over-corrected by $15,000


Prices peaked for both New Homes & Existing Homes in 2007Q1, and the completed correction exhibits a classic "return to the mean".  The irrational exuberance commenced in 2002 and culminated in a break from the Existing Home Price norm (2.0) to 2.8 x's 2-earner Family Income.  Similarly, New Home Price drifted from its long term metric (2.5) to an unsustainable 3.1 x's Income.
In May 2008, TrendLines Research provided guidance that the correction of the USA Housing Bubble would not be as drastic as forecasts painted by self-appointed pundits.  Our scenarios predicted the collapse would only be as severe as needed to return the USA Existing & New Home Median Prices to their Price/2-earner Family Income ratio trend ... far less than the silly 40% prediction (2008/11/18) by McDoomer Nouriel Roubini.  By the end of its fourth year in correction (2009), the annual average Existing Home Price was down 22% and within $1,988 of our target!  New Homes were down 13% from their annual high and within $2,305 of our target for 2009.
Looking ahead to 2010, February sales stats reveal the YTD average Existing Home Price is $15k less than our 2.0 P/I ratio trend target of $180k.  The New Home Price is $12k less than the 2.5 P/I ration trend target of $227k.
The Existing Home Price monthly median dropped 28%, from $229,000 (June 2007) to $164,700 in January 2009.  This is far less than the silly 40% prediction (2008/11/18) by McDoomer Nouriel Roubini.  But then, he also forecast (Nov/2008) that 1,400 banks would "go bust in 2009".  He was out by 1,250 on that call.  But i digress!  After the low point of monthly sales in January 2009, they rebounded 43% by November.  February sales were 11% above the recent low.
The median monthly New Home Price decreased 22%, falling from $262,600 (March 2007) to $205,100 in March 2009.  Unit sales rose 27% from the January low by July;  but again set a new recent low just last month.
The Existing Home Price had been up $17,100 from the low, but returned to within $500 of the 2009 bottom of $164,700 again last month.   By May, the New Home Price had recovered $17,200 from the bottom in March and remains in that vicinity.
Existing Home Prices are up $14k from the January bottom.  New Home Prices have recovered $16k from the bottom in March.  The 2009 Avg Existing Home Price exceeded our 2009 target support level of $171k by a mere $3k.  2009 Avg New Home Prices were in breach of the $214k support level by only $1k.
As seen in the chart, it is probable that new highs for New Home Price will not be set 'til 2013.  Existing Home Price records should be stalled 'til 2016.
---
Backgrounder ~ (rev 2010/3/24) Back in May 2008, we went public with our concern that some media pundits openly rationalized the USA housing market was not in a bubble, whilst others, like McDoomer Nouriel Roubini 2008/11/18, were predicting a massive 40% collapse.  But then, he also forecast (Nov/2008) that 1,400 banks would "go bust in 2009".  He was out by 1,250 on that call.  Following a long time commitment to Home Price/Family Income ratios to measure real estate bubbles, our first publicly available effort illustrated that Existing Homes were inflated by $65,000 at the 2005 height.  Based on the Canadian Real Estate Bubble of the 90's, we speculated that it would take at least nine years to correct and set new highs.  But to our amazement, the classic "return to the mean" did not even come close to mirroring the Canada event, and the correction was basically complete by January 2009.  The economic Recovery started the month following.
While waiting for the realty sector (and general economy) to recover completely, we had been awaiting four bottoms.  The first two were Existing Home transactions/month & Existing Home Median Prices.  Done ... January & January (2009) respectively.  The remaining pair were New Home monthly sales & Prices.  Done ... January & March (2009) respectively.  An increase in monthly transactions was important to the Economy 'cuz it brings on increased revenues via purchases of furnishings, appliances, landscaping/gardening,  With respect to New Homes, rising sales also mean "jobs".  The passing of the bottom of Prices for both categories is important 'cuz the subsequent apparent increase in "wealth effect" affects consumer demand and durable good sales.
A return to the mean is both natural and necessary for economic stability.  In the early 80's & 90's, we twice saw the Fed raise rates to embattle the Inflation cycle.  An upward effect on mortgage rates left less Disposable Income for consumers to spend on holidays, clothing, durable goods, etc ... and Recessions ensued.  The purpose was to quell overheating Economies.  And it worked.
Due to winterization, Canadians spend an average 2.7 x's 2-earner Family Income for their residences, compared to a 2.0 factor in the USA,  Analysis reveals that Home Price in both nations detaches from the home price/family income ratio trend in 2002.  Lower interest rates made upgrade purchases almost painless.  Then irrational exuberance set in.
In 2001 the Fed lowered interest rates to draw the Economy out of its Technical Recession.  The consumer, recently burned by the Dotcom fiasco, began to invest heavily in Real Estate rather than the volatile, collapsing Stock Market.  Low interest rates enabled the purchase of more expensive homes for the same monthly servicing cost, even w/o an increase in Family Income ... and housing inflated.  At the same time, new sub-prime mortgages flourished; and was compounded by rampant fraud by buyers, mtg brokers, appraisers, lawyers, lenders, mtg aggregators and bond rating agencies.  Artificial Demand was greater than Supply, and the Realty Bubble was under way.  As Existing Home Prices attained levels of 2.8 x's Median Family Income, it was all to clear that irrational exuberance was fuelling the frenzy.
The USA norm for Median Existing Home Price is only 2.0 x's the  median of 2-earner Family Income.  With extraordinarily higher prices, many families were drawing from their Disposable Income to pay for higher monthly mortgage payments.  This left less funds for family budget spending on holidays, clothing, durable goods, vehicles, etc.  Add to the fray the higher energy costs for transportation and heating fuel that was in play, and we had the recipe for a Severe Recession.  The Fed recognized this scenario unfolding and attempted a succession of lower Interest Rates to keep the Economy humming ... but alas, could not avert negative GDP growth rates.
The correction plunge was unexpectedly swift ... much faster than originally forecast, and resulted in a return to the trend line in January 2009.  It is no accident that the Severe Recession came to an abrupt end in April ... prior to delivery of the first fiscal policy stimulus cheques.  Nasty real estate & mortgage practices caused the economic contraction, and the return to norms also got it out of the downturn by restoring Confidence.
 
Disclosure:
no positions