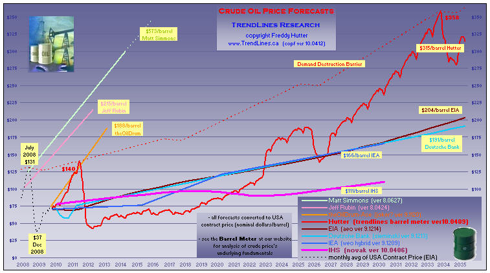 We're pleased to add a contribution by
IHS
to our Crude Oil Price Forecasts presentation. Authored by
Mary Novak
, it is by far the most conservative of the long-term studies with a 2030 target of only $111/barrel.
Also revised from our January chart is Freddy Hutter's monthly update of the TrendLines Barrel Meter.  After slightly exceeding the 2008 record, this projection touches and retreats from the Demand Destruction Barrier @ $140 (2011Q3), and rises to a high of $358 (2033) before eventually settling back to its 2035 target of $315 (up from $218).  Its surge before 2024 reflects final exhaustion of today's 7-mbd of global surplus capacity.  The rapid decline three years later is caused by a predicted 2026 economic Recession.  The Barrel Meter imports data on projected extraction costs, spare production capacity & business cycles from our Peak Scenario 2200 model.
We've inserted what the Barrel Meter describes as a significant reference threshold - the Demand Destruction Barrier (DDB).  It demarks the apparent Oil-Cost/GDP ratio where rising prices are inevitably reversed by sea changes in user conservation and substitution.  This invisible ceiling halted the epic 2008 spike at $131/barrel.
---
2009/12/14 Backgrounder ~ As we introduce Adam Sieminski's price study, it mirrors our sentiment that current crude prices are poised for at least a 15% downward correction to better reflect underlying fundamentals.  The chief energy economist of Deutsche Bank (Washington) projects contract prices to reach $182/barrel by 2035.
Seeing the global Recession subsiding more quickly, IEA bumped up its 2015 forecast seven bucks to $73 this week.  Their long term targets mostly skim a tad below Deutsche Bank, rising to $158 by 2030.  EIA released its 2010 AEO in mid-December.  Converse to IEA, its path straddles above the Deutsche Bank course, rising to $203 in 2035.
Disagreement that a constraint mechanism such as the Demand Destruction Barrier exists separates conventional price forecasting from those within the McPeakster fraternity.  For illustration purposes, we include their three showcase predictions to demonstrate the divergence.  Monthly updates by a "joker" over at theOilDrum (aka Ace) have been trimmed recently, but still warn the cult following of a spike to $188/barrel within 40 months!  From here, we deteriorate to contributions by two members of the Lunatic Fringe:  Jeff Rubin (ex-CIBC World Markets) foresees "sustained pricing" of $215 by 2012 & Matt Simmons (investment banker) sports infamous speculation of $300 by 2014 & $573/barrel ($600 WTI) in "much less than 20 years".
For comparative purposes, all TrendLines projections are re-based to EIA's import-weighted USA Contract Price (nominal USDollars/barrel), approx 4.5% less than WTI.  Its July 2008 peak of $131 was followed by a December bottom of $37/barrel.
Disclosure:
no positions