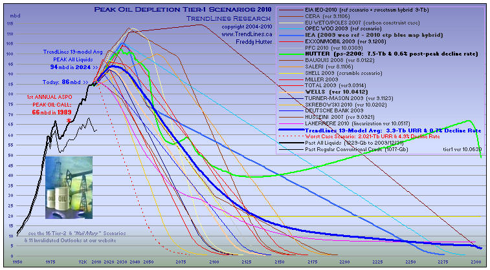 TrendLines Research monitors the major forecasts of peak oil depletion from around the globe.  The top 19 (and their average) are plotted on a graph and each month this Tier-1 presentation is posted to the website.  The remainder are plotted on a Tier-2 chart.  For purists, a third chart plots the only 4 forecasts of the narrow definition of Regular Conventional Crude (light sweet).  For posterity purposes, a final chart tracks the noteworthy historic but failed predictions since 1956.
---
Peak Oil:  94-mbd in 2024
June 30 2010 ~ Below, this month's revision:  (a) updates Tier-1 Outlooks by IEA, Peter Wells & our own Hutter Peak Scenario 2200.
We're pleased to report 2010 global production is on a pace that exceeds the 85.4-mbd annual record set in 2008.  Indeed a new quarterly record was set in 2010Q1.  Monthly flow, which had slipped from its 86.7-mbd record of July 2008 record to only 83.2 (Jan-2009) at the depth of the Recession era, is poised for a new record in January.  See the Monthly Report for higher resolution charts of current extraction.  Historical analysis of Crude & Gasoline Price components & future target prices (out to 2035) can be viewed via our Gas Pump & Barrel Meter charts.  See chart comparing our projections with long term Crude Oil Price Forecasts by Deutsche Bank, EIA, IEA, IHS, Jeff Rubin, Matt Simmons & theOilDrum.
---
Backgrounder
In 1972, the Club of Rome attempted to shock stakeholders and policy makers with its Limits to Growth study forecast of All Liquids Peak Oil:  117-mbd in 1995.  Their attempt at awareness that natural resources are finite and in jeopardy with a growing global population was underscored in 1974 with M K Hubbert's similar prediction:  111-mbd in 1995 (excl NGL, deep sea, polar, Orinoco & tar sands).
Because OPEC manipulation invalidated both these projections, Colin Campbell attempted to update the long term prospects for All Liquids.  The Irish geologist stunned many when in 1989 he declared that All Liquids flow (65.5mbd) would never again re-attain its 1979 pre-crisis Peak of 67-mbd (see all 3 charted).  Well, he was very wrong (86mbd today!).  This episode made it quite clear that the uncertainty & price volatility caused by such pessimistic reports (even by well-intentioned professionals) required addressing by the energy sector.
In that regard, we saw OECD's IEA, USA's EIA, OPEC and major IOCs step forward with their own annual & bi-annual long term projections in an attempt to set the record straight and stabilize the marketplace.  It didn't happen.  As the ranks of McPeaksters were swelled by a growing element from the lunatic fringe, their well-intentioned message was hijacked and discourse deteriorated to the realm of economic and social collapse as the world runs out of oil.  As the rhetoric escalated, we thought it would be constructive to provide a comparative platform for these opposing views of the future.
TrendLines Research has been analysing the world's very best All Liquids long term production profiles (and the not-so-good ones) since 2003.  Our database includes six decades of forecast studies.  A year later we commenced to share these results at our website.
Back in 2005, the 7-model Average indicated a 94-mbd PEAK in 2020.  Our not-so-hidden agenda has been to provide a venue where collaboration and comparison encourages a merging of the pessimistic/optimistic camps.  After screening hundreds of scenario proposals, we are humbled with this project's contribution to the narrowing of the spread by an incredible 2.6-mbd/yr:  reduced from 41-mbd (Campbell 85 & CERA 126) in 2005 to today's 28-mbd (Husseini/Laherrère 86 & EIA-Sweetnam 114) spread.
Interested in who had the best forecast a dozen years ago?  Scroll to our Top-16 Vintage Predictions Scoreboard.
---
---
Today's Model Reviews:
IEA gave guidance on two fronts this month.  The MTOMR raised its 2015 signpost by 1-mbd to 92.  The Energy Technology Perspectives 2010 gives us the first look at mid-Century energy status under the Copenhagen aspirations.  After a 105 Peak in 2030, ETP projects 2050 flows will be a mere 74-mbd ... down from an inferred 95-mbd in WEO.
Renewables will comprise 40% of primary energy in 2050.  Electric power generation will include 48% renewables and 24% nuclear.
---
Middle East specialist Peter Wells has heavily slashed his 2020 peak:  from 2008's 101.5 estimate to only 93-mbd in this Spring's update, citing a 48-Gb cut to Saudi Arabia's URR (345-Gb).
---
A favourite member of this 19-model Depletion study is of course my Peak Scenario 2200.  The only depletion model that publishes updates monthly, the current revision reflects a single factor: (a) 75-Gb decrease (mostly Kerogen) of our URR estimate.
The model concludes the onset of terminal production decline can be brought on by either (a) constraints in securing sufficient proven reserves, or (b) due to rising Underlying Decline Observed surpassing the trend of annual New Capacity installations.  PS-2200 pegs dates on these two events:  2051 & 2031 ... the latter establishing its 2030 Peak (102-mbd).
From 2004 to March 2009, PS-2200 & Colin Campbell's Depletion Model were the sole global models conducting monthly analysis of the narrowly defined Regular Conventional Crude (light sweet oil).  Upon Colin's retirement last year, PS-2200 uniquely carries on that role.  Their opposing views (see RCC chart) of light sweet crude's future path is representative of the rift between the optimistic & pessimistic camps.
RCC peaked @ 68-mbd in 2005, and production has been declining at a rapid 2.6%/yr.  Whereas Campbell foresaw this rate of decline continuing unimpeded 'til 2030, resulting in a mere 36-mbd flow by 2030, PS-2200 projects a softer 0.9% after 2009 and 55-mbd flow in 2030.  Hutter's contrary position is twofold based:  (a) rising surplus capacity in OPEC & Russia masked the apparent decline; & (b) the recent high Underlying Decline Rate Observed (UDRO) of 3.1% in 2008 was Recession-inspired, and EOR & Capacity development activities are driving down UDRO towards an ultimate 2.5% low in 2012.  Whether or not this year's RCC flow deteriorates or moderates makes 2010 the watershed year in foreshadowing All Liquids future path.  And thus far, light sweet extraction exceeds 2009 flows by 0.6-mbd.
The Peak Scenario 2200 June Update proposes that policy makers must target their strategies for substitution of transportation fuels at the 2050-2065 time frame.  The revised projection forecasts All Liquids production will commence a potentially catastrophic 2.8% decline rate in 2050.  Underlying the plunge is RCC's entering a sea change R/P 10 environment typical to a petroleum province's final exhaustion phase.  At this juncture, with NGL's having peaked in 2043, non-conventionals meteoric rise can no longer offset RCC's demise.
The update further elaborates on its bold hypothesis that Underlying Decline Rate Observed (UDRO) rises and falls with the American Recessions.  It contends UDRO has just demonstrated this phenomenon for a sixth time since 1970.  After troughing in 2012 as mentioned, UDRO should climb back to 3.5% during a probable 2017 Recession.  The model estimates 77-mbd of Capacity was added since 1970 to address Underlying Decline Observed, and a further 58-Gb will be required for that purpose by 2030.
The rippled profile results from the harmonics of the underlying 7 unique flow streams.  Visit our PS-2200 venue for lots more details and charts on URR linearization, non-conventional dynamics, Underlying Decline and the inherent flaws (and myths) incorporated within McPeakster WAG's.
---
Further to the 19 Tier-1 models, 16 Tier-2 & Hail Mary outlooks are tracked regularly.  For discussion and posterity purposes, 4 Regular Conventional Crude projections & 11 Invalidated Outlooks are presented as well.  But, it is the Average of the 19 Tier-1 models that reveals the very best guidance, such as:
Future Extraction Rates:
2008: 85.4-mbd
2009: 84.2
2010: 85.9  (pending)
2024:  94  (Peak Year & Peak Rate)
2032: 92  (50% Extraction of URR)
2041: 85  (first year with flow less than today)
2050: 77
2060: 67  (fifty yrs from today)
2075: 55  ( 9.2-billion peak of global population)
2100: 35
2110: 29  (100 yrs from today)
2200: 10   (flows limited to Bitumen/X-Heavy, GTL, CTL & renewable BTL)
2300:  5-mbd  (flows limited to GTL, CTL & renewable BTL)
---
(end of highlights - May Depletion Scenarios update cont'd at our website... )
 
Disclosure:
no positions