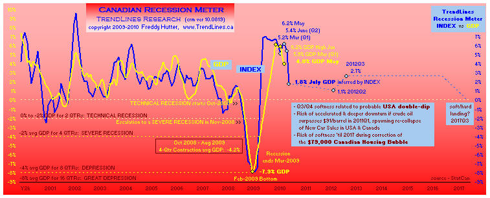 Recession Meter infers Canadian GDP a dismal 1.8% in July
Aug 19th ~ Based on leading indicator data, the TrendLines Research Recession Meter suggests Canada's Real GDP growth rate was a dismal 1.8% in July.  This plunge accompanies significant downgrades of the June & May Index inferred figures to 5.4% & 6.2% respectively.  The latest available data from StatCan reveals actual GDP of only 4.0% for May.
Last November, the TrendLines Recession Meter was the first mainstream analysis to provide alerts that the Recovery was exceeding 5% GDP growth at monthly levels.  But within mere weeks, the Index began to already project its serious deterioration, and by December 23rd 2009, the Index signaled the first alert of a potential double-dip.  It now appears this downturn has been accelerated.
On the short term, the Index projects further softening ... with a trough of 1.1% in 2012Q2.  Contributing to this weakness in the economy are:  (a) waning Fed/Prov fiscal stimulus cheques;  (b) an assault on exports due to an above par Loonie;  (c) potential collapse of the auto sector's export component reflecting rising pump prices in the USA; & (d) deteriorating "wealth effect" via the ongoing correction of the $79,000 Canadian Housing Bubble.     
GDP should resume its 2.7% norm in 2012Q3, but medium term ramifications of the above challenges should prevent growth rates from surpassing the trend before the normal end of the current business cycle in 2017.
---
By measure of our economic activity Index, some would argue Canada's $62 billion Economic Action Plan, proposed in January 2009, was overly generous.  In fact recognized studies have shown that Keynesian spending to extract an economy from Recession is more expensive on the long term when deficit borrowing costs are factored in.  Economic purists would further explain that State interference and subsidies also upset the natural "cleaning out" processes for both commerce and consumers.
Instead, political pragmatism dictates that the social cost of these periodic episodes must be mitigated.  In Canada's case, with the Unemployment Rate stubbornly at 8.0% (after a high of 8.7%), the excess fiscal stimulus is seen to be a welcome aid in getting the Rate back to the pre-Recession 2007 low of 5.3%.  In the absence of Inflation, Bank of Canada has obliged with a low interest rate regime to enable this quest for full employment.  Pleasantly surprising tax revenues and royalties resulted in last year's Federal Gov't Deficit being $47 billion ... $7 billion less than had been forecast.
The reality is that any Government that defied the G-20 call-to-arms for concerted stimulus action would have faced expulsion either by combined Opposition Parties or the electorate.  There is no doubt this would have been the demise of the Federal Conservatives here in Canada.  The EAP, jointly funded by Federal, Provincial, Territorial, Regional & Municipal jurisdictions comes to an end in March 2011.
---
Over the past year the Loonie has climbed 20% on the doubling of crude prices.  Both the Canadian & Australian currencies are unfortunately cursed with the infliction of still being considered commodity sensitive.  A rising Dollar impedes exports and thus the manufacturing sector.  Despite near-record low interest rates, Canada's superb macro economic fundamentals have encouraged foreign investment, as well as somewhat of a safe haven status; and even limited reserve currency status on the international scene.  These factors have not gone unnoticed at the Chicago Mercantile Exchange, where high speculation activity was reflected by record long futures volume (120,000 long non-commercial contracts) in mid-April.  This exuberance has expired and volume drifted to a mere 24k in late July.
Based on current commodity prices and other macro-economic fundamentals, the Canadian Dollar has a fair value of $0.87 today agin the USDollar.  Based on the recent past, one would expect that should oil rise to the $140/barrel vicinity in 2011Q4 as our Barrel Meter projects, the Canadian Dollar should revisit the $1.04 area.  That the Loonie in April already visited par with only $82/barrel contract crude implies the 2010 bump was built upon far too much anticipation.  Or, if neophyte speculators carry the day, Canada's Dollar could spike briefly to $1.21 in the present environment ... truly uncharted territory.  Our projected moderation of the Canadian economy in part reflects export challenges in a protracted par-valued CdnDollar environment.
---
Most credit for the projected softness in the current business cycle is attributable to American influence.  For eight years,  I have warned of the consequences of growing structural deficits and the impending Federal Debt Wall in the USA.  Because both Congress & consecutive Presidents have failed to address this issue, the USDollar has been in secular decline since January 2002.  Failing an earlier intervention by bond vigilantes, America will probably face the beginnings of a Greek style Debt Crisis in 2019 ... marked by Treasury downgrades, major bumps in yield (4%) and ultimately ... withdrawal from the treasury auctions by tier-1 investors.
As most crude oil is denominated in USDollars, its price reacts inversely to movements in the Dollar.  As illustrated in our Barrel Meter chart, the current price run will continue 'til oil hits $140/barrel in 2011Q4 if the US Gov't continue its fiscal mismanagement.  Resultant rising crude costs are increasing pump prices to the extent they are approaching the same Gasoline/GDP ratio that decimated USA New Car Sales in 1980, 1990 & 2007.
Breach of this threshold will occur upon $92/barrel crude.  The havoc of rising energy costs will surface in vulnerable sectors.  Rising pump prices will cause Real Estate to be an early victim and on two fronts:  (a) by making New Housing out in the suburbs less attractive &  (b) via an obvious shrinking of the existing homes' commuter zone.  Another critical juncture occurs as oil passes thru the $108/barrel threshold a few weeks later:  another round of G-20 Recessions ... and inevitable negative effects on our exports.  The projected drop in growth rate to 1.1% GDP by 2012Q2 is mostly attributable to consequences of a probable American  double-dip.
---
Canada's average home prices have been double their American counterparts since last Autumn.  The 2010 Canadian price exceeds the long term Price / Family Income ratio trend by 30%.  Canada is today suffering a $79,000 Housing Bubble.  The average monthly Price has declined $17k from the peak in May.  With the experience of our 1989 Bubble event, consumers are more likely to see a multi-year sideways realty price correction than the deep-plunging episode witnessed by the USA in dealing with its own $77k (35%) bubble.
In the 90's, the average price fell a mere 6%, but took ten long years to set new highs.  Home owners' growing realization of imminent falling prices and deteriorating wealth effect will not bode well for Confidence.  This factor will stymie robust GDP right through to the end of the current business cycle in 2017.  The 2010 average price of $340k should drop to $320k during the present cycle.
---
If long-term American business cycle trends hold to form, both economies should trough again in 2017Q3.  Whether this takes the form of a soft or hard landing will depend on Bank of Canada's monetary policy maneuvers in tandem with fiscal policy actions at the federal & provincial level.
Bank of Canada & the Federal Reserve must be very careful with their raising of interest rates during the balance of 2010 & 2011.  Low rate regimes will be necessary to weather a potential auto-related downturn and the collateral damage associated with a 7-yr soft housing market in Canada.  America is on the verge of double-dip.  Overly ambitious raising of rates in the next six quarters to address inflation concerns will need to be reversed ahead of the potential diesel & gasoline spikes.
In a final look back at the recent downturn event, revised StatCan GDP data confirms the full economic contraction was 11 months (~ 4 quarters) in length, with an avg GDP decline of -4.2%.  Its cycle was over in August 2009.  By NBER definitions, the Technical Recession started in October 2008, quickly escalated to a Severe Recession in November, and plunged to its eventual -7.9% trough in February before coming to an end in March 2009.
Disclosure:
no positions