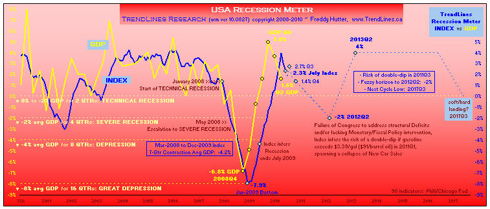 Economic data released by BEA today reveals the USA enjoyed a downward revised 1.6% Real GDP growth rate in Q2, down from 3.7% in Q1 & 5.0% in 2009Q4.  The 2010Q2 figure is below the 3.1% figure for the TrendLines Recession Meter.  Early data suggests July GDP was 2.3% and the Index  projects 2.7% & 1.4% for Q3 & Q4 respectively.
Last December, the TrendLines Recession Meter was the first mainstream analysis to provide alerts that the Recovery under way was facing potential median term deterioration.  By February 23rd 2010, the Index signaled the first alert of a potential double-dip.  In a gross misstep, attempting to deflect attention from itself, Wall Street began to spotlight a host of countries with flaky sovereign fundamentals:  Argentina, Iceland, Dubai-UAE, Ireland, Greece, Spain, Portugal, Hungary & Italy.  Unfortunately, upon running out of nations, the same scrutiny by media and bond vigilantes on Deficit & Nat'l Debt to GDP ratios began on the USA itself.  We have welcomed this development as it builds on an awareness campaign we have been engaged in for over a decade.  See our Debt Meter.
As more stakeholders became educated, our Index sensed an acceleration of USDollar debasement, moving the prospect of a double-dip into the short term window.  In recent weeks, however, Congress & the White House seem to have gauged international sentiment as a  message telling them to kill the Bush tax cuts (due to expire at year-end) rather than extending them as an indirect stimulus measure but in so doing exacerbating the Deficit/Debt Wall concerns.  This positive prospect has resulted in a shifting of the double-dip event back to the 2011Q3 time frame.  Should the USDollar devaluation come to fruition, it is projected GDP will trough at -2% in 2012Q2.  Should long-term trends prevail, the current business cycle should resume 4% cresting norms in 2013Q2 and wind down in 2017Q3.
We have predicted since late 2008 that a rebound would stem from Inventories being at business cycle lows,  The correction prompts an increase in average weekly hours, followed by more overtime, and finally new hiring.  In the jobless recovery of the 2001 Recession, the U-6 Unemployment Rate peaked 23 months past the trough.  It is little reported that this time the 17.4% U-6 top occurred only 9 months post-trough.  The end of the economic contraction in Dec/2009 bodes well, but we see storm clouds on the horizon...
---
It all stems from the inability of Congress & the President to address runaway structural Deficits and the resultant mounting Federal Debt.  This has not gone unnoticed by foreign investors, and debasement of the USDollar commenced in January 2002.  Feeling the pinch, petroleum exporters began to factor this component into their crude pricing starting in 2004.  As illustrated in our Barrel Meter chart, crude costs rise as the Dollar devalues, and this is a trend that will continue 'til oil hits $140/barrel in 2011Q4 should the US Gov't continue its fiscal mismanagement.
With rising crude comes increases in the gasoline and diesel prices, to the extent where pump price is on a trajectory approaching the same Gasoline/GDP ratio that decimated New Car & Light Truck Sales in 1980, 1990 & 2007.  The threshold, rising with nominal GDP, was $3.19/gallon gasoline ($86/barrel) in the last breach event.  The secular gain in crude price is pointing to attainment of the critical ratio once again in Q1 upon $3.39/gal gasoline ($92 oil) (see Gas Pump projections).  Vulnerable sectors will shortly be reflecting the havoc of rising energy costs.  Another critical event occurs as oil passes thru the $109/barrel threshold - another round of G-20 Recessions.
Rising gas pump prices will cause Real Estate to be an early victim on two fronts.  New Housing out in the suburbs will be less attractive, & there will be an obvious shrinking of the commuter zone.  Ironically, the rebound of the housing & auto sectors were the foundation for the end of the recent Severe Recession in July 2009.  The year-to-date median price for Existing Homes is $7k above of our 2010 Target.  New Home Sales bottomed in Jan/2009 and the subsequent 27% rise in unit sales contributed to the economic recovery.  New Car & Light Truck Sales saw bottom when consumers gained faith that the collapse in Crude & Gasoline Prices was genuine and long term.  Unfortunately, that premise may prove to be misguided.  Ignoring the Cash-for-Clunkers anomaly, annualized sales have climbed back to as high as 11.8 million from 9.1 in Feb/2009.
---
Perhaps fortunately, this potential USDollar debasement episode and its ramifications occurs as critical mass of the business cycle recovery is providing good momentum.  Unfortunately, rather than an annoying "pause", I fear the growth rate of the USA economy is more likely to see a double-dip plunge to approx -2% GDP in 2012Q2.
The Fed must navigate its monetary policy delicately to prevent this potential pause in the Recovery from blossoming into a full fledged secondary Recession ... as in 1982.  Sensitive Fiscal & Monetary Policy intervention will be crucial over the coming seasons.  Stymied stimulus action and/or the excessive raising of Fed rates could further dampen Recovery momentum.
In that respect, Mr Bernanke should note our canary in the mine, Real Unemployment, is suffering a relapse.  Albeit the 16.5% U-6 rate of July is down slightly from last October's post-1982 high of 17.4%, it only matches the rate already seen way back in January.  Much farther down the road, similar mitigation activity by the Fed & the Treasury Secretary's guidance to Congress with respect to Fiscal Policy will determine whether the cycle's contraction bottom in 2017Q3 will be a hard or soft landing.
The TrendLines Recession Meter reflects 98 economic indicators via the Chi/Phili Federal Reserves.  Its
future guidance considers 8 leading indicators including Animal Spirits, and projections via our
USA Realty Bubble Monitor
, Barrel Meter,
Gas Pump
&
Debt Meter
.
Disclosure:
no positions