Pensions, Political Parties and Popular Appeal: Will they lead to OAP's Queuing for Prison?

by The Little Deal Clincher on March 30, 2015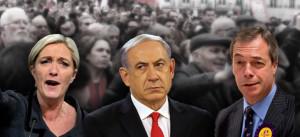 3 separate stories connected through political fear, isolation and tensions from the UK, to France and over to Israel engrained in the past and sure to rise again in the future.
The UK chancellor George Osborne has last week announced in his 2015 budget the Life Time Allowance (LTA) maximum on pension contributions is to be reduced to £1 million.
This may sound plenty in 2015-however what about in 2035 with ever rising healthcare costs for the elderly eating in to monthly budgets? After taxation trying to live on £30,000-£40,000 pa in 20 years' time could be a feat for the parsimonious.
How the UK government maintains the state pension provision, the NHS funding for an ageing population along with everything else-roads, schools and defence- plus the unfunded liabilities such as public sector defined benefit pensions and PFI payments will be a fiscal challenge to say the least. The UK is in good company or arguable better placed than France or Italy or even Japan's with its government debt to GDP the highest of all G8 members.
The ability of governments to address these issues will be critical over the coming years. For some suggestions try reading John Micklethwait ex-economist and now the new Bloomberg TV news chief and economist journalist Adrian Wooldridge book- "The Fourth Revolution: The Global Race To Reinvent The State (2014)" for some 21st century approach mixed with a C.19th century ethos.
They make a good point about curbing cronyism and excessive lobbying, particularly in the US, also suggesting individual governments shouldn't try to do everything, reduce dependency and promote self-sufficiency. They point at the way Nordic countries have refocused themselves since the 1990s as a possible model for others to try.
Unfortunately, these policy issues may not get the attention they deserve. I've mentioned it before (LDC, November, 2013). I propose if pensions remain vastly unfunded either by the state or individuals then by 2035 OAP's with meagre benefits and nothing to lose will commit crimes to get in prison for the food, shelter and hospital beds and even some supervised company. These could be seen as an improvement from the neighbourhoods they came from.
The UK has immigration as a major issue at May 2015's election and it's a campaign platform for Nigel Farage's gaff prone UKIP to gain votes from disenfranchised working class voters from the "neglected" areas of the UK. The recent East Anglian sea-side constituency by-elections were presented as such which UKIP won.
Immigration concerns raise the political temperature in France too with the rise in the popularity of the Marie Le Pen led Front National (NYSE:FN). Left leaning Jean Jaure Foundation member Professor Laurent Bouvet recent analysis called, "L'Insecurite Culturelle" shocked the "Left" in France as it said, "the working class vote FN as they're abandoned by the Left," and "the FN says it will fight for you," (Willsher, Guardian, 2015).
By this he means economically, democratically and culturally ignored by a supposedly socialist government or is it more in reality a Grand Ecole or ENA educated elite, as mentioned in the BBCs "This World - Quelle Catastrophe! France with Robert Peston" shown earlier this month, having little in common with their supposed comrades?
The Guardian article added the essayist Francois de Closets observations that the Left, the bobo or bourgeois bohemians [promote] the gays and ethnics as the focus of their endeavours not the traditional working class (Willsher, Guardian, 2015). Clearly not very well either if race riots in recent years are any measure of policy success.
In other European countries too immigration issues are rising up political agendas due to the isolation of those who feel left behind by urban centres and cosmopolitan elites. If these populist European parties make further common ground and real gains at national elections from 2015 then come the 2030s European life could again become foreboding and dark forces irresistible as hordes of voting but poor pensioners push for fears to be addressed.
In Israel linking up political parties may be a way of providing broader appeal to voters to improve understand and reduce fears and isolationism. Yet, after the re-election of the Likud led coalition with Benjamin Netanyahu as Prime Minister who now regrets warning, "the Arabs are voting in droves," with The Joint List alliance of Arab-dominated parties rejected the apology (BBC News, 2015). It still remains a cause to believe in more than a rallying movement for permanent change.
The Joint List Alliance of Arab & 1 Arab/Jewish parties form a united front as the 3rd biggest party in the Israel's Knesset to offer an alternative for both peoples. More likely nothing much change while Netanyahu remains PM as a further remark about there being no two states solution while he's PM, apparently as a light-hearted comment drew criticism, reinforces the difficult road ahead in Israel's political landscape for the term of his office certainly and easily longer.
Israel/Palestine is the part of the world where religious and national identity remains potent and deadly something Europe doesn't want to revisit again.
The economy in Europe is growing albeit anaemically. Spain has improved with Ireland more so since the 2007-9 financial crisis. The battle for a prosperous future isn't lost yet economically if a determined enlightened leadership endures.
However, the nationalist parties ascendance, enhanced due to response to the financial crisis by the political elites, where too few responsible have been punished, in the public eyes, yet austerity measures effects the lives of many through reduced services or entitlements. Inequality issues, like stagnant wages or inadequate pensions, will grow to create a potential political atmosphere for mass upheaval over the next 20 years. Thus requiring fiscal and social policies combined with government debt reduction, to avoid such possibilities, a tall order for the most enlightened of politicians.
To achieve these reforms of pensions, healthcare and welfare systems to avoid the perils and hardships I think possible by the 2030s. It won't be done by politicians using a divisive C.19th nationalist ideology but by politicians using C.19th liberal democracy combined with modern methods of adapting and using technologies and co-operation through private/public companies and institutions working together and building more decent infrastructure and communications to benefit all.
LDC
References and further reading-
BBC i-player; (Producers Bagnall , S & Waldron, S); (2015); Episodes 1-3, "This World - Quelle Catastrophe! France with Robert Peston" Website accessed 23rd march 2015: http://www.bbc.co.uk/iplayer/episode/b055kqhw/this-world-quelle-catastrophe-france-with-robert-peston
BBC News Services; (2015); website accessed 24th March 2015: http://www.bbc.co.uk/news/world-middle-east-32026995
Bouvet, L; (2015); "L'Insecurite Culturelle," Fayard, Paris. Website accessed 25th March: http://www.fayard.fr/linsecurite-culturelle-9782213672199
Liberation Society interview; (2015); "Laurent Bouvet, professor of political science at the University of Versailles-Saint-Quentin-en-Yvelines, refusing to speak of "cultural insecurity" is a denial of reality.'" Website accessed: 24th march 2015: http://translate.google.co.uk/translate?hl=en&sl=fr&u=http://www.liberation.fr/societe/2015/02/11/nous-sommes-dans-le-deni-de-l-insecurite-culturelle_1200428&prev=search
Little Deal Clincher Blog November 2013- http://www.littledealclincher.com/is-it-future-perfect-or-future-problem/
Micklethwait, J & Woolridge, A; (2014); "The Fourth Revolution: The Global Race To Reinvent The State," Allen Lane, London, UK, 270 pages.
Willsher, K; (2015); Abandoned' French working class ready to punish left's neglect by voting for far right", Guardian News and Media Ltd, London, UK. Website accessed: 25th March 2015: http://www.theguardian.com/world/2015/mar/22/alienated-french-working-class-vote-far-right-claims-analyst