The Forces
Tesla has committed to taking many partners in making the Gigafactory come to life as soon as possible. Officials have also made clear that Tesla is keen on creating the shortest and most efficient supply chain possible.
Tesla has selected 5 western states to compete for the company's blessing to house the Gigafactory. There are a number of metallurgical mining companies in the western United States that could benefit in the near term.
What You Already Know
In Tesla Motors' (NASDAQ:TSLA) pursuit to bring its mass market Gen III electric car to market by late 2016, the company has committed itself to building a $5 billion factory that will manufacture lithium-ion battery cells. Tesla recently revealed that this "Gigafactory" is actually expected to be two or three different factories, possibly in multiple of the contending states. However, for the purposes of this article, I will simply refer to it as the Gigafactory. Musk has said this Gigafactory will allow Tesla to reduce its lithium-ion cell cost by at least 30%. The battery pack is currently the most expensive component in a Tesla automobile, making the Gigafactory a necessary precursor to Tesla's offering of the Gen III vehicle with an approximated $35,000 price tag.
The bottom line is that the vehicles Tesla is producing and will stand to produce in the near future are gorgeous, functional, efficient and technologically apt for the 21st century. The notion that consumers will be able to purchase a car that is more compelling in all respects than a gasoline vehicle at the same price point will be an extraordinary market force. Compared to industry gasoline vehicles, an all electric Tesla is dramatically cheaper to fuel, significantly cheaper to maintain, safer than any other vehicle ever tested by a governmental rating agency, and leagues ahead of the closest competition technologically speaking. As much as I dislike the comparison of Tesla to Apple, Musk is revolutionizing the car industry the way Jobs revolutionized the mobile phone industry. The Gigafactory will produce a ludicrous amount of battery -- a ludicrous amount of battery that will still fall significantly short of the demand for its electric cars and other energy storage applications. So maybe another company should look into building a gigafactory? Try hundreds of companies should. In early May, Musk said that there will need to be hundreds of gigafactories like the one Tesla is developing. Annually, over 60,000,000 vehicles are produced worldwide, and Tesla is quickly entering the world's largest markets. The company already serves the US, Canada, Western Europe, Middle East, China, Japan, Australia and New Zealand. Just this weekend, Tesla delivered the first right hand drive Model S to the UK. As Tesla's superior technology becomes affordable for the mass market, the demand will be extraordinary, resulting in an associated explosion in the demand for lithium-ion battery cells.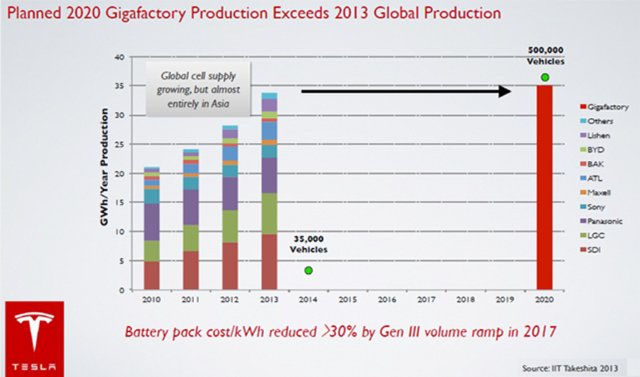 It's Not Just The EV Boom
Energy storage is a rapidly growing industry -- not only for electric vehicles but for stationary storage applications as well. Stationary energy storage is of particular interest moving into the 21st century because it will allow residential and commercial electricity consumers to plan and intelligently discharge energy for use. A significant monetary component of an electricity bill is attributed to "demand" or "peak use" charges, which are simply premiums charged by utility companies to customers for using more electricity when most other residences and commercial facilities are doing so as well. Logically these premiums on electricity are typically charged at times during the day. These premiums are warranted because utility companies must build out additional infrastructure for the electrical grid to withstand these high usage times, typically during the day. Many may know that Musk is the chairman and largest shareholder in SolarCity (SCTY), a company which his cousins founded in 2006. SolarCity is the largest solar integrator in the US and already uses Tesla's batteries in commercial PV systems. These battery modules are able to store electricity and intelligently discharge that electricity so that "demand" or "peak use" charges are minimized, saving customers significant sums of money. This integrated system is called DemandLogic and is growing quickly. As Tesla is able to drive down the cost of lithium-ion cells, the economics for the transition to stationary energy storage applications is palpable.
An Additional Nugget of Knowledge:
In one hour the sun hits the earth's surface with enough energy to power all of humanity's energy needs for a year. There are 8,760 hours in one year. Musk comically emphasizes this point by saying we could generate all the electricity the United States needs by covering a corner area of Arizona with solar panels. If this is not a compelling case for solar and increasingly cost-effective energy storage capabilities at scale, then I do not know what is.
So what's the play?
(1) Western Lithium USA Corporation (WLCDF) (WLC.TSE)
As you can imagine, lithium is a critical component in the production of lithium-ion batteries and Tesla's overall growth strategy. Currently almost all of the world's lithium production comes from Chile, Australia, China and Argentina. However, Nevada has sizable reserves of this strategic metal as well, which lends to this investment thesis.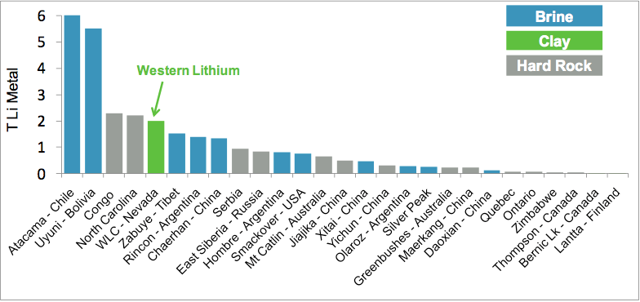 www.altenergystocks.com/archives/2009/08/
Western Lithium USA Corporation is a company currently in the latter stages of developing its Kings Valley, Nevada lithium deposit into a strategic, scalable and reliable source of high-quality lithium carbonate. The company also will derive revenue from the production of its specialty drilling additive HECTATONE(™). The operations office for Western Lithium USA Corporation is located in Reno, and recently there has been speculation that Tesla's press image rendering of the Gigafactory was based on a photo of the late Reno Stead Airport. While I do not believe this to be probable, it certainly does seem plausible:
More importantly, Western Lithium USA Corporation is ideally located to be utilized as a part of an efficient and scalable supply chain for the Gigafactory. The project is projected to produce 26,000 tonnes of lithium carbonate annually for a 20 year period, and have a NPV of $552 million. Given the current market capitalization of ~$53.6 million, and a strong balance sheet, the company looks to be undervalued. The management team at Western Lithium USA Corporation is an experienced bunch, with vast industry knowledge and a history of success in mining operations. While it is not certain the Gigafactory will be built in Nevada, there have been reports that Tesla representatives have visited Reno. Jay Chmelauskas, Western Lithium's chief executive, said his company's intention is to become a major supplier of lithium to U.S. battery manufacturers. When asked whether Western Lithium could provide lithium carbonate to the Gigafactory, he said "we have the right address," without confirming talks with Tesla, specifically.
(2) Formation Metals Inc. (FMETF) (FCO.TO)
High grade cobalt metal is one of the primary components in the manufacturing of lithium-ion battery cells, and currently the Democratic Republic of Congo produces ~50% of the world's supply. Moreover, the United States has no current domestic production of this strategic metal. Formation Metals Inc. is a mineral exploration and mine development company. Through it's wholly owned subsidiaries it has interests in base and precious metals, as well as uranium in the United States, Canada and Mexico. Altogether the company has seven projects. The company's primary asset is the Idaho Cobalt Project (ICP), located near Salmon, Idaho. Given that the Gigafactory will be built in a western state, and possibly Nevada, the ICP is ideally located to be utilized as part of an efficient supply chain to the Gigafactory. The project has received all environmental permits to operate the ICP, and stage 1 and 2 of construction have already been completed. The company is currently working to get financing in order to begin underground development of the mine. The ICP is forecasted to produce 1,525 tons of high-grade cobalt annually for a period of 10 years, and Formation Metals Inc. calculates the NPV of the project to be $87.29 million. The assumed price of $22.52 per pound of cobalt by the company may be optimistic, but considering the company's current market capitalization of $18.8 million, the future revenue stream from even just the ICP is enticing.
This article is postulated based on the ideas of a single amateur investor, and it should be viewed as such. I encourage anyone who feels inclined to invest based on the above thesis to conduct their own research and share thoughts below. It should also be noted that I do currently hold positions in both WLCDF and FMETF.
Disclosure: I am long WLCDF, FMETF.