Temporry Insanity Part II
Temporary Insanity - Part Two
Previously I wrote of temporary insanity in a market.
At the time I used the USDJPY FOREX pair as an example.
Had I waited two days to write that article, I would have had another, perhaps even better, example of temporary insanity in a market. I am referring to the E-Mini S&P futures contract.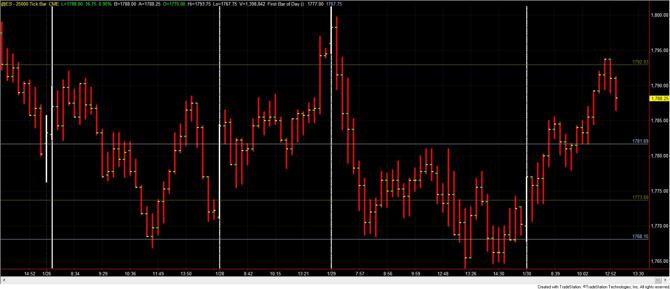 Figure 1 E-Mini 25,000 Ticks/Bar - January 27 thru 30,2014
I have marked the beginning of each day with a white vertical line.
The principle fundamentals the market must digest and deal with this week are:
New Home Sales - Monday 7:30 AM CST
Durable Goods Orders - Tuesday 7:30 AM CST
FOMC Meeting Announcement - Wednesday 1:00 PM CST
GDP -Fourth Quarter 2013 - Thursday 7:30 AM CST
Jobless Claims - Thursday 7:30 AM CST
You can go to Bloomber.com and view the reports for the above list of events. I will comment on them briefly.
ON Monday the housing report was not good - and housing has been counted on to move the economy forward. This is not a good sign for the economy as a whole, and for the stock market in general.
Notice that the E-Mini dropped from around 1790 to about 1768 before rebounding to the high 1780s only to fall again to the low 1770s.
This indicates to me that the market is nervous. The FOMC meeting is looming on Wednesday and everyone knows (or should know) that this market has been rising because of The FED monetary policies (printing more dollars).
ON Tuesday, durable goods reported and it was not good - logic would indicate that the market should view this as a negative and retreat a bit (or at least not go up).
Instead the market chose to rise from the mid 1770s all the way up to 1800 by the end of the 24 hour day.
The FED is between a rock and a hard place and most everyone expected it to announce another 10 billion "tapering" of its bond buying program (printing more dollars) - and keep is zero interest rate policy (ZIRP) for the foreseeable future.
The FOMC meeting announcement finally came at 1:00 PPM CST and was pretty much as expected. The FED report mentioned an improving economy (they must smoke the really good stuff at these meetings).
The market continued a major sell down that had started in the overnight session. The sell down did not stop until the 1768 area.
Finally, on Thursday, the fourth quarter 2013 GDP reported an increase (a look inside the report reveals mediocre results) and Jobles Claims were higher than expected. But the market started a rise that has it back up into the 1790s as we write this.
So where is the temporary insanity?
A short term trader would say that a rise in the market, in face of weak economic data and a forthcoming FOMC announcement that is not likely to be supportive is substantially short of a rational action - and a situation that will be temporary and likely to be corrected sooner than later.
Tomorrow we get Personal Income and Outlays at 7:30 CST. Unless the government masseur works overtime, I do not see how this report is going to be very good. Of course the market will decide what it wants to do after the report is released - I will be sitting there waiting anxiously waiting to see what the market decides.
Actually we would venture to say that the current rise in the market may be viewed as a relapse in temporary insanity - and likely to result in a significant retreat in the very near future. But temporary insanity can last much longer than expected - but it is never permanent - because if it were permanent it would not be temporary.
I personally like these market conditions becsue the volatility presents so many opportunities to make profitable trades. But trade with caution - volatility is a double edge sword.