Is something wrong when the stock market never goes down? That's what has been happening recently, and it's leaving many scratching their heads. Why doesn't the market go down anymore? Is it healthy? I propose two alternative theories as to what recent market action may indicate. First let's just set the picture for of the current market landscape.
The S&P 500 broke the record yesterday for the longest period without a 3% correction. It has now been nearly a year since the S&P 500 has declined even 3% from a high! Perhaps even more astonishing is the recent run for the Dow Jones Industrial Average. The DJIA has now gone 35 days since it has had a one day decline of even 0.25%. This is a record for the DJIA going all the way back to 1900.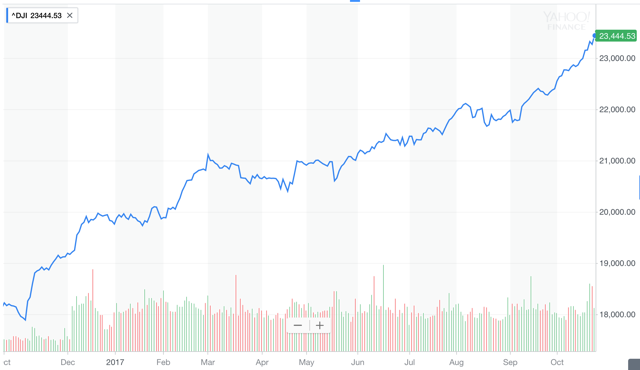 1-year Chart of DJIA - Source: Yahoo Finance and Quandl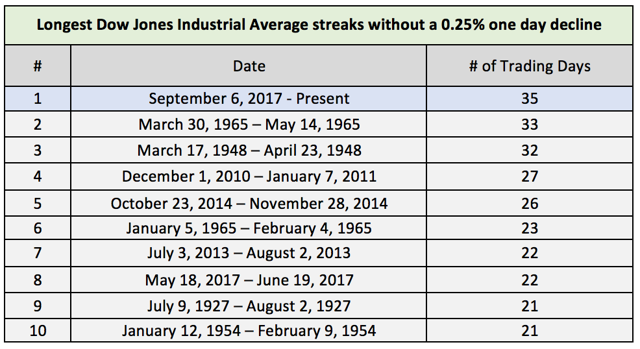 Source: Yahoo Finance
Going hand in hand with the market's slow march forward has been record low volatility. The average VIX level since April 24 is 10.72 while the long term average is around 20. 
The market's record run may be explained by two alternative theories. One theory is that the market is being pushed higher by central banks, stock buybacks, and speculation. In this theory, the market is not being supported by fundamentals, and a small crack may quickly become a chasm as stocks fall through weakened support levels. 
A second theory is that the market is being pushed higher by investors who are impressed by the underlying fundamentals and are just waiting for a pullback for a chance to put more of their money to work. In this theory, the market hasn't seen any drawdowns because any decline, no matter how small, is immediately bought up by investors who still have hoards of cash on the sidelines. If this theory is correct, a 3% drop will almost certainly not develop into a 10% decline. In fact, even a 3% drop is not likely for a while if this theory is correct.
Only time will tell which theory is correct, but one thing is sure; market's can't go up forever!