AT&T (NYSE:T)is the second-largest wireless provider in the nation. They provide service for over 100 million cell phone users and roughly 20 million wireless devices. They started as a local phone company and grew to over 21 states providing landlines to nearly 25 million people. They also provide internet to over 16 million users, 6 million television watchers, and data services to many large businesses worldwide.
The wireless division makes up roughly half of AT&T's sales and is the most promising sector for growth. AT&T and Verizon Wireless are the only network companies large enough to confidently hold enough capital and resources to keep up with customer needs while also generating strong cash flow and maintaining solid profit margins. Management has done a great job capitalizing on their current wireless position by cutting costs and pioneering improvements in service quality. AT&T now has a customer base that can compete with Verizon Wireless' loyal following. While phone subsidies have seen their margins peak, AT&T's "Next" financing program will do a much better job controlling phone costs and increasing revenue.
The company is completing a project to upgrade their wireless network, as you may have seen advertised on their TV commercial spots titled We Did It. AT&T invested heavily into scaling up their coverage area and availability of 4G LTE service. These improvements are expected to give them an even larger lead over smaller rivals who lack the capability to upgrade in the next several years. This is important because competition has become stiff in the wireless industry. T-Mobile and Sprint have launched aggressive price cut campaigns (For example: Sprint's "Cut Your Bill in Half" campaign) in an attempt to steal customers from Verizon and AT&T. Though these tactics may work in the short term, AT&T's heavy investments into network infrastructure will ensure the smaller guys' price competition will be short lived. As technology develops, companies who have not invested in their network's quality of service will struggle with customer retention. However, AT&T has been forced to react to the competitive environment and has made some smart pricing changes. They have increased available data for plans with the same price rates so that competitors cannot compete. It is an age old strategy that attacks lower prices with higher quality. In this fight, AT&T's high ground is their network strength.
On the other hand, AT&T's fixed-line sector is not as attractive. Stemming from the company's early years, AT&T services several regions as their primary cable and land-line phone provider. These services have deep roots thanks to the reach and long history of AT&T's networks, but they have little room for growth thanks to the competition in other areas. Cable companies' networks are often more capable than AT&T's fixed-line business and as a result customers may make the switch to other providers. Investments into the U-verse upgrade may help with customer retention somewhat, but they still are in the lower end of cable quality.
There are several threats to AT&T's market share and competitive moat. The first of which is the government's auction process of the wireless frequencies. The government regulates the wireless spectrum and whenever they release a new band of signal they host an auction to inspire competition. Recently, AT&T scored a big win by acquiring a total of 30 megahertz of the WCS band for $1 billion. This represents a majority of the WCS spectrum and will allows the company to take advantage of its expanded usage. This is certainly an opportunity for AT&T. What this means for the consumer is better data connectivity and fewer dropped calls after AT&T uses the new spectrum to reduce interference. Though AT&T won this auction at a steep price, it may be the last one they can afford for a while. The new AWS-3 spectrum has not yet gone to auction and the government has not given a timeframe for when it will become available. Keeping in mind Verizon's eagerness to win that auction, especially since AT&T has won the last several, means that Verizon may drive the price up. The higher the price, the longer it will take for the company to see returns on invested capital and the less attractive for AT&T who has already spent $18 billion on spectrum buys.
Secondly, the iPhone is a point of tension for AT&T. The company relies heavily on this product as it remains 80% of all smartphone sales. The risk is that having such a dependence on a single supplier can open them up to less favorable contracts with Apple and possible product shortages. In addition, customers who are dissatisfied with Apple products may be more drawn to a competitor who offers more options.
Finally, the fixed-line business may not have the same competitive moat as the wireless industry. There are some superpowers in the cable industry and AT&T does not have the capital to take on these competitors. As people switch away from landline phones AT&T will serve fewer and fewer people in their current territory. Additionally, cable companies are able to upgrade their networks faster than AT&T. The acquisition of DirecTV is certainly an opportunity and may give AT&T the edge it needs to regain market share. However, AT&T may not have the clout needed to take on millions of new customers. The price of the acquisition was also excessive at over $65 billion. That is if the acquisition is even approved by the FTC regulators, which some speculators say has a 50/50 chance. I believe it is too early to tell whether DirecTV is a good investment.
So far, investors have not been in favor of the recent capital-allocation decisions of AT&T. The acquisition of DirecTV, the money spent on the AWS-3 spectrum auction, and the venture into Mexico have all received negative feedback from stock analysts.
The three year projected revenue, net income, and free cash flow are shown in Appendix 1, 2, and 3 respectively (pictured below). Regression analysis predicts AT&T to generate $137,050 million in revenue which is a steady 4% increase. This is on par with the current slow growth rate. The calculations produced a 96% confidence level or R squared that shows that based on historical data, there is little chance for variation. Net income and free cash flow were more sporadic across the last five years and therefore produced a much higher deviation. Net income was projected to be $6,394 million in year 2017, which is only a 3% uptick. This is because AT&T's net income has been very volatile, especially in 2014 when they made so many investments. The chart below shows the variation in net income over the last 5 years. Trailing Twelve Months (NYSE:TTM) was calculated using the last four quarterly reports.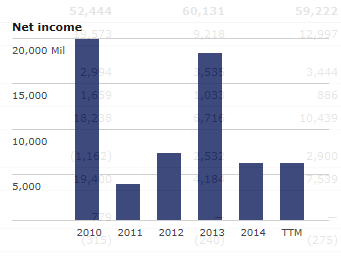 Morningstar Investment Research
Obviously, AT&T expects income to increase as they scale back the spending and reap the returns on investments they made in 2014. From the chart you see that there may be a cycle of spending. If that is the case, then 2017's net income may be significantly higher than forecasted. Free cash flow predictions are actually 6% lower than current levels. Again, this is because of the large amounts of cash outflow that AT&T has seen the last few years. The standard deviation is above $8 billion meaning the high estimates are in the $20 billion range while the low estimate is close to $1 billion. This is due to the fact that the data has two outliers: 2012 was a saving year, while 2014 was a big spending year. These two fluctuations caused the R squared to be only 34% confident in the analysis predictions.
Revenue should remain stable over the next few years as wireless customers continue to use cell phones, and the "Next" program becomes more popular. Of course this assumption does not take into consideration an economic downturn. Capital spending peaked in 2014 so it should decline in the coming years, giving way to more net income and free cash flow. The company hopes that the spending on network upgrades and DirecTV investments in 2014 will drum up more customers and generate revenue which will allow for a net income rebound. However, if there is no near term return on investment, AT&T will be hard pressed for cash. This would cause them to either cut their dividend which would decrease equity as investors jump ship, or agree to less favorable contract terms with suppliers/lenders.
In conclusion, I would recommend a Hold for AT&T. At current levels, I would not be a buyer, simply because there are less risky long term investments out there. AT&T is trying to fight an enemy on two fronts. On the one hand they are facing up against Verizon Wireless in the wireless industry, and Comcast and other giants on the cable and internet front. Additionally, they need to wean their customers off of the iPhone. This will not be an easy task in today's competitive environment. The DirecTV acquisition is simply another out dated network that they are adding to an already heavily burdened fixed-line business. It will take massive investment to keep up with customer demand for data speeds and television quality over a fixed-line network. So even though there is potential that their recent investments will generate large returns and increase net income, they will have to turn right around and pour those returns into upgrading the fixed-line network.
Revenue Projection Appendix 1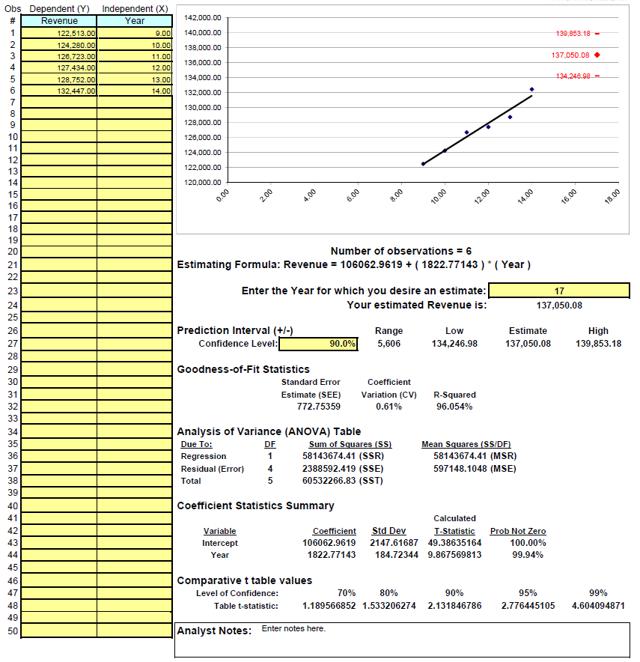 Net Income Projection Appendix 2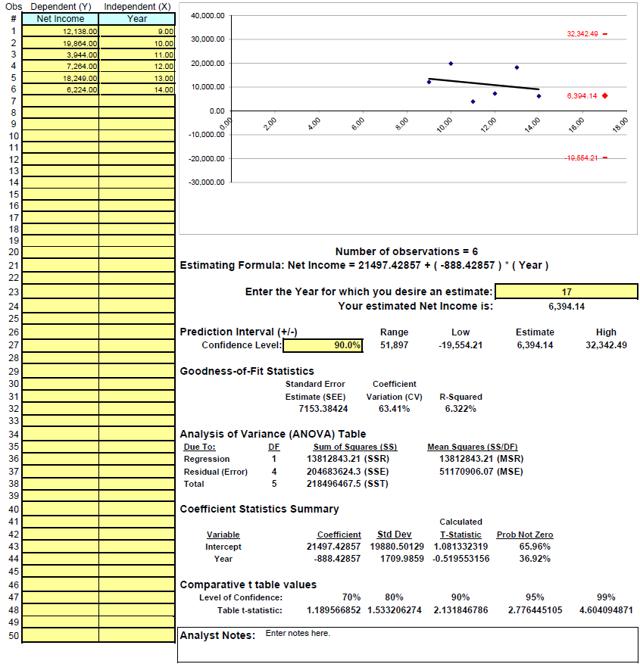 Free Cash Flow Projection Appendix 3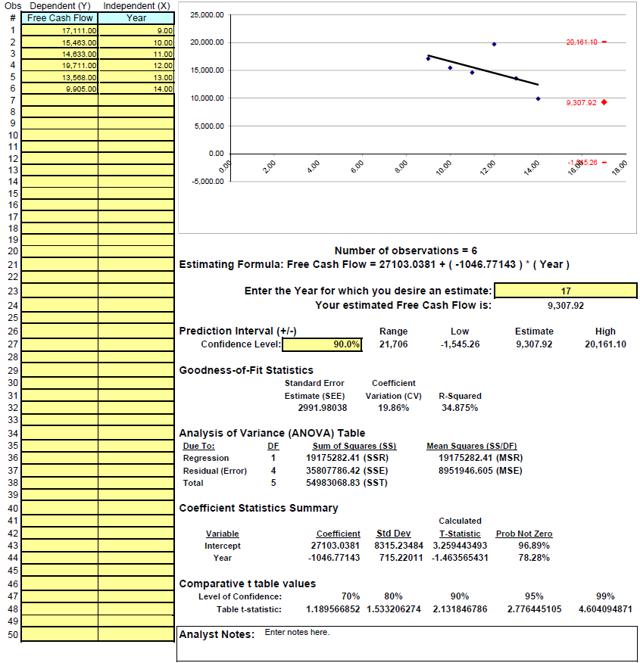 Appendix data retrieved from AT&T Financial Reporting | Investor Relations | AT&T. (n.d.).
Disclosure: The author has no positions in any stocks mentioned, and no plans to initiate any positions within the next 72 hours.
The author wrote this article themselves, and it expresses their own opinions. The author is not receiving compensation for it (other than from Seeking Alpha). The author has no business relationship with any company whose stock is mentioned in this article.