well, based on my SDS-SSO geodesic model, the S&P 500 index appears to be "lost in space" and officially un-tethered from reality.

the geodesic parameters last week extended their positions well beyond it's most recent grouping.  the yellow squares are the parameters coordinates over the last 14 trading days.  the right most yellow pt corresponds to the coordinates as of EOD july 31, 2009.  see below.

the next chart plots the daily rates of change of the geodesic parameters.  the slowing arc-length velocity seen above is confirmed by this data.  very fast rates of change seen last week.  if these 2 lines ever cross, that will be the models indicator that market sentiment has changed.  in conjunction with this monday (aug-3-2009) mornings run up in the market, it is unlikely sentiment will be changing any time soon.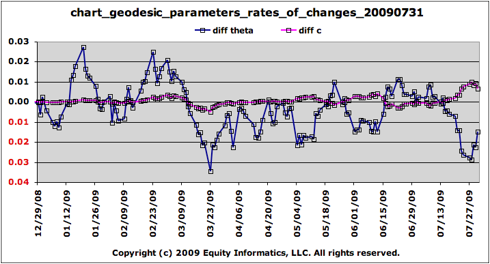 finally, the scatter plot below comprises coordinates taken from the data above.  the chart is showing what i call "non-conformal plastic flow" or hysteresis.  though the rates slowed down, they did not change along the same linear path as previous recent coordinates.  this behavior may be indicative of how frothy the index has become.  other than that, the full implications of this behavior is currently not known.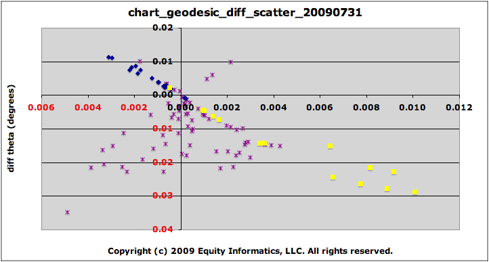 disclosures
: i started last week at 65% SSO & 35% SDS and i gradually changed the weightings so as to finish the week at 60% SSO & 40% SDS.  this was a "
forced response
" to market changes.  for the rest of this week, i plan to let the pair auto-adjust their weights.  as long as the RSI of SSO stays > RSI of SDS, the pair weighting will become more biased to SSO and increase in value.  i may put more money to work periodically at whatever weights the pair is at the time of the purchase.  this should have little to no influence on their pairs "
natural response
" to market changes.