previous model indication
: cautiously
bullish
on the S&P 500 since 2009-08-21
current model indication
: the S&P 500 is
overbought
since EOD 2009-09-09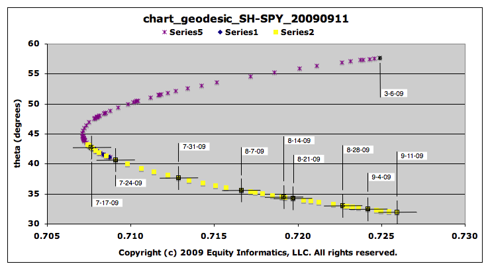 my geodesic model for the S&P 500 is now signaling an overbought status effective EOD 9-9-09.  the signal is based on the magnitude of vector-c (one of the models parameters plotted on the x-axis above) which has exceeded it's value at the very bottom of the market on 3-6-09.  this call was alluded to in the previous post in this series of commentaries.  again, no apparent abatement in the advance is measurable at this time relative to last weeks model analysis.
it is my opinion the S&P 500 is not trading on fundamentals or technicals thereby confounding everybody.  on thursday of last week, treasuries and equities rallied concurrent with a treasury auction of 29-yr bonds.  this tells me nobody wants to miss any opportunity to book gains (or buy protection) no matter what the news of the day is.  sure, pullbacks are expected up here but it's my guess extreme bullishness is running at least to mid-october when Q3 earnings reporting season kicks in full swing.
dislosures:
  in my SH-SPY pairs trade, i am 65% SPY & 35% SH.  one half of my pairs trade is counter-weighted by bond ETFs listed in my tags. the remainder of my portfolio is 20% cash.