previous model indication
: cautiously
bullish
on the S&P 500 since 2009-08-21
current model indication
: the S&P 500 is
overbought
since EOD 2009-09-09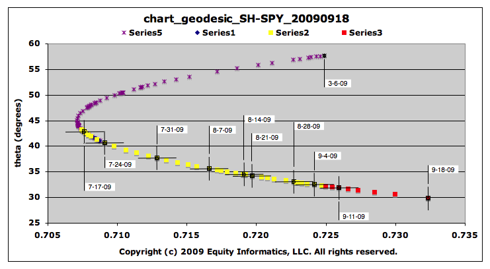 the red series of parameter coordinates show the time progression of the overbought condition of the S&P 500 index according to my interpret of my geodesic model.  dramatic buying last week has significantly accelerated the velocity of motion of SH-SPY equilibrium along the pairs geodesic.  this behavior at this point in the cycle has given me reason to pause in buying long positions in my pairs trade or otherwise.
the upcoming trading week will see a large series of treasury auctions from short-term bills to intermediate notes.  the shear magnitude of debt (>$100B) being auctioned by the fed is likely to present a significant challenge for equity markets, such as the S&P 500, to overcome and continue their march upward.  after the auctions are done, it remains to be seen whether traders will regain their appetite for risk-taking.
watch this post throughout the week for additional charts from last weeks trading.
dislosures:
  in my SH-SPY pairs trade, i am 65% SPY & 35% SH.  one half of my pairs trade is counter-weighted by bond ETFs listed in my tags. the remainder of my portfolio is 20% cash.