Current S&P 500 model indication
:
overbought
- since 2009-09-09 (see geodesic chart below)
cautiously bullish overall
- since 2009-10-09
notes
: as of today 2009-10-28 the 5% index decline i expected to materialize has just about arrived into the train station.  i expect the rest of this week to remain choppy and to the downside but next week might be a perfect time for new money to enter the market.
*** 2009-29-09 update: buy buy buy!
(see my
basic geodesic concepts
primer for a general model description)
commentary:
expecting the S&P 500 index to trade sideways to down all week.  a gang of treasury auctions are on deck & my geodesic index indicators don't look good for the next 5+ trading days.  but look for an index rebound in the first week of november.
Geodeisc Chart:
momentum has slowed toward the end of the period indicated.  this is illustrated by closer spacing between geodesic coordinates.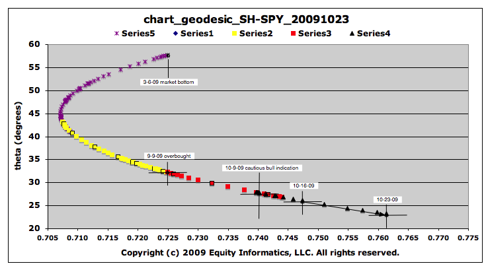 Geodesic Delta Diff Chart
: this chart plots in blue a time series of the difference between the 2 geodesic coordinate values.  the yellow is the 12 DMA.  when either plot is slopped downward, this indicates a decline in the S&P 500.  the blue line leads & the yellow lags.  the yellow line is perhaps a better indicator of trends taking place on the order of weeks vs days on the blue data.  as you can see i circled the blue line crossing the yellow line confirming a downward trend in the S&P 500.  a yellow line with a value below zero signals a confirmed sentiment change in the index.  not there yet!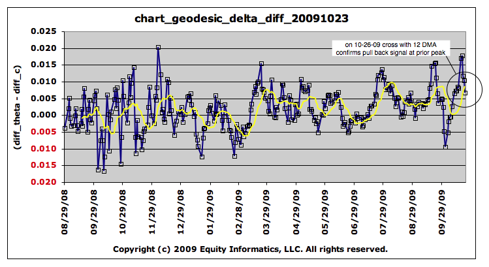 Geodesic Delta Diff-c Chart
: this plot is the same type as above but only looking at the vector length change paramter.  the primary reason for including this chart in this report is to illustrate the cycle of the geodesic like a seismograph.  there are 4 (perhaps 5) notable sections of the chart.  see if you can distinguish between the sections.  the main point is the further the geodesic coordinates travel from the apex of the curve, the greater the gain (volatility) in the signal.  near the apex of the curve the signal is fairly flat.  you can see for yourself we're approaching the level of signal seen prior to oct-08 and well beyond levels of uncertainty seen in mar-08.