Simply, Obama could do a lot to help Kenya by getting involved with the Oil and Gas companies like African Oil ( OTC MKTS:AOIFF) that are trying to build infrastructure to facilitate commercial development of Kenya's world class oil ang gas resources. Successful entry to global oil and gas markets will allow Kenya to provide "running water, personal hygiene and a host of other modern necessities such as toilets and waste treatment facilities to many of their citizens.
Kenya is a majority Christian nation with a strong but small Muslim minority. Why is Obama so Obsessed with Gay issues in his homeland or oft visited Kenya?
I am thankful to the Ablaze For The Below
NAIROBI, Kenya (TheBlaze/AP) - President Barack Obama mixed blunt messages to Kenya's leaders Saturday with warm reflections on his family ties to a nation that considers him a local son.
He foreshadowed a focus on Kenya in his post-White House life, saying, "I'll be back."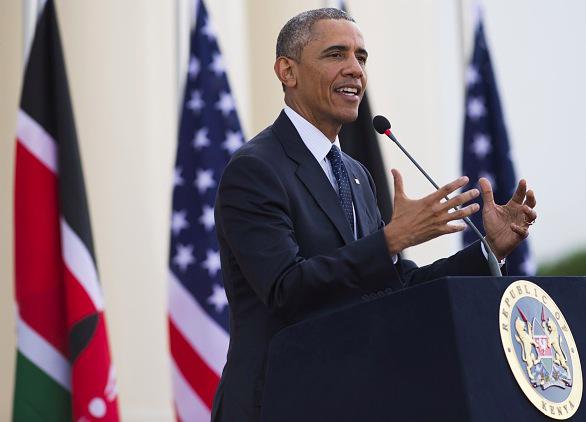 U.S. President Barack Obama gives a joint press conference with his Kenyan counterpart after their talks at the State House in Nairobi on July 25, 2015. (Image source: SAUL LOEB/AFP/Getty Images)
But Obama did little to paper over policy differences with Kenya's government, most notably on gay rights. He drew on his own background as an African-American, noting the slavery and segregation of the U.S. past and saying he is "painfully aware of the history when people are treated differently under the law."
"That's the path whereby freedoms begin to erode and bad things happen," Obama said. "When a government gets in the habit of treating people differently, those habits can spread."
Kenyan President Uhuru Kenyatta was unmoved, saying gay rights "is not really an issue on the foremost mind of Kenyans. And that is a fact."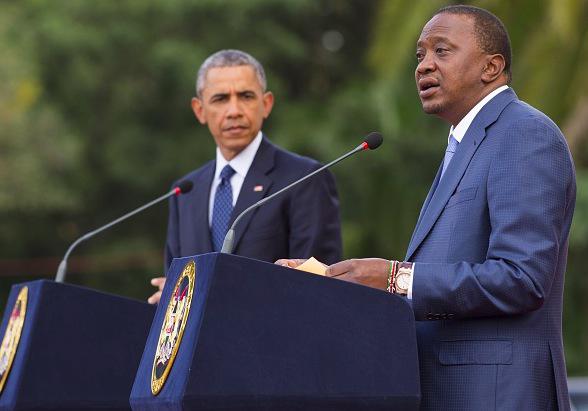 U.S. President Barack Obama, left, and his Kenyan counterpart Uhuru Kenyatta give a joint press conference after their talks at the State House in Nairobi on July 25, 2015. (Image source: SAUL LOEB/AFP/Getty Images)
A number of Kenyan politicians and religious leaders had warned Obama that any overtures on gay rights would not be welcomed in Kenya, where gay sex is punishable by up to 14 years in prison. The Kenyan gay community also complains of sometimes violent harassment.
Obama also pushed Kenya to tighten its counterterrorism practices, which human rights group say have resulted in serious abuses. A Human Rights Watch report this year accused the Kenyan government of "extrajudicial killings, arbitrary detentions and torture by security forces."
"If in reaction to terrorism, you're restricting legitimate organizations, reducing the scope of peaceful organization, then that can have the inadvertent effect of increasing the pool of recruits for terrorism," Obama said.
Kenyatta called the scourge of terrorism "an existential fight for us." The Somalia-based al-Shabab, which is linked to Al Qaeda, has conducted major attacks in Kenya, including the 2013 attack on Nairobi's Westgate mall and an April attack in Garissa that killed nearly 150 people.
Obama also urged Kenyatta to keep up efforts to combat corruption, calling that the biggest potential threat to Kenya's economic growth. But he said fulfilling anti-corruption pledges will require "visible prosecutions," and had told Kenyatta, "People aren't stupid."
http://www.theblaze.com/stories/2015/07/25/obama-urges-kenyas-president-to-improve-gay-rights-heres-how-the-african-leader-responds/?utm_source=Sailthru&utm_medium=email&utm_term=Firewire&utm_campaign=Firewire%20-%20HORIZON%207-26-15%20FINAL
When Obama makes the stupid remark, perhaps he should look in the mirror. IF OBAMA WERE TRULY BOLD, HE WOULD MAKE THE GAY RIGHTS CALL IN A MUSLIM NATION. HOWEVER HE SEEMS TO TREAT CHRISTIANS MUCH MORE HARSHLEY THAN HE DOES MUSLIMS. ER
Disclosure: I/we have no positions in any stocks mentioned, and no plans to initiate any positions within the next 72 hours.
Additional disclosure: I have owned Africa Oil and Simba Energy. I hope to buy it again at the bottom of this oil and gas cycle.