Splunk Inc. (NASDAQ:SPLK) - Google for machine data. Apple for IT management.
Increased CEO confidence will increase IT spending; Machine data expected to grow 15 times by 2020; Revenue depends on bloating data, would grow 50% YoY; Splunk is addictive; Apps creates Ecosystem;
| | | | | | | |
| --- | --- | --- | --- | --- | --- | --- |
| Date | Price ($) | Target Price ($) | Upside | 52 Wk Range ($) | Market Cap ($) | Float |
| 28-Sep-2014 | 55.57 | 59.71 | 7% | 39.35 -106.15 | 6.66 B | 109.28 M |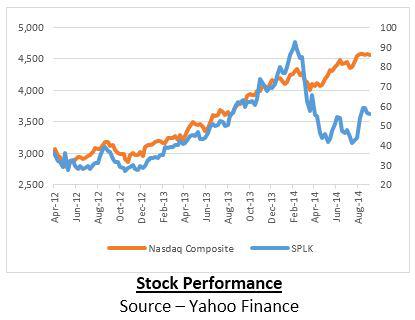 Company Profile - Splunk enables organizations to gather real time operational intelligence from their machine data (logs). Splunk provides a) Splunk Enterprise - its patented software, provides flexibility, to capture and index massive live data streams, regardless of source or format, and power to search, analyze, monitor and report on this data in real time, b) Splunk Cloud is Splunk enterprise delivered as a service on cloud and c) Hunk™ helps to explore, analyze and visualize data in Hadoop. Splunk users include IT users for application management and security and business users for compliance, business and web analytics. Its customer base has grown from 450 in 2008 to 7,900 in last quarter, including 70 of the fortune 100 companies. With 64 patents, company relies on patent, trademark, copyright and trade secret law to protect its technology and intellectual property right. Based on the functionality and ease of use, SumoLogic and VCenter (VMWare) are two direct competitors, other competitors include Loggly, LogLogic (Tibco), LogRythm, ArcSight (NYSE:HP), Q1 Labs (NYSE:IBM) and internal IT teams.
Industry
Splunk is a Security Information and Event Management (SEIM) software which falls under category of Infrastructure Software which contributed around 51% of Global Software industry spending in 2013.
By learning from machine data, SEIM software aims to provide tools for IT security as well as for big data analytics for several business purposes. Different vendors have different offerings in this category.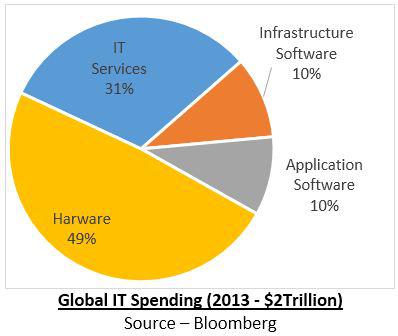 Investment Thesis
Industry Primer - Global Technology spending is driven by CEO Confidence and US Corporate Profits, both of them are on a rise. According to IDC, global software spending is expected to grow 6.1% to $416 B in 2014 and 6.5% CAGR for period of 2013-2018.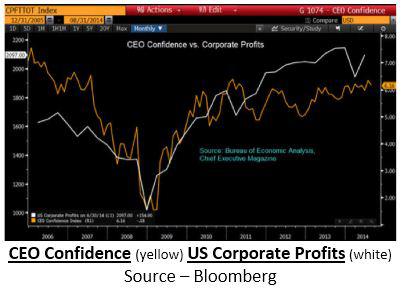 SEIM Growth - Two factors contributing to growth of this segment are 1) Recent security breaches at JPMorgan, EBay, Target and Adobe have increased the focus on solutions that strive to protect against advanced attacks and 2) According to IDC, digital universe will grow 39% CAGR from 2012 to 2020, machine data will increase 15x. In 2012, only 0.5% of data analyzed, by 2020, 30% of data will have big data value.
Fund raising for SumoLogic (30M in May 2014) and LogRythm (40M in July 2014) shows strong interest in this category.
Splunk is pioneer and among the first few which led to creation of this category of software. It is hard to put a number on size of market but with over 10 years in business and around 64 patents (LogRythm 6, LogLogic 4, ArcSight 7), Splunk is unarguably the market leader.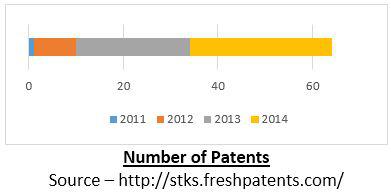 Revenue up 50% - In May, company guidance for YoY revenue growth was 35% which was increased to 40% in August, my estimate is north of 50% because of 5 reasons. 1) Syncsort alliance in (June 2014) will bring more corporate clients (mainframe systems) 2) Splunk app for wire data (lunched in Aug 2014) will add customer base 3) New customers due to launch of Hunk (2013 Q4) and Microsoft Exchange support (March 2014) will keep revenue growing strong 4) Strong Q1-2 revenue suggest stronger Q3-4 revenue due to cyclic nature of industry 5) Out of last 12 quarters, there have been 8 positive surprises.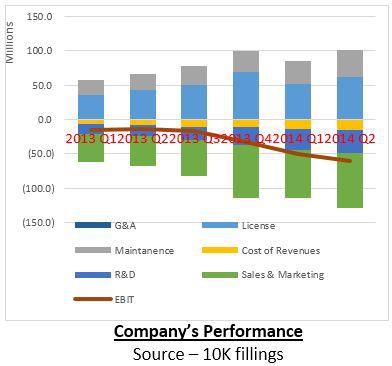 Splunk is addictive - It provides tremendous flexibility and control to end user making it addictive. This will ensure constant stream of revenue from Maintenance and Services.
Company to benefit from bloating data - Company's revenue tightly coupled with amount of data indexed and hence increases with it (for example $4,500 for 1GB/Day + annual support fee for their perpetual license).
Apps and Add-ons create an ecosystem - Splunk's architecture enables third party apps and add-on its core. It has 595 apps and add-ons on different platforms with over 90% developed by third parties. Most of the apps are free, its app-store (apps.splunk.com) is not a source of revenue but it enhances value of product. Even competitors like Tibco's Loglogic provides Splunk connectivity.
Valuation - Target price of $59 is average of my DCF valuation ($69), EV / Sales valuation ($53) and P / Sales valuation ($57) with target date of March 2015 and upside of 7%. I used average of high growth companies for my P/S and EV/S multiples in respective segment. DCF valuation was based on beta - 1.467, equity premium - 7.06%, risk free rate - 2.53% and perpetuity growth of 3%.
Upside Risk -
1) Profitability - Company spent 83% and 79% of revenue in marketing in 2014 Q1 and Q2 respectively and will be spending 20 million in capex this year. Company is in growing stage, in few quarters share of revenue going to marketing will reduce and company will be much more profitable.
2) Revenue - It is hard to put a number on Splunk's marketable segment, revenue compared to the potential of this segment is very small
Downside Risk -
1) Valuation - Company is enjoying high multiple due to growth prospects, which can change dramatically if market sentiments go bad. It is essential for company to keep expanding in terms of geography and offerings. Company cannot command a valuation as Palo Alto or FireEye due to their specialized offering and strong demand.
2) Increased competition - High profit margin and huge untapped market is attracting many new firms and money. Splunk has first mover advantage, 10 years in business, 64 patents and strong partnerships, such as Cisco, Amazon, Syncsort, Tibco, will make it hard for competitors to replace it. Internal IT teams also pose a challenge to Splunk's revenue.
3) Pricing - Splunk pricing model depends on amount of data processed. Firms with limited budget will try to move to per month (or year) model (such as Sumologic / LogSense) or even to open source options (Elasticsearch, Logstash, Kibana, LogSpace). An independent provider ran a comparison recently to prove that Splunk gets cheaper for processing large amount of data.
Conclusion - Splunk remains a buy for 3 reasons 1) Increased CEO confidence will increase IT spending 2) bloating data will boost revenues and 3) Stickiness of Splunk will lead to constant stream of revenues.
*Scale used is Strong Buy, Buy, Weak Buy, Weak Sell, Sell, Strong Sell.
Disclosure: The author is long SPLK.