Concurrent Computer Corp: (NASDAQ:CCUR)
Concurrent Computer Corp is a debt free microcap that pays a 5.67% dividend rate that has 81% earnings growth year to date. The company services large corporations for multi-screen streaming services. The customers include: Time Warner, Cox, Charter, Boeing, Lockheed Martin, and GE.
Since February 2013 CCUR has announced 5 new products, been awarded 2 new patients, and deployed 2 new products. In addition to the new patients and products the company has booked new business from Norway's Get (March 11, 2014) for video streaming services using Concurrent's Media Hawk VX platform that was released in February 2013.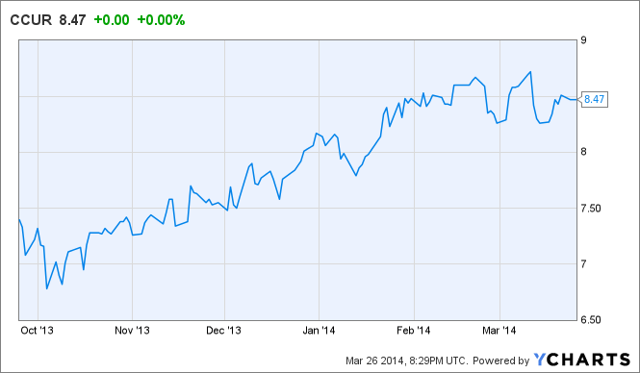 Concurrent is up nearly 25% since October lows around $6.80 and is currently trading around $8.44 and has been growing within a tight trading range. As of June 2013 CCUR increased its quarterly dividend from $0.06 to $0.12 resulting in the current 5.6% yield.
Concurrent closed 2012 at $6.23 and closed 2013 at 8.06 while paying a total dividend of $0.42 for a total return of 36% for 2013. Year to date Concurrent has shown 6.2% returns including $0.12 dividend payout. The value of Concurrent Computer Corp is not in the technical data it is in the fundamentals.
Year to date over 2012 (Q1 and Q2, 2013) Concurrent has shown significant top and bottom line growth while decreasing administrative costs and increasing spending on R&D. Year to date revenue has increased by 10.8% from $31.6 million to $35 million. Net income increased year to date from $998,000 to $1.8 million for a net income increase of 82.7%. Following the increase in net income the EPS year to date gained 81.8% from $0.11 to $0.20 in the first 2 quarters of FY2013.
Additional income statement changes:
· Sales and Marketing costs down $286,000
· R&D spending up $794,000
· Operating income up $644,000
Disclosure: I am long CCUR.