The Lyft IPO is expected on 3/28/2019. Is the Lyft IPO Worth It? I have reviewed the Lyft S1 (the registration form filed with the SEC) 3 times now and I have some significant concerns with the financial position and future of Lyft. The S1 seems to be very upbeat and positive in what it says. My concerns relate to what it does not say. It gives no path to profitability and very little clarity on the real cash burn.

Lyft IPO Use of Proceeds
The excerpt above is from the Lyft IPO S1. We can start with the fact that the company plans to use $404.8 million to pay off an existing settlement. This goes to the existing cash problems that will be discussed later. Next you see that for every dollar above $65 per share that they raise will cost them an additional $6.2 million.
In the second paragraph it is significant to note that they discuss that the proceeds of the Lyft Ipo will go to working capital and operating expenses. To me this says that there are no plans to manage cash burn and the company will continue to operate at a loss for the foreseeable future.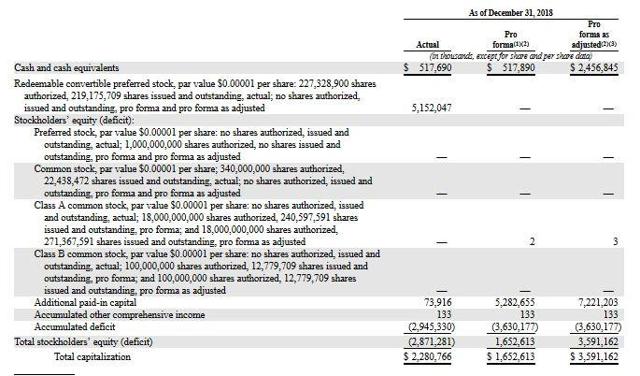 Lyft IPO Cash Postion

Lyft IPO Cash Burn
As noted above the $400 million RSU settlement will put a significant stress on Lyft if they do not complete this IPO or raise cash in some other form. As of December 31, 2018, the actual amount of cash available to the company is $517 million dollars on a company that owes $400 million on a settlement. This puts the effective cash position at about $100 million for a company that burns nearly $500 million a year in cash. I would call the Lyft IPO a rescue mission for a company in distress.

Lyft IPO Stare Counts
As you can see above the total number of shares outstanding after the IPO will be about 284 million. At $65 per share you get a valuation of about $18 Billion. I recall hearing that the price had moved up but do not know what the new indications are. So lets look at valuation of the Lyft Ipo.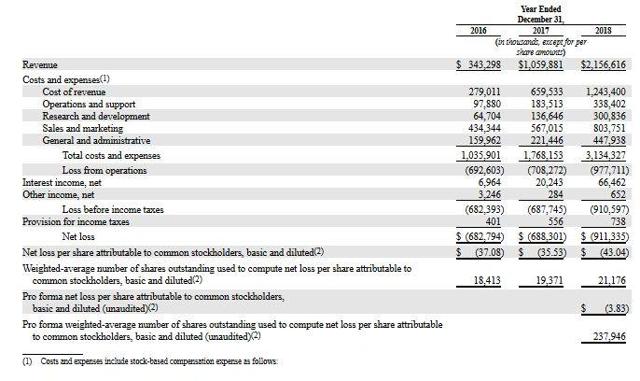 Lyft IPO P&L Statement
Lyft ended last year with $2.1 Billion in revenue and a net loss of $911 Million. Since the company loses money and has a negative equity the only to really value the company is as a multiple of revenue and or revenue growth. At 9 times revenue I believe that the value of the company is excessive for a company that will undoubtedly need to do secondary offerings down the road. A secondary offering will dilute the current shareholders.
I have run several variations of projections for next year and I do not see the company any closer to profitability and cash burn may even get worse. At a $18 billion valuation I believe that the potential upside of the Lyft IPO is limited at best. I suggest waiting to see what happens when Lyft files its P&L statement for its first quarter as a public company at least. I also recommend waiting until the lock up period (if applicable) for existing investors ends.
Visit http://www.jeremykruid.co for more information.
Disclosure: I/we have no positions in any stocks mentioned, and no plans to initiate any positions within the next 72 hours.