May Copper closed below horizontal support at 370+ on Tuesday. And now former support should act as resistance. (Note that a daily close back above Tuesday's 378.25 high (the day/bar in which support was broken) will negate this bearish development).
After aggressively selling off once below 370.25/50 (the lows of February 17 and April 9 respectively), the ensuing weakness in the afternoon didn't correspond with the weakness seen in the equity market.
From purely a technical perspective, this HGK2 downward reticence may have been derived from near-term support which resides from 360.10 to 364.10.
This is by way of previous daily highs as well as the 50% retracement of the December low to February high. See first chart below.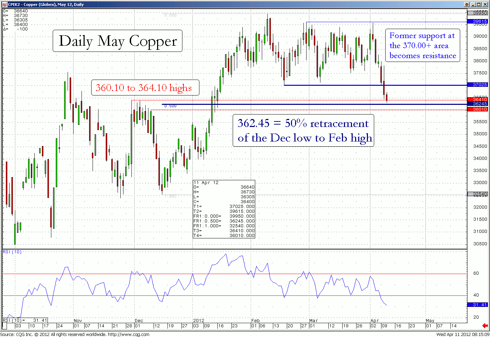 But from a macro perspective, if weakness persists, a weekly close below the October low of 299.40 can create a larger downside technical objective as evidenced by the weekly chart below.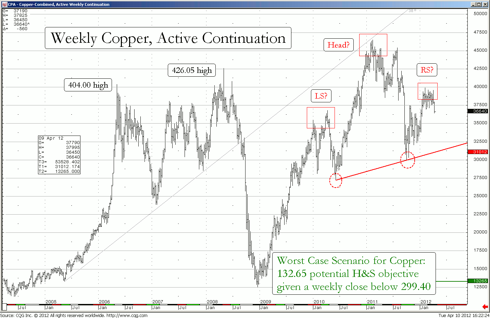 Allow me to get way, way ahead of myself here. In a worst case scenario - meaning an absolute purge of the risk-on environment - then a weekly close below 299.40 creates a minimum measuring objective of 132.65.
This is just the pattern amplitude of 178.65 subtracted from trendline (or neckline) support which now arrives at 310.10. We pegged the trendline at 311.30 for the future penetration.
This certainly is an aggressive objective IF 299.40 gives way, but in comparison to the late 2008 sell-off or the late 2010 rally, it is not altogether unrealistic.
It's simply something to be aware of in case this recent weakness turns into something more, akin to a public service announcement.
Disclosure: I have no positions in any stocks mentioned, and no plans to initiate any positions within the next 72 hours.