A great deal of compression in Cotton since September 2011.
With recent news of slowing demand of U.S. supplies, along with intermarket risk-off rumblings, the market's indecisiveness and/or ambivalence may quickly end.
After looking at this commodity from contract specific, continuous and equalized perspectives (on both a daily and weekly basis), trading above 95.00 or below 85.00 can lead to an immediate pop in short-term volatility.
The first chart below of cotton is weekly and equalized (CQG graphics).
(Note: Equalized charts take the most liquid 'front' month and then adjust or equalize out any gaps between prior contracts. Although previous highs and lows may not be historically accurate, it can be a better indication of pure price behavior. Look at it this way, a trader would roll his open position, not record a huge profit or loss when the contract he's trading changes. Standard continuation charts (gaps included) have their place, but equalized charts can be a better indication of pure price.)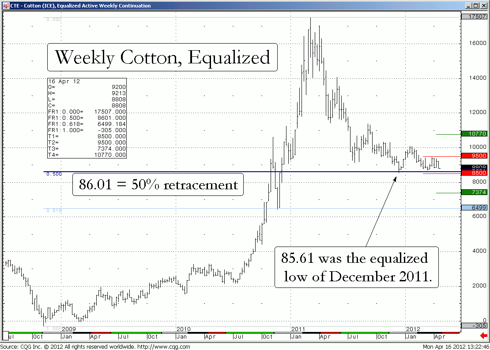 86.01 = The 50% retracement from the November 2008 low to the March 2011 high (again on an equalized basis).
85.61 = The December 2011 low.
The second chart is the contract specific front month: May 2012 (CQG graphics).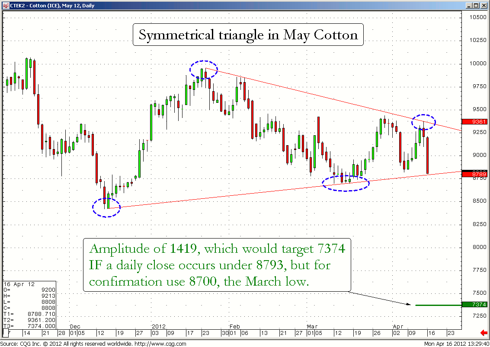 A symmetrical triangle has formed with trendline support arriving at 87.93 for Tuesday (positive slope of 4 ticks per trading day).
Given a pattern amplitude of 14.19, then a daily close below 87.93 - and for confirmation, below 87.00, the March 16 low and third turn of the triangle - would create a theoretical downside measuring objective of 73.74.
And if this downside test doesn't materialize, or a bear trap ensues, then breaking above the March/April highs will have emboldened bulls looking to buy momentum for the first time in quite awhile.
However this does not have to be a pure directional price play. Short-term volatilities are due to pop, and the charts above are simply a graphical representation of it.
Good luck.
Disclosure: I have no positions in any stocks mentioned, and no plans to initiate any positions within the next 72 hours.