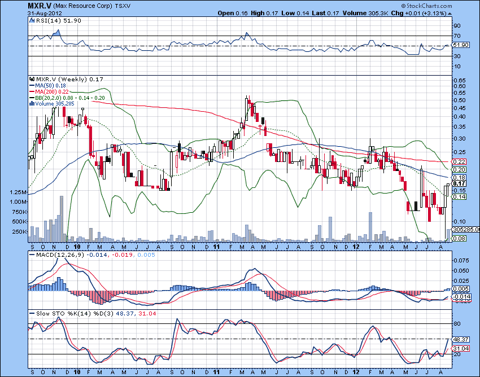 Max Resources is another junior which is trying to pick up its head out of summer doldrums. Some bids are coming in last couple of weeks.
MAX Resource Corp. - "Focused on Silver, Copper & Gold in Nevada"
(TSX.V: MXR; OTCBB: MXROF; Frankfurt: M1D)
MAX Resource Corp. is permitted for a 5,000 m Phase III core drilling program designed to outline an initial NI 43-101 compliant resource estimate by the end of 2012 on the high-grade silver/copper/gold Majuba Hill property in Nevada.
Investment Highlights:
• Low capitalization - only 24.5 million shares issued.
• Fully funded - $1 Million in cash.
• Experienced management with proven success.
• Extensive drill program at Majuba Hill planned for 2012.
During Phase I drilling in 2011, MAX intercepted high grade copper/silver oxide mineralization near surface over long intervals at the past producing Majuba Hill mine. Highlights included:
96 meters of 39.2 g/t Ag, 0.57% Cu and 0.10 g/t Au in hole MM-06
50.3 meters of 50.8 g/t Ag, 0.31% Cu and 0.31 g/t Au in MM-07
42.7 meters of 37.5 g/t Ag and 0.38% Cu in hole MM-03
Contact: Leonard MacMillan, Corporate Communication
Telephone: 866 331 5088 or 604 637 2140
info@maxresource.com
www.maxresource.com
Gold: The Best Charts and Fundamentals - Prepare For The Fireworks In Junior Miners
"We would like to share with you today the best Charts and articles, which has caught our attention recently - it is the case when the good picture is better than thousand words - some of them are screaming about the best Entry Opportunity in years we are following these markets."
MAX drills 293 m of 5.49 g/t silver, 0.10 g/t gold and 0.09% copper in porphyry-style alteration zone with significant sulfides at Majuba Hill, Nevada
"MAX Resources continues to build on its discovery at Majuba Hill in Nevada:
"This hole was drilled 100 meters southeast of MAX's Phase I drilling, to test underneath the high grade supergene zone where MAX reported five holes intersecting high grade copper and silver oxide mineralization that included 96 m of 39.2 g Ag and 0.57% Cu starting at surface. Hole MM-20 was drilled due north at a -44 degree angle to a depth of 323.9 m"
MAX Resource drills 44.2 m of 71.0 g/t Silver and 1.14% Copper at Majuba Hill, Nevada
"Company is moving forward with its exploration program and lining up the promotion in the market place now. With the "end of the world" - this time coming out of Europe - postponed today, Juniors will have another chance to shine with its Gold and Silver assets. Max Resources has delivered a very impressive Copper and Silver intersection from its latest drill results."
Please, do not forget, that we own stocks we are writing about and have position in these companies. We are not providing any investment advise on this blog and there is no solicitation to buy or sell any particular company