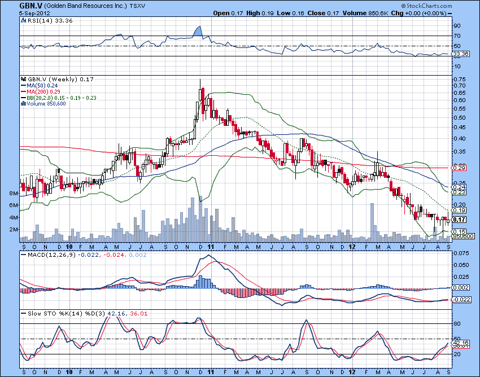 It looks like life is finally coming back into the Junior Miners now. Some of them are popping up with the big bang like Bitterroot Resources yesterday and some are producing steady results like Golden Band Resources. Legendary Ron Netolitzky is behind the company, but even his "Golden Touch" could not prevent the recent blood bath in the junior sector for the GBN.v
With Gold marching higher after Break Out, valuations for the Juniors are just totally out of any connection to the assets base and real value of the portfolios - basically almost everything is priced at the verge of potential bankruptsy. Trick is to find the Next Play - nobody like to miss even anything close to Gold Quest.
Nickel, Copper, PGM - Bitterroot Resources Has Its Fireworks Today BTT.v
"We guess that after all the Fear nobody likes to miss another Gold Quest in the making - that discovery story is the only one - but so many Juniors were totally forgotten and Slaughtered this summer that any vital signs can drive the crowd and expectations again.
Everybody is chasing the same question now - who could be in Play next? Who can strike the new discovery, attract J/V partner or become a Target for M&A?"
Gold: The Best Charts and Fundamentals - Prepare For The Fireworks In Junior Miners
"We would like to share with you today the best Charts and articles, which has caught our attention recently - it is the case when the good picture is better than thousand words - some of them are screaming about the best Entry Opportunity in years we are following these markets."
Golden Band Resources Inc. - High-Grade Gold Intercepted at Depth in Roy Lloyd Mine
GBN: TSX Venture Exchange
OTCQX: GBRIF
SASKATOON, Sept. 5, 2012 /CNW/ - Golden Band Resources Inc. (Golden Band or the Company) (GBN: TSXV; OTCQX: GBRIF) is pleased to announce that drilling has intercepted significant bonanza grade gold mineralization on the Company's Roy Lloyd Mine (Bingo gold deposit) in northern Saskatchewan. Hole RLUG-27, intercepted 8.17 metres (true width 6.5 m) averaging 66.85 grams per tonne gold.
The bonanza gold mineralization was intercepted 255 metres deeper than the lowest mining level in the Roy Lloydgold mine, further confirming potential for deep extension of economic mineralization.
HOLE No.
 
INTERVAL m
CORE LENGTH m
TRUE WIDTH m
g/t GOLD
RLUG-27
 
233.06 - 241.23
8.17
6.51
66.85
including
234.00 - 240.79
6.79
5.41
80.12
including
238.14 - 240.79
2.23
1.78
128.37
The drill program is designed in part to define minable resources within the Bingo Structure below the 1175 elevation, which is the lowest active level of the Company's Roy Lloyd gold mine. Recent drill results and historic data are being utilized to define a new resource below the 1175 level.
Matt Conklin, Golden Band's Vice President of Operations, stated, "Golden Band is very pleased with these and the overall results of the summer surface and underground drilling campaigns at the Roy Lloyd Mine. We are compiling the surface and underground program data and will provide the complete results as quickly as possible, followed by an updated resource estimation for the Roy Lloyd mine."
Mr. Saimon Ngindi, P.Geo., Senior Resource Geologist and Qualified Person as defined by National Instrument 43-101, is responsible for the accuracy of the technical data and information contained in this press release.
About Golden Band
Golden Band Resources, already Saskatchewan's leading gold explorer, is now also its newest gold producer. Golden Band is a Saskatchewan-based, publicly listed company (GBN: TSXV) whose focus is the long-term, systematic exploration and development of its 100%-owned La Ronge Gold Belt properties. Since 1994, Golden Band has assembled through staking and strategic acquisition a land package of more than 870 km2, including 12 known gold deposits, four former producing mines, and a licensed gold mill. Golden Band's key value drivers are the methodical and systematic targeting of primary to advanced-stage exploration while progressing along a parallel path of being a sustainable gold producer. The Company is aggressively pursuing its near-term goal of commercial production of its Bingo, Komis, and EP deposits with processing at the 100%-owned Jolu mill. The Company's objective is the annual production of at least 75,000 ounces of gold over a ten-year project life. Other longer-term objectives include the continuation of its highly successful exploration and acquisition strategies.
On behalf of the Board of Directors of Golden Band Resources Inc.,
"Rob Garden"
A.Robson Garden, QC
President and CEO
Caution Regarding Forward-Looking Information and Statements
This news release includes certain forward-looking statements or information. All statements other than statements of historical fact included in this release, including, without limitation, statements relating to the potential mineralization and geological merits of the mine properties, estimates of production, costs of production, the sufficiency and availability of capital and financing and other future plans, objectives or expectations of Golden BandResources Inc. (Company) are forward-looking statements that involve various risks and uncertainties. There can be no assurance that such statements will prove to be accurate and actual results and future events could differ materially from those anticipated in such statements. Important factors that could cause actual results to differ materially from the Company's plans or expectations include risks relating to the actual results of current exploration activities, fluctuating gold prices, possibility of equipment breakdowns and delays, cost overruns, availability of capital and financing, general economic, market or business conditions, regulatory changes, timeliness of government or regulatory approvals and other risks detailed herein and from time to time in the filings made by the Company with securities regulators available on SEDAR at www.sedar.com. Although the Company has attempted to identify important factors that could cause actual results to differ materially from those contained in forward-looking information, there may be other factors that cause results not to be as anticipated, estimated, or intended. Accordingly, readers should not place undue reliance on forward-looking information. The Company expressly disclaims any intention or obligation to update or revise any forward-looking statements whether as a result of new information, future events or otherwise except as otherwise required by applicable securities legislation.
Neither TSX Venture Exchange nor its Regulation Services Provider (as that term is defined in the policies of the TSX Venture Exchange) accepts responsibility for the adequacy or accuracy of this release.
SOURCE: Golden Band Resources Inc.
For further information:
Rodney Orr, P.Geo., VP Corporate Development
Golden Band Resources Inc.
Phone: 306 385 7123 | Fax: 306 955 0788
Email: rodney.orr@goldenbandresources.com
Investor Relations:
Raju Wani: 403 240 0555 | Tony Perri: 604 682 6852
Email: info@goldenbandresources.com
www.goldenbandresources.com
Please, do not forget, that we own stocks we are writing about and have position in these companies. We are not providing any investment advise on this blog and there is no solicitation to buy or sell any particular company