Please Note our New Legal Disclaimer on the Blog

McEwen Mining has published the new Presentation on January 30, 2013 with the very impressive picture of Los Azules copper project and promising "Another resource estimate next week!" and "New PEA Q3."
McEwen Mining Corporate Presentation.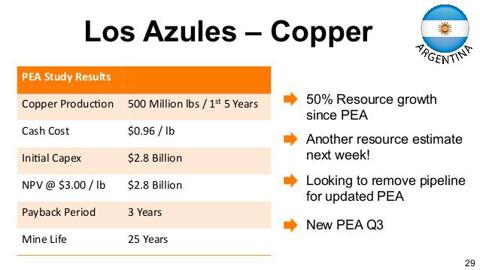 TNR Gold Investor Presentation.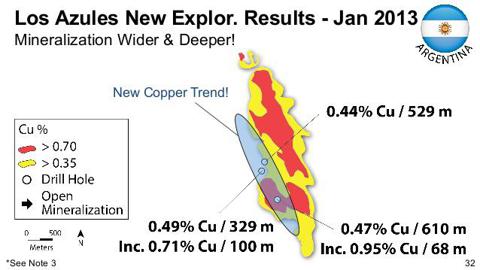 TNR Gold: McEwen Mining - Los Azules Copper "Another Resource Estimate Next Week!" TNR.v, MUX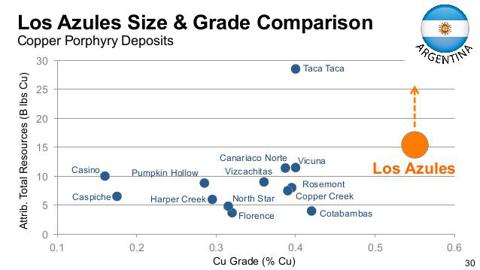 TNR Gold Corp. Finalizes Los Azules Settlement with McEwen Mining
Vancouver B.C., February 05, 2013: TNR Gold Corp. (the "Company" or "TNR") Is pleased to announce that in follow-up to its press release of November 12, 2012, whereby TNR Gold Corp. announced that it and its wholly owned subsidiary, Solitario Argentina S.A. had reached a settlement with McEwen Mining Inc. with respect to the Los Azules Copper Project located in San Juan Province, Argentina, formal documentation and the details pertaining thereto have now been signed and will be filed on SEDAR under TNR's profile at http://sedar.com.
The Company is also pleased to announce that the 1 million shares of McEwen Mining Inc. that form part of the settlement have now been issued (information about McEwen Mining can be found at http://www.mcewenmining.com and on Sedar at http://www.sedar.com). The Company expects that the delivery of the certificates representing such shares will occur upon the transfer of the mineral rights to the Escorpio IV mining tenure to McEwen Mining Inc, which it anticipates will take place later this month. The shares will be subject to the minimum statutory hold period.
About Los Azules
The Company has a 25% back-in right in the northern part of the Los Azules property which is exercisable following the completion of a feasibility study. If the Company elects to back-in for 5% or less or has its interest diluted to 5% or less, TNR will receive a net smelter royalty of 0.6%.
The Los Azules copper deposit is located in the San Juan province of Argentina. McEwen Mining Inc. is the current operator on the Los Azules copper deposit and the Company advises that on January 17, 2013, McEwen Mining Inc. issued a press-release in relation to the deposit. The press release is accessible on Sedar at http://www.sedar.com and on McEwen Mining Inc's website at http://mcewenmining.com.
The press release issued by McEwen Mining Inc. dated January 17, 2013 includes preliminary results from drilling operations on the Los Azules copper deposit for the current exploration season. McEwen Mining Inc.'s press release appears to have been prepared by qualified persons, but no independent qualified person engaged by TNR Gold Corp. has done sufficient work to analyze, interpret, classify or verify McEwen Mining Inc.'s information to determine the accuracy of the current mineral reserve or resource or other information referred to in the press release. Accordingly, the reader is cautioned in placing any reliance on the subject results and estimates.
John Harrop, PGeo, FGS, is a "Qualified Person" as defined under NI 43-101 and has reviewed and approved the technical content of this news release.
Over the past twenty-one years TNR, through its lead generator business model, has been successful in generating high quality exploration projects around the globe. With the Company's expertise, resources and industry network, it is well positioned to aggressively identify, source, explore, partner and continue to expand its project portfolio.
TNR's subsidiary, International Lithium Corp. (TSX:ILC.V), demonstrated the successful application of TNR's business model in which TNR shareholders benefited from a unit distribution upon spin-out of TNR's lithium and rare metals projects. Gangeng Lithium Co. Ltd. is a leading China based, multi-product lithium manufacturer, and strategic partner and investor in ILC. TNR remains a large shareholder in ILC at 25.5% of outstanding shares.
At its core, TNR provides significant exposure to gold and copper through its holdings in Alaska and Argentina; and teamed with the recent acquisitions of rare-earth elements and iron ore projects in Canada confirm TNR's commitment to continued generation of in-demand projects, while diversifying its markets and building shareholder value.
For further details about the Los Azules settlement, please see our 'Question & Answer' release which can be found in the news section of our website at http://www.tnrgoldcorp.com/s/NewsReleases.asp
On behalf of the board,
Gary Schellenberg
President
Neither the TSX Venture Exchange nor its Regulation Services Provider (as that term is defined in the policies of the TSX Venture Exchange) accepts responsibility for the adequacy or accuracy of this news release. Statements in this release other than purely historical information, historical estimates should not be relied upon, including statements relating to the Company's future plans and objectives or expected results, are forward-looking statements. This news release may contain certain "Forward-Looking Statements" within the meaning of Section 21E of the United States Securities Exchange Act of 1934, as amended. Forward-looking statements are based on numerous assumptions and are subject to all of the risks and uncertainties inherent in the Company's business, including risks inherent in resource exploration and development. As a result, actual results may vary materially from those described in the forward-looking statements.
*Source Geoscience Reporting Guidelines, National Library of Canada Cataloguing in Publication Data Grant, Brian PGeo, 2003
Please Note our New Legal Disclaimer on the Blog, including, but Not limited to:
There are NO Qualified Persons among the authors of this blog as it is defined by NI 43-101, we were NOT able to verify and check any provided information in the articles, news releases or on the links embedded on this blog; you must NOT rely in any sense on any of this information in order to make any resource or value calculation, or attribute any particular value or Price Target to any discussed securities.
We Do Not own any content in the third parties' articles, news releases, videos or on the links embedded on this blog; any opinions - including, but not limited to the resource estimations, valuations, target prices and particular recommendations on any securities expressed there - are subject to the disclosure provided by those third parties and are NOT verified, approved or endorsed by the authors of this blog in any way.
Please, do not forget, that we own stocks we are writing about and have position in these companies. We are not providing any investment advice on this blog and there is no solicitation to buy or sell any particular company.