Please Note our New Legal Disclaimer on the Blog

TNR Gold CEO Gary Schellenberg Video Interview: Summary on Los Azules Copper Settlement with McEwen Mining.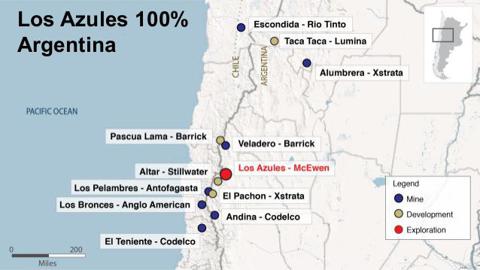 TNR Gold: McEwen Mining Continues to Expand Los Azules' Large, High-Grade, Mineral Resource TNR.v, MUX
"Now there is a truly elephant copper discovery in the making with 18.4 billion lb of Copper reported in all resource categories at Los Azules. We can expect very aggressive push from McEwen Mining to market Los Azules and, hopefully, newly discovered mineralised trend and mineralisation at depth will bring this deposit even higher in its world wide ranking."
TNR Gold Corp. Summarizes Settlement of Lawsuit With McEwen Mining regarding Los Azules Copper Property With Questions & Answers TNR.v, MUX.
"Q: What Does the Los Azules Settlement Mean for TNR Gold?
A: The settlement restores a back-in right to TNR Gold which is exercisable following the completion of a feasibility study. The back-in right allows TNR Gold to back-in for up to 25% of the northern part of the Los Azules property, which is currently believed by McEwen Mining to contain the largest share of the known resource at Los Azules. If TNR Gold elects to back-in for 5% or less, or has its interest diluted to 5% or less, TNR Gold's interest automatically converts to a 0.6% Net Smelter Royalty ("NSR"). TNR Gold's back-in right applies to those properties subject to an Exploration and Option Agreement originally signed by Solitario Argentina S.A. (a subsidiary of TNR Gold) and M.I.M. Argentina Exploraciones S.A. on May 15, 2004 (as amended) (the "Property").
In addition, TNR Gold has been issued 1 million shares in McEwen Mining and delivery of such shares will occur upon the transfer of mineral rights to the Escorpio IV mining tenure to McEwen Mining. The shares are also subject to normal statutory hold periods. (Information about McEwen Mining can be found at http://www.mcewenmining.comand on Sedar at http://www.sedar.com).
TNR Gold and the other parties to the litigation have also dismissed by consent all claims and counterclaims in the litigation.
TNR Gold may decide in the future to realize the value of some or all of the assets received in this settlement. Proceeds realized from such disposition may be used to retire the Company's debt and provide working capital which could reduce the need for future dilution of the Company."
Now Insiders are buying: Chairman, CEO and CFO of TNR Gold.
Canadian Mining Journal:
McEwen grows Los Azules copper count

TEXT SIZE



By: The following article is reprinted with permission from CMJ's sister publication The Northern Miner.2013-02-07
---
VANCOUVER - With 10 drill holes McEwen Mining has boosted the copper resource at its Los Azules project in Argentina by 20% compared to the last estimate just eight months ago, and the huge deposit remains open in every direction.
A new resource estimate reduced the deposit's indicated count slightly compared to June estimate, leaving indicated resources at 310 million tonnes grading 0.65% Cu. Inferred resources, however, jumped 29% to reach 1.3 billion tonnes grading 0.49% Cu. Together the indicated and inferred resource tonnes contain 18.4 billion lb of copper.
Los Azules is a porphyry system in western San Juan province, which is home to a belt of porphyry copper deposits that straddle the Chilean-Argentinean border. Some of the copper deposits in this belt rank among the largest in the world, including Codelco's El Teniente and Andina mines, Anglo American's Los Bronces mine, Antofagasta's Los Pelambres mine, and Xstrata's El Pachon project.
Los Azules was already one of the world's largest undeveloped open pit copper projects before the latest resource boost, but until last year, drills had not tested for mineralization below 650 metres depth. In 2012 McEwen changed that by drilling six deep holes.
The results suggest that there remains much mineralization yet to discover at the project. The deep drill holes started to identify a parallel trend to the west of the known Los Azules orebody, wherein mineralization occurs near surface and at depth. For example, hole 1291 intersected 160 metres of 0.61% Cu from 72 metres depth and then hit into 329 metres of 0.49% Cu from 562 metres down hole.
The depth part is interesting, as most of the 173 holes drilled at Los Azules to date have been shallow and therefore did not test the deposit's deeper potential. The company will start to test that potential this year, with a 15,000-metre drill program underway. McEwen says the deep holes completed in 2012 illuminated "many new exploration targets."
McEwen also plans to complete a new preliminary economic assessment (PEA), which is expected in the third quarter of the year. The new study will consider a larger operation than was modeled in the original PEA, incorporate the new resource tonnes, and assess the potential to process low grade material that was not considered in a heap leach scenario.
McEwen will also continue with metallurgical studies on producing a copper cathode at Los Azules instead of a concentrate. Cathode production offers two advantages: it eliminates the need for a concentrate pipeline through Chile and avoids Argentina's concentrate export tax.
The company is now free to forge ahead apace at Los Azules, after settling a lingering lawsuit in November. The dispute dated back to 2009 and involved an option agreement between Xstrata and Minera Andes, the company that merged with U.S. Gold to form McEwen Mining in early 2012. By the time it reached court late last year Xstrata's interest had also changed hands and the dispute was between McEwen and TNR Gold.
In the settlement McEwen gained clear title to the claim in question; the piece of land is not home to any known mineralization but would be needed if McEwen were to advance Los Azules to development. TNR retained its right to back-in for 25% ownership of certain claims in the northern half of the property, which are home to roughly 62% of the current Los Azules resource. TNR can exercise that right after McEwen delivers a positive feasibility study and to earn its stake the junior would have to pay two times the expenditures attributable to the back-in percentage, or 50% of the expenses on the claims to that point. TNR also received 1 million shares of McEwen.
McEwen's share price was little changed on news of the expanded Los Azules resource estimate, gaining 2¢ to close at $3.08. The company has a 52-week share price range of $2.02 to $5.83 and has 213 million shares outstanding.
Please Note our New Legal Disclaimer on the Blog, including, but Not limited to:
There are NO Qualified Persons among the authors of this blog as it is defined by NI 43-101, we were NOT able to verify and check any provided information in the articles, news releases or on the links embedded on this blog; you must NOT rely in any sense on any of this information in order to make any resource or value calculation, or attribute any particular value or Price Target to any discussed securities.
We Do Not own any content in the third parties' articles, news releases, videos or on the links embedded on this blog; any opinions - including, but not limited to the resource estimations, valuations, target prices and particular recommendations on any securities expressed there - are subject to the disclosure provided by those third parties and are NOT verified, approved or endorsed by the authors of this blog in any way.
Please, do not forget, that we own stocks we are writing about and have position in these companies. We are not providing any investment advice on this blog and there is no solicitation to buy or sell any particular company.