Watch the Video:
http://sufiy.blogspot.co.uk/2013/04/matrix-strikes-back-gold-wash-out.html#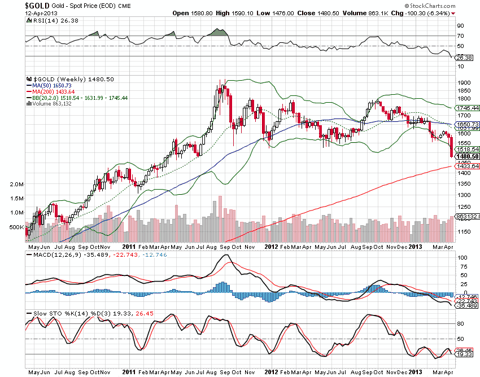 It was quite a week for Gold. Goldman Sachs and JP Morgan, must be after reading our entry on Gold this week, has delivered Jim Puplava's "Puke Moment" for all Gold market investors. Gold is Trashed, all stops are taken over. We will look this weekend into the actions behind the scene and particularly who was selling and who is buying. Stay tuned...
"Nobody likes Gold any more. Soros is proclaiming that Gold "has failed to act as The Safe Heaven", Gold Bugs are shattered with all Gold Miners' Write Downs and Junior Miners are plain dead wood in the water without any chance of financing. It looks like BOJ and Bernanke with FED will start to print Gold any moment now and nobody has any guts to call the Bottom any more."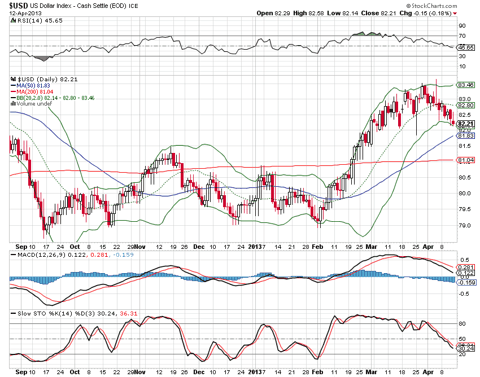 Our first observation will be that US Dollar has not participated in the Friday Gold Death party - it is still Rolling Over into the Double Top Reversal. This kind of well orchestrated and coordinated action makes us to think hard: what kind of major monetary event really is coming on?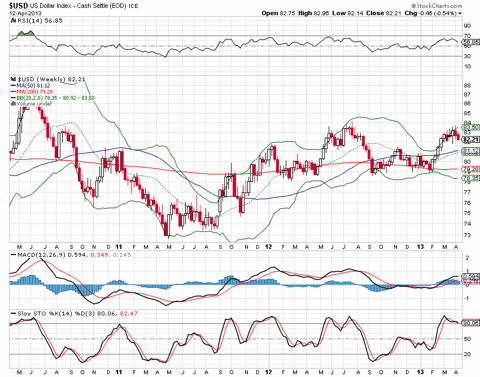 Will Gold Use This Excuse To Build The Reversal Now? Charles Nenner Calls For Gold To Bottom In April.
Former Assistant Secretary of the US Treasury told King World News that the smash in gold and silver today was entirely orchestrated by the Federal Reserve.
Maguire: "Deliveries in Shanghai alone in March were 283 tons. In the eight trading days of April, we have seen another 117 tons (of gold) delivered. Today was another 20 tons delivered. So what we are looking at here is over 400 tons (of gold) in less than a month and a half.
Jim Puplava's Big Picture: The Dow Hits A New Record High - Are Stocks Overpriced?
ALSO ON THE BIG PICTURE, "GOLD - THE FINAL MAALOX MOMENT - I WANT TO HOLD YOUR HAND"