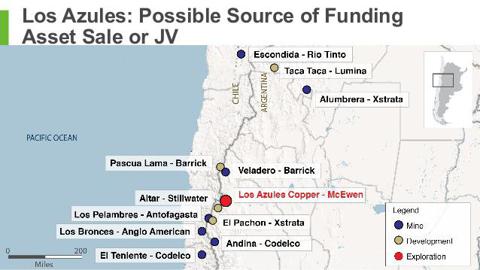 TNR Gold - McEwen Mining's Los Azules Copper Project Continues to Grow! MUX, TNR.v

"Los Azules is a large undeveloped copper porphyry system located in western San Juan Provincewithin a belt of porphyry copper deposits that straddles the Chilean/Argentine border. This belt contains some of the world's largest copper deposits, including Codelco's El Teniente and Andinamines,Anglo American'sLos Bronces mine, Antofagasta PLC's Los Pelambres mine and Xstrata'sEl Pachón project, among others. Los Azules is one of the world's largest, highest grade, undeveloped copper-porphyry deposits not owned by a major base metals company."
TNR Gold - McEwen Mining: Drilling Expands New Central Zone at El Gallo 1 Mine MUX, TNR.v
TNR Gold: McEwen reckons gold stocks will rise in 2013 MUX, TNR.v

"Action with McEwen Mining was quite interesting this week and, particularly, on Friday. Stock has refused to follow the Gold that day and stubbornly was climbing higher all day. Rob McEwen was making some of his magic on Thursday at the conference call after the Q1 update and McEwen Mining Shareholders meeting will be taken place next week. Chief Owner has promised release from one of the exploration program before it and Los Azules new resource estimate is due by the end of May. According to his facebook page, Rob was on the road last few weeks talking to numerous Investment Banks..."
TNR Gold - McEwen Mining: "Los Azules Copper final bids are due late Q2" MUX, TNR.v
"Now you can slice and dice it: what will be the price for Los Azules and what will be the effect on McEwen Mining and, particularly, TNR Gold valuations and market caps. All slides are from McEwen Mining presentations."
PI Financial Corp. Engaged as Financial Advisor for Sale of TNR Gold's Back-in Right to the Los Azules Copper Project, Argentina TNR.v, MUX
May 16, 2013
TNR Gold Corp. Advises of McEwen Mining's Increased Resource Estimate for Los Azules Copper Project
Vancouver B.C., May 16, 2013: TNR Gold Corp. (the "Company" or "TNR") advises that McEwen Mining Inc. (NYSE:MUX, TSX:MUX) ("McEwen Mining") has issued a news release dated May 15, 2013 in relation to the Los Azules Copper Project in San Juan Province, Argentina. TNR holds a 25% back-in right, exercisable upon the completion of a feasibility study, on the northern part of the Los Azules property.
The news release issued by McEwen Mining summarizes an updated mineral resource estimate completed on the property. In their press release McEwen Mining states, "Key developments include the successful conversion of inferred resources into the indicated category while increasing the size of the resource. The resource remains open along strike, to depth, and laterally." The news release is available at SEDAR http://www.sedar.com and onhttp://www.mcewenmining.com. TNR encourages its shareholders to read the press release issued by McEwen Mining to gain a better understanding of the work performed and the potential impacts this will have on the project. McEwen Mining has also stated that an updated preliminary economic assessment ("PEA") will be completed later this year that will utilize the expanded resource and "will evaluate the possibility of: (1) increasing the daily throughput; (2) producing copper cathode instead of a concentrate and (3) processing low-grade mineralized material not previously considered, via a heap leach".
McEwen Mining's press release appears to be prepared by Qualified Persons and the procedures, methodology and key assumptions disclosed therein are those adopted and consistently applied in the mining industry, but no Qualified Person engaged by TNR Gold Corp. has done sufficient work to analyze, interpret, classify or verify McEwen Mining's information to determine the current mineral reserve or resource or other information referred to in the press release. Accordingly, the reader is cautioned in placing any reliance on the disclosures therein.
ABOUT LOS AZULES

The Company has a 25% back-in right in the northern portion of the Los Azules property which is exercisable following the completion of a feasibility study. If the Company elects to back-in for 5% or less or has its interest diluted to 5% or less, TNR will receive a net smelter royalty of 0.6% from the Northern Portion.
The Los Azules copper deposit is located in the San Juan province of Argentina. McEwen Mining Inc. is the current operator on the Los Azules copper deposit and the Company has previously advised that on March 13 and March 28, 2013, McEwen Mining Inc. issued press releases in relation to the deposit, which are accessible on Sedar at http://www.sedar.com and on McEwen Mining Inc's website at http://mcewenmining.com.
ABOUT TNR GOLD CORP

Over the past twenty-one years TNR, through its lead generator business model, has been successful in generating high quality exploration projects around the globe. With the Company's expertise, resources and industry network, it is well positioned to aggressively identify, source, explore, partner and continue to expand its project portfolio.
TNR is also a major shareholder of International Lithium Corp. (TSX:ILC.V) ("ILC"), a company created by TNR to advance its internationally acquired lithium prospects. TNR currently holds about 25.5% of the outstanding shares of ILC.
At its core, TNR provides significant exposure to gold and copper through its holdings in Alaska and Argentina and is committ ed to continued generation of in-demand projects, while diversifying its markets and building shareholder value.
John Harrop, PGeo, FGS, is a "Qualified Person" as defined under NI 43-101 and has reviewed and approved the technical content of this news release.
For further details please see our website at http://www.tnrgoldcorp.com/s/NewsReleases.asp
On behalf of the board,
Gary Schellenberg
President"
Please Note our Legal Disclaimer on the Blog, including, but Not limited to:
There are NO Qualified Persons among the authors of this blog as it is defined by NI 43-101, we were NOT able to verify and check any provided information in the articles, news releases or on the links embedded on this blog; you must NOT rely in any sense on any of this information in order to make any resource or value calculation, or attribute any particular value or Price Target to any discussed securities.
We Do Not own any content in the third parties' articles, news releases, videos or on the links embedded on this blog; any opinions - including, but not limited to the resource estimations, valuations, target prices and particular recommendations on any securities expressed there - are subject to the disclosure provided by those third parties and are NOT verified, approved or endorsed by the authors of this blog in any way.
Please, do not forget, that we own stocks we are writing about and have position in these companies. We are not providing any investment advice on this blog and there is no solicitation to buy or sell any particular company.