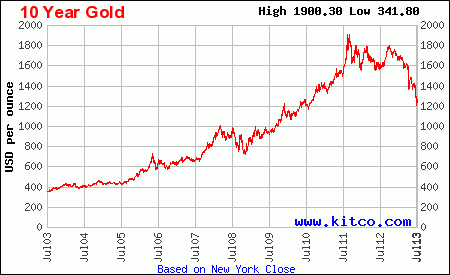 We have all fundamentals in place for the much higher prices:
David Stockman: The Great Deformation

Now is the time for the Economic Laws to come back into the reality of our Planet Ponzi. And here where the commodities, hard assets and Gold, among them, will be shining brightly again.
Paper asset can go down in value to zero and US Dollar purchasing power will be one of the best examples here. Enron, Worldcom and Lehman shares can illustrate the picture as well.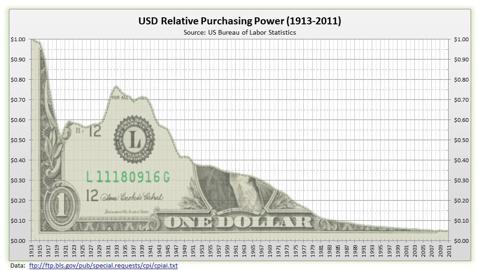 Any real hard asset or commodity will always have its value based on supply and demand. Gold will be the first example in the modern world of "Great Deformation" when financial reality hit the fan - rising Demand will face the breaking supply chain.
Gold is retesting the range of the price level which is below the average cost of production now. Dozens of gold mining companies have announced the cut in production already and more to come.
China is buying physical gold in record numbers and where the supply will come even at the lower prices is not clear.
Gold juniors are facing the total extermination with naked short sellers controlling the market, but only for now. Companies with the real projects and access to the capital will survive and will bring famous ten baggers again.
First things being cut in this downturn by Majors are new project developments and exploration. Where will they find the new production pipeline once the Gold will turn around will be the next crucial question. But first Gold must find its bottom and severity of recent capitulation is telling us that we are very close by now.
Charles Nenner Research: Cycles Say Gold is Bottoming.
ZeroHedge:
Is The Low In Place For Gold?
Citi's FX Technicals group is biased to believe that the low in this correction may have been posted for Gold. Here's why...
"
Via Citi FX Technicals,
Gold
Two years ago gold bugs ran wild as the price of gold rose nearly six times. But since cresting two years ago it has steadily declined, almost by half, putting the gold bugs in flight. The most recent advisory from a leading Wall Street firm suggests that the price will continue to drift downward, and may ultimately settle 40% below current levels.

The rout says a lot about consumer confidence in the worldwide recovery. The sharply reduced rates of inflation combined with resurgence of other, more economically productive investments, such as stocks, real estate, and bank savings have combined to eliminate gold's allure.

Although the American economy has reduced its rapid rate of recovery, it is still on a firm expansionary course. The fear that dominated two years ago has largely vanished, replaced by a recovery that has turned the gold speculators' dreams into a nightmare.
The above note is probably a close representation of consensus market view at the moment, except that it is taken from an article in the… New York Times, 29 August 1976 (3 days after the corrective low had been posted in 1975-1976 before Gold started a 3 year rally into late 1979/early 1980)
Long-term Gold Chart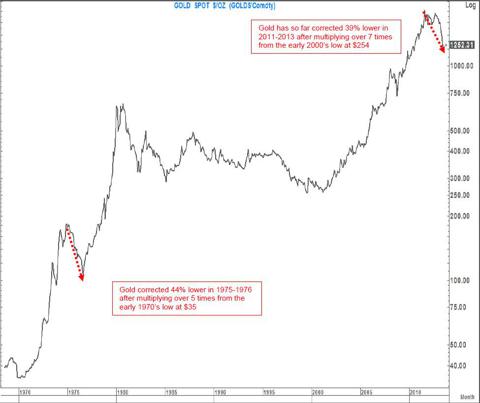 Between 1973 and 1974 the DJIA fell 45%. As the Equity market then recovered Gold went into a corrective phase within 3 months that saw it fall 445 as the Equity market rallied.
This time around gold has in fact been much more resilient.
- It did not peak until Sept 2011 ( 2 ½ years after the Equity market bottomed out)
- It has so far corrected 39% with an Equity market that has rallied 140% off the March 2009 low (DJIA). In 1975-1976 it corrected 44% as the equity market rallied 76%
In 1976 the Gold correction ended in August and the Equity market began a deep correction in September (27% over 18 months). During that period Gold rallied by about 78% and over the 1976-1980 period it multiplied in value by a factor of 8 from just over $100 to over $800. The final part of that rally saw Gold rise from about $470 to $850 over about 4 weeks on the back of the USSR invasion of Afghanistan. Even without that move it still multiplied by about 4.5 times in just over 3 years.
So what are we looking at to increase the likelihood of the "low being in"?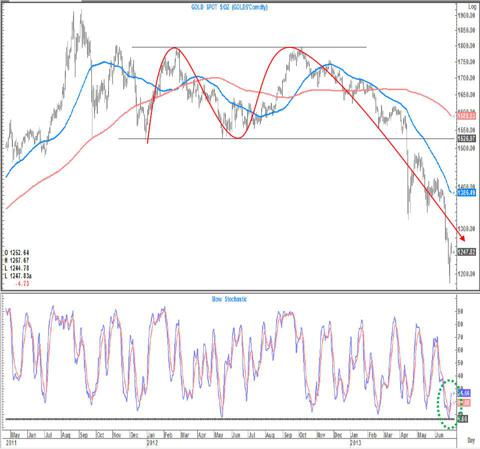 In addition daily momentum is turning up from more oversold levels than those seen before the $270 bounce in 2012. On a daily chart this is the most oversold we have seen since the turn higher in Gold in 2001.
In addition it has become very stretched to the 55 and 200 day moving averages which now have a big gap between them
An important thing to note is that Gold broke its support level the same week as the S&P broke above its 2007 high. As long as the equity market stays resilient (As we saw in 1975-1976) it may be a drag on Gold's ability to rally substantially. In the 1980-2000 period when financial assets were aggressively rallying, Gold took a back seat. We may need the market to be more concerned about the financial/economic backdrop before Gold can get any real traction again.
The pattern into the low on Gold also reminds us of how the S&P set its low in March 2009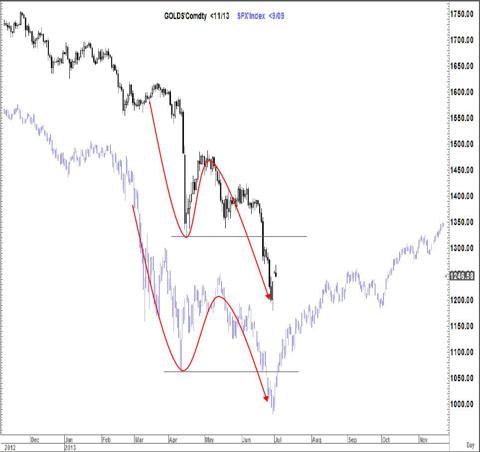 Once the first impulsive low at 741 was regained by the S&P it never revisited it.
A close above $1,322 on Gold, if seen, would look similar
In 1976 the move lower in Gold overshot the 55 month moving average by about 14%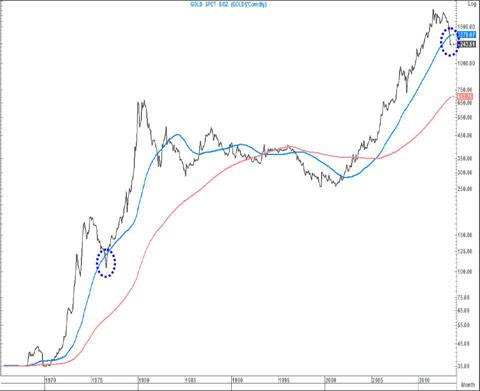 A similar move this time would equate to about $1,185 compared to a low so far of $1,181
The 55 month moving average stands at $1,379
The 200 week moving average stands at $1,459
IF and when we start to overcome these levels from $1,322 to $1,459 our conviction of a bottom being in place will grow. While we remain below these levels (especially if the Equity market continues to remain robust) we cannot rule out the danger that we could get another move lower.
In that respect we would remain focused on the 1975-1976 correction which if replicated could suggest as low as $1,075"