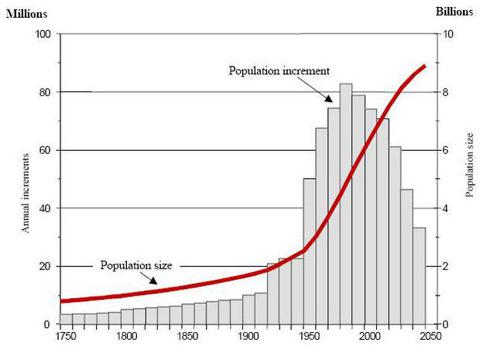 CS. The last hope is lost and there is no bid in sight in the beaten into the dust junior mining market. Millions of shares are sold at any bid and stocks are priced at the bankruptcy levels. Everything is awful and the most knowledgeable investors in the sector are asking themselves: "Why are they still here?" Junior miners are not loved any more - they are just hated.
This is why it is called capitulation and this is how the trend is changed and this is when the new Bull is born. Apart from all emotions and pure market manipulations, the share price is determined by supply and demand in the market place. The last sellers in the Bear market are the funds with redemptions, which are closing their shops and liquidating anything at ANY price they can find and the last Believers, who can not handle it any more and are throwing into the towel.
Then, suddenly, after a few weeks of the water torture without any direction in the market, selected stocks start to move by 10 - 20 percent a day. Sellers are gone and Pros are picking up the pieces for cents on the dollar value - the new Bull market is born.
To make this dramatic and pleasant for Survivors picture come true we need just one thing - Pros with the money coming into the market, without them it will always be only the wishful thinking. We can see them coming now.
Rick Rule has a very interesting interview with Silver Doctors and it is time for us to share a few thoughts with our fellow travelers as well. We will try to digest our own experience and everything what we see coming now from the best minds in the market place.
To make it easier, if you are thinking that Copper, Gold and Lithium among other commodities are not needed any more, please do not waste your time here. In all other cases we will progress with our logic.
We have been blessed to start our journey in commodities and miners at the very turn of the century, which has coincided with the major bottom in the metal prices. In the beginning we have participated in the historical moves by Gold, Silver, Copper, Zinc and Uranium. We have started with physical metals, then moved to Majors and later to the Junior miners searching for our next Veladero.
We have seen quite a few corrections in this Generational Bull with the significant panic in 2008, but this ongoing correction suddenly has materialized into the Worst Bear Market we have ever seen in junior miners. Is there any hope left after all?
Our first test will be from 2008, which has proven to be right then: is it The End Of The Word? Judging by the all-time-high in the Dow and S&P we are very far from it. Judging by the Dr Copper price trend - we must be close to the spectacular Market Collapse. This time it is little bit easier for us - we know what will happen with the first signs of any economic weakness: not only Tapering will be off the table, but all Central Banks will be printing Even More Money.
We will dare to proclaim that not only Commodities Super-Cycle is NOT over, but it will be accelerating into the next stage after this brief pause. With the rising population and growing middle class in Asia and in the developing world consumption of commodities will grow towards the level of the Western world from extremely low levels.
In the normal markets, without manipulation by Goldman Sachs and JPMorgan (if you can still find any of these ones), price of the commodity will be determined by Supply and Demand. Demand is supposed to grow long term, what about Supply?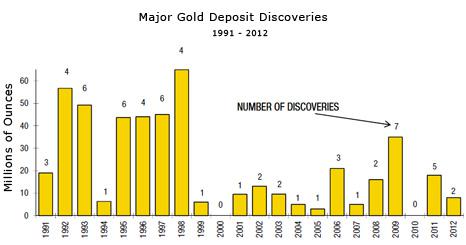 As we can see now, all Majors are cutting the marginal production and shelving the project developments. The production cost price will determine the bottom in the particular commodity. While it is possible to experience the prolonged period of below the cost of production prices, it is not sustainable and it does not play very well with the FED talking about the tapering due to the economic growth.
All these drastic cost cutting and Major's "new CEO bottom preservation measures" will lead to the price reversal once the Demand will outstrip Supply. Normally this move is very impressive, as you can not put online new mines just by flipping the switch. The lead time in the industry is measured by years and by billions of underinvested Capital in the Projects Pipeline.
So far, so good - in case if it is Not The End Of The World, prices of metals will sort themselves out very soon: once newly born consumers will decide that they would like not only to have "friends" and search for the meaning of Good Life on the borrowed mobile devices, but flush the toilets, have their own phones and maybe even a car, preferably Electric one in our vision.
What to do next? As Rick Rules sharing with us, even for the Pros like him: "You can never sell enough at the previous top", but check his Recovery Math in the interview below. Some people like Jim Sinclair even argue that if you Sold you will never be able to Buy it back. If you are not working for SAC, we are not very good with timing the market in general. Jim Sinclair always advocates to Sell 1/3 of the position into the strength and Buy it again on weakness. In other words the opportunity to Sell has come and gone long time ago and it is not what you should do now in general. Otherwise chances are higher now that you will be watching the new Bull from the sidelines with materialized losses.
What to Buy? Majors will stay in business for sure in this picture, but even their cash flow will bring more surprises with rising costs and further write downs will affect the share prices. Analysts will be waking up and downgrading the stocks next few months. On the other hand juniors are already priced at the bankruptcy levels and you have "an easy task" to find the ones which will not go bankrupt, have the right project and will find the partners and capital to develop them.
Look for the vital signs: people involved, insiders buying, quality of projects and access to the capital.
After the years of training on our own mistakes we can tell you for certain that number one for us are the people behind the company. They are finding Capital, Projects and Make Things Happen. Stick with the best you can find, make sure that they have enough at stake in the particular company and check the vital signs continuously.
We were blessed to meet with a lot of great names and have shared here our success in Gold, Silver, Copper, Uranium and Lithium on this blog.
Particularly story of Lukas Lundin and Tenke Mining could be the right one to share at this moment. We were building position in the devastated by the Civil War in Congo company from 0.5CAD level. Yeas later Lundin Mining has bought it out at 20.00CAD per share. Goods were there safely stored under the ground: one of the richest Copper and Cobalt deposits in the world. Geological risk was substituted by political one. It will be important when we will share our story with Los Azules copper. Lukas Lundin not only managed to save the company and preserve the project, but has attracted Freport McMoran as its partner into the project. Sweet memories, we still remember how we argued with the management about the selling price of Tenke Mining - 8 cents per pound ... in DRC! It will put later the valuation of Los Azules copper project in Argentina into perspective.
As you know, we are talking here our own book and writing about the things we are connected, please read our full disclosure, do not trust anything and always do your own DD.
When to buy? Rick Rule is talking about the recovery stage and timing of his actions are very important now. He is on the Buy side and interested in the low Entry price, but he is actively searching for the opportunities now. He has "seven term sheets as of the last week" with juniors considering private placements. New money are coming into the market and will clear the selling and provide new capital for the best stories. M&A on the TSX will be "the new exploration play." Mix it with Rob McEwen talking about the Bottom and looking for the new opportunities, Ross Beaty investing 1 million in Lumina Copper with Taca Taca copper deposit in Argentina and Alamos Gold paying more then two times the market cap for the small junior miner and situation is definitely deserves attention now.
If you are following us, you already know that we have found our name to stick around for this new Bull. We have met Mr Goldcorp in the market, when Rob McEwen was buying Wheaton River. Later Lukas Lundin lead us to the small play TNR Gold with J/V properties with Tenke Mining. They happen to be involved with Minera Andes and Los Azules copper project in Argentina. Xstrata was messing with TNR Gold once the Los Azules potential was getting apparently big and its draw our attention as a special situation. Rob McEwen came into the picture by acquiring his stake in Minera Andes and later all company by US Gold and creating McEwen Mining. The rest is history in theSettlement Documents between TNR Gold and McEwen Mining.
Rob McEwen is pushing forward despite all market hesitation towards his goal - to be included in S&P 500. Now this dream looks to be as far away as his prediction for the Gold to hit 5,000 dollars. But Mr Gold Corp stands by his grounds and says that Gold will go to 5,000 and "even higher".
Some investors have become quite skeptical and short interest in McEwen Mining is hitting all time high on par with all time high short interest in Gold on COMEX. And here where Rob can pull up couple of aces from his sleeve again. He managed to reduce the expectations without big discount to previous growth plans for the company, the necessity to finance its growth right now or to sell Los Azules at the fire sale prices.
McEwen Mining is highly leveraged to Silver and Gold price. It will be interesting to see how this time total desperation in Junior Miners will be turned into the Greed once Gold will surpass 1300 and Silver will be solidly above 20 dollars.
Here where Los Azules can become the game change for McEwen Mining and TNR Gold.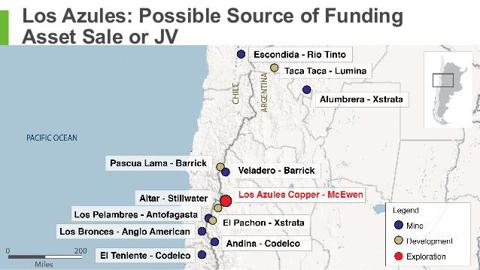 "Los Azules is one of the world's largest, highest grade, undeveloped copper-porphyry deposits not owned by a major base metals company." - McEwen Mining.
TNR Gold - McEwen Mining's Los Azules Copper Project Continues to Grow!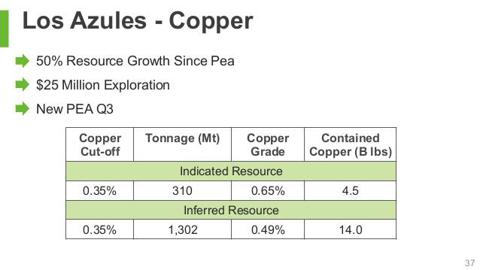 "This Resource Estimate Update marks the completion of our most successful drilling season at Los Azules. We discovered a new parallel zone to the west and significantly increased the Indicated Resource and Inferred Resource Estimates. Congratulations are in order to our exploration team in Argentina who set a record for the number of pounds discovered at Los Azules in one drill season," statedRob McEwen, Chief Owner.
Rob was talking about "few hundred millions" for the asset and it could become a reality at some point contrary to total discount in the market place at the moment.
TNR Gold & McEwen Mining: Ross Beaty Buys 1 Million Worth of Shares In Lumina Copper TNR.v, MUX, LCC.v
In July we had a very important vote of confidence from Ross Beaty in the Lumina Copper Taca Taca project in Argentina. Ross Beaty already owns 22% of Lumina Copper LCC.v and this move can show the bottom in this particular story. Argentina mining scare could be exaggerated in the end and JP Morgan with Goldman Sachs are talking about commodities turning up again. Dr. Copper is totally confused and has forgotten that it has to be on par with the recent markets' all-time-highs and FED even dreaming about "tapering in due cause" - only Insiders can provide some kind of guidance in this central planing world economy.
Taca Taca copper deposit was taken by Rob McEwen as a benchmarking proxy for Los Azules in his efforts to sell the project. According to Rob McEwen's latest investment luncheon presentation Taca Taca has a larger resource, but Los Azules has a higher grade and is actually "the highest copper grade deposit not owned by the major now".
Taca Taca is on the market as well and recent share price drop brought concern to a lot of investors in Lumina Copper. Argentina has its own ups and downs, but assets like Taca Taca and Los Azules have its own value and we do hope to see the market recognition of it now once Bernanke Put is reinstated.
According to the Lumina Copper 9 companies have already conducted the site visits and due diligence. Company states its goal to sell Taca Taca in 2013. This transaction will be the very important catalyst for McEwen Mining and TNR Gold with market Los Azules copper project valuation. McEwen Mining has confirmed that new PEA on Los Azules is due in September and TNR Gold insiders continue to accumulate in the market.
"This updated resource estimate will form the basis of a new Preliminary Economic Assessment (PEA), which is expected to be completed in the third quarter of 2013. This PEA will evaluate the possibility of: (1) increasing the daily throughput; (2) producing copper cathode instead of a concentrate and (3) processing low-grade mineralized material not previously considered, via a heap leach.

The advantages of being able to produce a copper cathode rather than a copper concentrate is two fold: First, it would eliminate the capital intensive, concentrate pipeline through Chile; and second, it would reduce the applicable export tax by 50%."
Recent research note from Mackie with target price of CAD 13.7 puts valuation of Lumina Copper and Taca Taca respectively at the 600 million us dollars and Raymond James has even higher target price of CAD 20.00. Whether Taca Taca and Los Azules will be able to achieve these valuations in the market remain to be seen, but certain insiders are voting with their money that recent valuations by Mr Market could be wrong again.
TNR Gold provides even more risky and leveraged special situation play and now depends on Rob McEwen's Midas Touch -company holds 1 million shares of McEwen Mining and have back-in right into the part of Los Azules project. Insiders are accumulating the company shares, holding the majority stake in the company and provided long term debt which has financedShotgun Gold project 43-101 resource estimate in Alaska this year.
But these are all our stories for your bed time, you have to find yours and listen to the Pros below.
RICK RULE ON GOLD & RESOURCES: "THE STAGE IS SET FOR AN ABSOLUTELY DRAMATIC RECOVERY"
Please Note our New Legal Disclaimer on the Blog, including, but Not limited to:
There are NO Qualified Persons among the authors of this blog as it is defined by NI 43-101, we were NOT able to verify and check any provided information in the articles, news releases or on the links embedded on this blog; you must NOT rely in any sense on any of this information in order to make any resource or value calculation, or attribute any particular value or Price Target to any discussed securities.
We Do Not own any content in the third parties' articles, news releases, videos or on the links embedded on this blog; any opinions - including, but not limited to the resource estimations, valuations, target prices and particular recommendations on any securities expressed there - are subject to the disclosure provided by those third parties and are NOT verified, approved or endorsed by the authors of this blog in any way.
Please, do not forget, that we own stocks we are writing about and have position in these companies. We are not providing any investment advice on this blog and there is no solicitation to buy or sell any particular company.