International Lithium Corp., President's Update
Vancouver B.C., 8-8-2013: International Lithium Corp. ("ILC" or the "Company") (ILC: TSX-V) I am pleased to provide a corporate update and summary of the Company's activities for our shareholders. International Lithium Corp. continues to advance its core exploration projects by securing the land tenure at the Mariana brine project in Argentina and working towards monetizing the Blackstairs pegmatite project in Ireland. We have avoided equity financings at low share prices and instead built up our allegiance with strategic partner Ganfeng Lithium Co. Ltd.
Highlights
Total number of fully diluted shares is reduced from 151,964,995 to 83,958,046.
Strategic Partner, Ganfeng Lithium Co. Ltd. ("GFL" or "Ganfeng Lithium") delivers advanced payment of $250,000 for Blackstairs options
Ganfeng Lithium provide loan of $1,199,000 to secure the second option payment for the Mariana project option with the original vendors. GFL enter into an agreement to acquire up to 51% of the Mariana project by making an additional payment of $1,090,000 totaling $2,289,000 to secure the full rights to the Mariana project from the original vendors
Successful exploration programs carried out at the Blackstairs, Ireland and Mavis Lake, Ontario lithium pegmatite projects.
Like many other companies involved in the discovery and extraction of natural resources, International Lithium Corp. has had to navigate through a volatile market, resultantly delaying several planned initiatives such as the commencement of field work at Mariana. Despite the turbulent conditions, I am happy to report that we have met our goals of completing successful drill programs at Blackstairs, Ireland, and Mavis Lake, Ontario. More importantly we have secured financial backing from our strategic partner to preserve our main projects and continue our operations without the need for equity financings at low share prices that would result in a significant dilution for existing shareholders.
Share Structure
On May 24, 2013 the Company had 66,122,859 unexercised warrants expire and on July 21, 2013 an additional 2,109,090 unexercised warrants expired.
Stock Options issued under the Company's Stock Option Plan consist of 3,625,000 with an exercise price of $0.25 to November 30, 2017, 50,000 at $0.115 to May 7, 2017, 3,075,000 at $0.10 to January 8, 2018 and 75,000 at $0.10 to January 22, 2018.
The current total number of shares issued and outstanding is 77,133,046 with 83,958,046 shares fully diluted (not including any or all debt that is convertible into common shares of the Company at conversion price of $0.10 per share).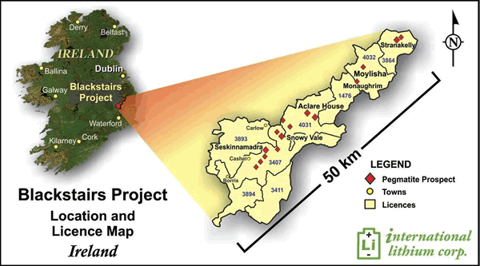 Blackstairs Project, Ireland
A nine (9) hole diamond drilling program, totalling 594 metres, was conducted on two prospects at the Blackstairs Lithium Project, Ireland. The drill program confirmed historical drill results at the Aclare prospect, 85 kilometres southwest of Dublin, and successfully intersected lithium bearing spodumene pegmatites in a previously untested area, below a spodumene bearing boulder field at the Moylisha prospect. The Company has conducted preliminary testing on only two of the six main prospects located along the 35 kilometre lithium pegmatite belt. All of the 19 known spodumene occurrences that make up the belt are within the Company's prospecting licenses (news release dated Jun25_2013NR).
Key Highlights:
Pegmatite intersected at Aclare containing 2.23% Li2O over 23.3m including 3.43% Li2O over 6.0m drill width (true thickness is yet unknown).
Multiple pegmatite dyke intersections and 1.50% Li2O over 5.60m at Moylisha are consistent with historical results and confirm the prospectivity of the area.
Step out drilling, 500m south of historical work at Moylisha, intersected lithium and other rare element mineralization within multiple, closely spaced, parallel pegmatites.
On July 31, 2013 (NR_Jul31_2013) the Company announced that Ganfeng Lithium advanced USD$250,000 to the Company under an amendment to the option agreement between the two Parties (the "Blackstairs Agreement") which gives Ganfeng Lithium an option to earn up to a 100% interest in ILC's wholly owned Blackstairs project in Ireland. In consideration of the advance of $250,000, which may be applied against either of the options as set out in the Blackstairs Agreement, ILC has extended the deadline for the exercise of such options to September 30, 2013. Additionally, if Ganfeng Lithium decides not to proceed with the option on Blackstairs, the $250,000 advance may be converted by Ganfeng Lithium into a 5.6% interest in ILC's rights to the Mariana Property. Ganfeng Lithium has also agreed to defer certain interest payments owing to it by ILC under existing loan agreements.
Representatives from Ganfeng Lithium are conducting a site visit of the Blackstairs property in August as part of their ongoing due diligence towards exercising an option on the Blackstairs project.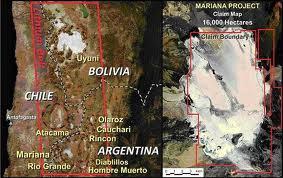 Mariana Project, Salta, Argentina
On May 10, 2013 Ganfeng Lithium agreed to lend ILC a total of $2,289,000 to advance the Company's Mariana Lithium-Potassium Brine project in Argentina and for ILC to provide the outstanding scheduled cash payments to secure an unencumbered 100% ownership of the Mariana project. Ganfeng Lithium advanced ILC a total of USD$1,199,000 ("First Advance") on June 5, 2013. A further advance of USD$1,090,000 will follow in May 2014 ("Second Advance"). The Loan will mature two years following the date of the Second Advance and during the term of the loan ILC will pay interest of 10% per annum on the balance of the Loan, payable quarterly.
In lieu of receiving repayment of the loan, Ganfeng Lithium may elect to convert into an interest in the Mariana Property. The loan agreement contemplates that Ganfeng Lithium may convert what would otherwise be ILC's repayment obligation for the First Advance into a 26% interest in ILC's rights in the Mariana Property. Likewise, instead of receiving repayment of the Second Advance, Ganfeng Lithium may convert into a 25% interest in ILC's rights to the Mariana Property, for a total interest of 51%. If Ganfeng Lithium elects to convert up to a 51% property interest, at that time, the parties would enter into a joint venture relationship for the operation of the Mariana (see news releases dated May 10, 2013 and June 5, 2013).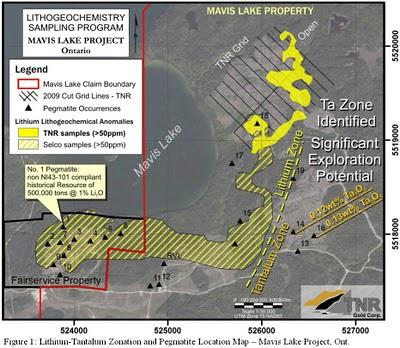 Mavis Lake Project, Ontario
The 19 hole (2075 m) diamond drill program at Mavis Lake, Ontario returned several intervals of high grade lithium and began to show continuity of geology and define the structural complexity of pegmatites at that prospect (news releases dated Feb 19, 2013 and April3_2013NR) .
Key Highlights
1.51% Li2O over 21.40m (incl.2.37% Li2O over 9.2m) intersected in drill hole MF12-24
1.51% Li2O over 6.20m intersected in drill hole MF12-25
2.53% Li2O over 6.0m occurring at surface in drill hole MF12-28
1.34% Li2O over 8.50m intersected in MF-12-33
1.05% Li2O over 10.85m intersected in MF-12-34
1.06% Li2O over 10.75m intersected in MF-12-36
The objective of the 2012 drill program was to test the subsurface continuity of significant pegmatite intersections along strike and down dip. Extensive structural, geological, geochemical and geophysical interpretations of both new and historical data were utilized to co-ordinate drilling and better understand the orientation and distribution of pegmatite bodies in the area.
Outlook
At International Lithium we remain optimistic about the future demand for lithium, which continues to experience a steady rise, along with the demand for green technologies, as the urban population continues to grow. According to the United Nations Population Fund ("UNFPA"), more than 50% of world citizens currently live in large urbanized areas and that number is expected to reach 81% by 2030. The effect of this trend translates into an increased demand for new electronics, vehicles and energy, all of which significantly increase prospects for lithium suppliers.
The success of the Tesla Model S clearly demonstrates that electric cars are here to stay. Tesla is breaking through the high-end market in this sector and there is an opportunity to cater to mass markets given the increased pressure to cut pollution from motor vehicles in most parts of the world, including China. With this outlook in mind we feel we have an advantage being aligned with a strategic partner like Gangfeng Lithium, the leading Lithium metal producer in the world and important Lithium chemicals supplier to the Lithium battery industry.

In the months to come our strategic partner will move closer towards exercising an option on the Blackstairs project, one example that demonstrates International Lithium Corp. is intent on finding diverse solutions to finance its projects in these difficult times. We are now in the planning stages for continued exploration at Mariana and look for new opportunities as well as continue work at Blackstairs, Ireland and Mavis Lake, Ontario.
I thank you for your continued support and look forward to unlocking the added value ILC has to offer.
Qualified Person Statement
John Harrop, PGeo, FGS, and Vice President, Exploration of the Company is a "Qualified Person" as defined under NI 43-101 has reviewed and approved the technical content of this news release.
KirillKlip
President, International Lithium Corp.
Neither the TSX Venture Exchange nor its Regulation Services Provider (as that term is defined in the policies of the TSX Venture Exchange) accepts responsibility for the adequacy or accuracy of this release. Statements in this press release other than purely historical information, historical estimates should not be relied upon, including statements relating to the Company's future plans and objectives or expected results, are forward-looking statements. News release contains certain "Forward-Looking Statements" within the meaning of Section 21E of the United States Securities Exchange Act of 1934, as amended. Forward-looking statements are based on numerous assumptions and are subject to all of the risks and uncertainties inherent in the Company's business, including risks inherent in resource exploration and development. As a result, actual results may vary materially from those described in the forward-looking statements.
Please Note our Legal Disclaimer on the Blog, including, but Not limited to:
There are NO Qualified Persons among the authors of this blog as it is defined by NI 43-101, we were NOT able to verify and check any provided information in the articles, news releases or on the links embedded on this blog; you must NOT rely in any sense on any of this information in order to make any resource or value calculation, or attribute any particular value or Price Target to any discussed securities.
We Do Not own any content in the third parties' articles, news releases, videos or on the links embedded on this blog; any opinions - including, but not limited to the resource estimations, valuations, target prices and particular recommendations on any securities expressed there - are subject to the disclosure provided by those third parties and are NOT verified, approved or endorsed by the authors of this blog in any way.
Please, do not forget, that we own stocks we are writing about and have position in these companies. We are not providing any investment advice on this blog and there is no solicitation to buy or sell any particular company.