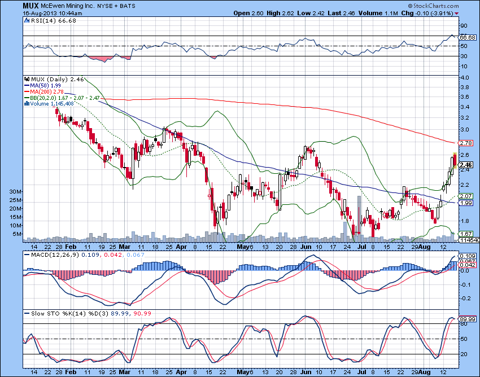 As we have suggested before, Shorts were screaming for cover with McEwen Mining on Monday and the days after this week. We have some more positive developments in Rob McEwen camp. Surging silver has lifted the MUX share price and news from Argentina are building the base for Los Azules Copper to be the catalyst for this fall to be unfolded for McEwen Mining and TNR Gold.
McEwen Mining Conference Call.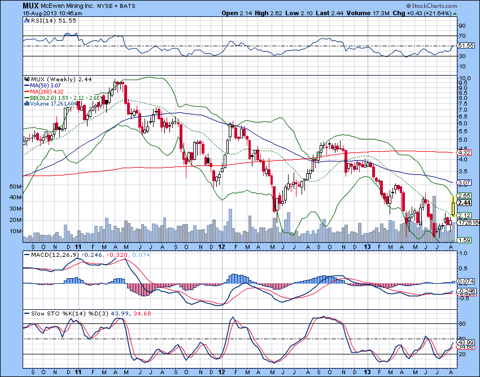 McEwen Mining Q2 Operational Results, Record Production at Lower Costs MUX, TNR.v

"Mr Gold Corp delivers what is valued the most in the time of desperation: solid leadership and management of his assets. Resources have been increased, production is growing and the costs are going lower. McEwen Mining will collect 9 million in Q4 - a very nice bonus to its cash position from Mexico Tax Refund: shorts will be uneasy on Monday during the conference call.
Mr Market will drive our story - McEwen Mining is highly leveraged to Silver, Gold and Copper prices, but we have one of the best managing owners available on the market here. With his own money on the line and what is even more important for Rob: his name - you can be sure that if anything can be done for the benefit of the shareholders it will happen.
We are not just cheer leading here, as usual, but talking about the one of the most important asset in this kind of market: Rob has been there, has done it already. His younger team brings a lot of energy and his guidance and name opens the doors.
Nobody knows when Mr Market will suddenly remember that Gold and Silver prices are suppressed at the historical level of open market manipulation or that Dr Copper must be flying to the new highs supporting the theory about all that "Economic Growth" disturbing the FED, but you must survive to that point and only after that you can enjoy the ride. If you can preserve your main assets and pick up new ones during the downturn, your patience will be rewarded handsomely.
For our story here with TNR Gold Los Azules development is the most important one, we still think that it will be the ace from Rob's sleeve to bring the catalyst to all the story of McEwen Mining and, particularly, TNR Gold. Now we have another important milestone in the making of this world class asset:
"Los Azules Copper Project, Argentina (100%)

Los Azules is one of the world's largest and highest grade undeveloped copper porphyry deposits. McEwen Mining is working on an updated Preliminary Economic Assessment (PEA), which is expected to be completed in Q3 this year. The updated PEA will be based on a significantly larger mineral resource. It will evaluate the possibility of (1) increasing the daily throughput; (2) producing copper cathode instead of a concentrate and (3) processing low-grade mineralized material not previously considered, via a heap leach. The advantage of being able to produce a copper cathode is that it would eliminate the contemplated slurry pipeline through Chile and would reduce Argentina's current export tax on concentrate."
McEwen Mining Announces Updated El Gallo 2 Resource Estimate MUX, TNR.v
Rick Rule On Gold & Resources: "The Stage Is Set For An Absolutely Dramatic Recovery" TNR.v, MUX
"To make this dramatic and pleasant for Survivors picture come true we need just one thing - Pros with the money coming into the market, without them it will always be only the wishful thinking. We can see them coming now."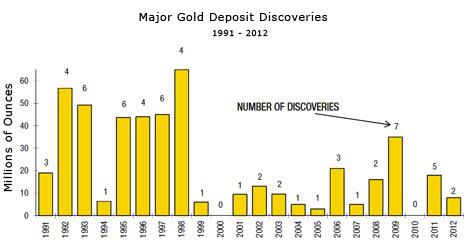 BN americas:
McEwen - Argentina may lift mining currency restrictions
By Samuel Williams - Monday, August 12, 2013
Signs of a possible change of heart by Argentina's government offer hope that currency export restrictions imposed on the mining sector may be eased, Rob McEwen, CEO of Toronto-based McEwen Mining (NYSE, TSX: MUX) said.
Citing the example of a deal to develop shale gas fields with energy firm Chevron (NYSE: CVN) in April, McEwen said the government has begun to lift the restrictions in certain cases.
The restrictions prevent companies from exporting profits from operations in Argentina to other currencies, and have been blamed for harming foreign investment in the country.
But the Chevron deal could be a sign of a "new pragmatism" within the administration and a recognition of the need to attract foreign capital, McEwen told a call to discuss the company's Q2 results.
The deal represents a "major shift in the government's position," he added, one that could see currency export restrictions lifted in the mining sector.
"This is a glimmer of light and maybe it will get brighter as we go forward," he added.
In February, press reported that the administration had begun to authorize the repatriation of dividends by certain mining companies operating in the country.
McEwen has a 49% stake in the San José gold-silver mine in Argentina's Santa Cruz province and the El Gallo gold mine in Mexico."
Please Note our New Legal Disclaimer on the Blog, including, but Not limited to:
There are NO Qualified Persons among the authors of this blog as it is defined by NI 43-101, we were NOT able to verify and check any provided information in the articles, news releases or on the links embedded on this blog; you must NOT rely in any sense on any of this information in order to make any resource or value calculation, or attribute any particular value or Price Target to any discussed securities.
We Do Not own any content in the third parties' articles, news releases, videos or on the links embedded on this blog; any opinions - including, but not limited to the resource estimations, valuations, target prices and particular recommendations on any securities expressed there - are subject to the disclosure provided by those third parties and are NOT verified, approved or endorsed by the authors of this blog in any way.
Please, do not forget, that we own stocks we are writing about and have position in these companies. We are not providing any investment advice on this blog and there is no solicitation to buy or sell any particular company.