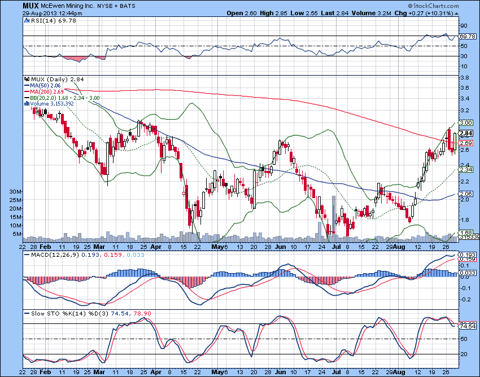 McEwen Mining is strongly Up today - more than 11% on 7 mil shares. With Gold and Silver markets down after recent breakout we can anticipate some news from the company. Rob McEwen was taking about upcoming Los Azules Copper PEA in September and M&A ideas to combine with another Gold Mining company to reach his goal of being included in S&P 500.
"TNR Gold provides even more risky and leveraged special situation play and now depends on Rob McEwen's Midas Touch - company holds 1 million shares of McEwen Mining and have back-in right into the part of Los Azules project. Insiders are accumulating the company shares, holding the majority stake in the company and provided long term debt which has financed Shotgun Gold project 43-101 resource estimate in Alaska this year."
Rob McEwen Shares his Views on Market Conditions and Future of McEwen Gold Mining Projects in Mexico, Argentina and Nevada MUX, TNR.v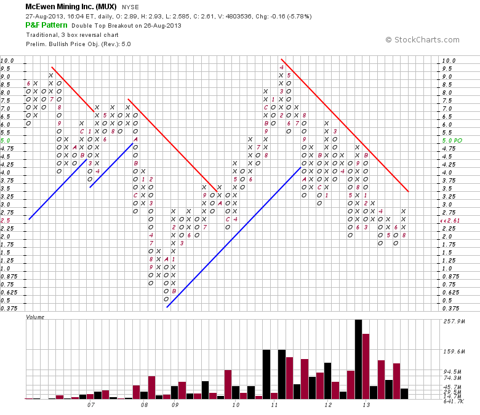 Update 27.08.2013 P&F McEwen Mining Chart has printed $5.00 target price after yesterday Double Top breakout.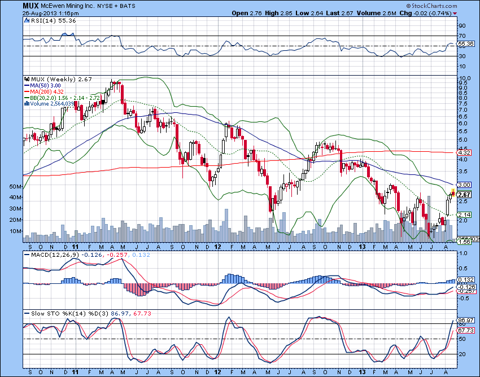 "The whole picture has been set up for the major move in Gold and Silver now. McEwen Mining will enjoy its high leverage to the Gold, Silver and Copper price. Rob McEwen is on the road telling his story and delivering results.
Shorts are busy now covering their 27 million shares Short Position in McEwen Mining as of August 15th, 2013 and it will provide the fuel for the upside breakout."
McEwen Mining Inc.: El Gallo Regional Exploration; Twin Domes Drilling Intersects Significant Near Surface Gold Mineralization MUX, TNR.v
McEwen Mining Q2 Operational Results, Record
Production at Lower Costs MUX, TNR.v
Don Coxe: "The Trend Has Shifted" For Commodities GDX, GDXJ, MUX, TNR.v
"His observations about the changing trend in the commodities are extremely important - he is widely followed by the institutional investment community and they can start to reallocate their assets accordingly. The help to the commodities markets came from the places least expected: China reviving growth and Europe coming out of recession.
This move will be highly beneficial for our darlings: McEwen Mining and TNR Gold with world class Los Azules copper deposit unlocking its value."
Eric Sprott: Gold and Silver Stocks Are In The Bull Market Again GDX, GDXJ, MUX, TNR.v
"Eric Sprott has spell it out for the rest of us: Gold and Silver Stocks Are In The Bull Market Again and Gold to follow. Eric Sprott calls this market situation as the most spectacular in his investment career. His Gold Bull margins calculations and projections for the share prices for Gold and Silver Stocks make our morning bright today."
Rick Rule On Gold & Resources: "The Stage Is Set For An Absolutely Dramatic Recovery" TNR.v, MUX
"To make this dramatic and pleasant for Survivors picture come true we need just one thing - Pros with the money coming into the market, without them it will always be only the wishful thinking. We can see them coming now."
Please Note our New Legal Disclaimer on the Blog, including, but Not limited to:
There are NO Qualified Persons among the authors of this blog as it is defined by NI 43-101, we were NOT able to verify and check any provided information in the articles, news releases or on the links embedded on this blog; you must NOT rely in any sense on any of this information in order to make any resource or value calculation, or attribute any particular value or Price Target to any discussed securities.
We Do Not own any content in the third parties' articles, news releases, videos or on the links embedded on this blog; any opinions - including, but not limited to the resource estimations, valuations, target prices and particular recommendations on any securities expressed there - are subject to the disclosure provided by those third parties and are NOT verified, approved or endorsed by the authors of this blog in any way.
Please, do not forget, that we own stocks we are writing about and have position in these companies. We are not providing any investment advice on this blog and there is no solicitation to buy or sell any particular company.