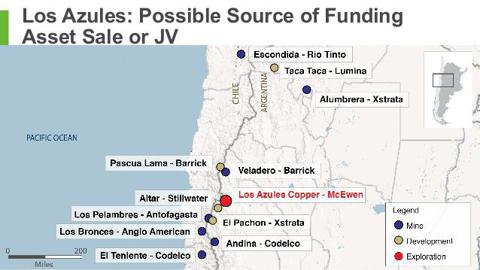 Hopefully something is happening for good in Argentina now in the mining sector. Rob McEwen was talking about some positive developments over there in his latest conference call and it will be the catalyst for McEwen Mining and TNR Gold to realise the value of Los Azules copper project.
New PEA on Los Azules Copper was promised by McEwen Mining to be ready in September and it will allow the investors to properly evaluate this "One Of The Largest Copper Deposits In The World."
Gold M&A: McEwen Mining Files NI 43-101 Technical Report on El Gallo Complex MUX, TNR.v

"We do not believe that this news was the reason behind The Double Volume spike in McEwen Mining on Thursday. We will continue to monitor the situation on who and why was covering short position or maybe even taking the new long position in this company."
McEwen Mining Up 11.7% On 7 Mil Shares, Trading Above 200MA $MUX, $TNR.v

"McEwen Mining is strongly Up today - more than 11% on 7 mil shares. With Gold and Silver markets down after recent breakout we can anticipate some news from the company. Rob McEwen was taking about upcoming Los Azules Copper PEA in September and M&A ideas to combine with another Gold Mining company to reach his goal of being included in S&P 500.
"TNR Gold provides even more risky and leveraged special situation play and now depends on Rob McEwen's Midas Touch - company holds 1 million shares of McEwen Mining and have back-in right into the part of Los Azules project. Insiders are accumulating the company shares, holding the majority stake in the company and provided long term debt which has financed Shotgun Gold project 43-101 resource estimate in Alaska this year."
Rob McEwen Shares his Views on Market Conditions and Future of McEwen Gold Mining Projects in Mexico, Argentina and Nevada MUX, TNR.v
Don Coxe: "The Trend Has Shifted" For Commodities GDX, GDXJ, MUX, TNR.v

"His observations about the changing trend in the commodities are extremely important - he is widely followed by the institutional investment community and they can start to reallocate their assets accordingly. The help to the commodities markets came from the places least expected: China reviving growth and Europe coming out of recession.
This move will be highly beneficial for our darlings: McEwen Mining and TNR Gold with world class Los Azules copper deposit unlocking its value."
Canadian Mining Journal:
Cristina Fernandez de Kirchner, President of the Republic of Argentina, Congratulates Minera IRL for Don Nicolas Project
2013-09-05T05:58:02+00:00
---
LONDON, UNITED KINGDOM and BUENOS AIRES, ARGENTINA--(Marketwired - Sept. 5, 2013) - Minera IRL Limited (TSX:IRL)(AIM:MIRL)(BVLAC:MIRL) ("Minera IRL" or the "Company"), the Latin American gold mining company, is pleased to announce that Cristina Fernández de Kirchner, President of the Republic of Argentina, offered her congratulations and best wishes to the Company on securing financing for the upcoming development of the Don Nicolás Gold Mine in the Province of Santa Cruz, Patagonia.
This meeting took place following a special invitation with Minera IRL representatives in the Presidential Office at the Casa Rosada. Also in attendance were the Minister of Federal Planning, Julio De Vido; the Minister of Industry, Débora Giorgi; the Secretary of Mining, Jorge Mayoral; officers from Santa Cruz Government; representatives from AOMA and ASIJEMIN, organizations representing mining workers, technicians and professionals of the country; and representatives from the Federal Organization of Mining States (OFEMI).
Minera IRL Patagonia President, Dr. Diego Benavides, stated, "The President of Argentina complimented the Company on its work promoting a shared development in Santa Cruz, her home province, through a US$80 million financing from a private Argentinean fund. The Don Nicolas Project will create many new direct and indirect jobs, and the majority of these jobs are expected to be filled from the Santa Cruz workforce. We are also looking forward to working with the communities of Jaramillo and Fitz Roy with whom we signed a 10-year Social License Agreement last year."
As part of the meeting, there was also an emphasis on the Company's commitment to promote technical mining training and to take part in strengthening the imports replacement program that the government is promoting.
Similarly, the Peruvian Ambassador in Argentina, José Luis Pérez Sánchez-Cerro, also recently welcomed Minera IRL representatives and Jorge Mayoral, the Argentinean Secretary of Mining. In this meeting, they highlighted the knowledge and experience of the Company's professionals in gold mining project development and investment that has been demonstrated by the Company at its Peruvian operations.
Minera IRL Limited is the AIM traded, TSX and BVL listed holding company of precious metals mining and exploration companies focused in Latin America. Minera IRL is led by an experienced senior management team with extensive industry experience, particularly operating in South America. The Group operates the Corihuarmi Gold Mine and the advanced gold projects Ollachea in Peru and Don Nicolas in Argentina. For more information, please visit www.minera-irl.com.
The Toronto Stock Exchange neither approves nor disapproves the information contained in this News Release.
Some of the statements contained in this release are forward-looking statements, such as estimates and statements that describe the Company's future plans, objectives or goals, including words to the effect that the Company or management expects a stated condition or result to occur. Since forward-looking statements address future events and conditions, by their very nature, they involve inherent risks and uncertainties.
While these forward-looking statements, and any assumptions upon which they are based, are made in good faith and reflect our current judgment regarding the direction of our business, actual results will almost always vary, sometimes materially, from any estimates, predictions, projections, assumptions or other future performance suggestions herein. Except as required by applicable law or regulation, Minera IRL Limited does not intend to update any forward-looking statements to conform these statements to actual results."