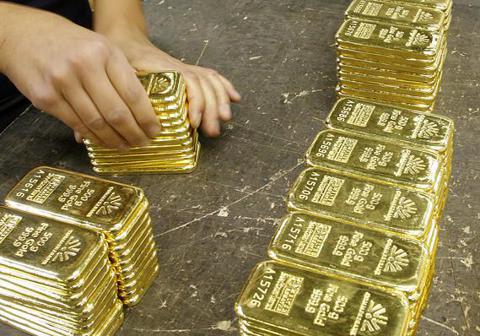 Soon we will find out again who is behind this attack on the Gold today. Among many reasons about this timing the most important is the Bank Run on the Bullion Banks. China is more then happy to buy out all Gold on Sale now.
Now we have reports from Grant Williams and John Hathaway that GLD investors are unable to get the delivery of physical Gold.
Gold Short Squeeze: COMEX Deliverable Gold Bullion Drops To Levels Not Seen Since 2003 - Claims Per Ounce Around 55 GLD, MUX, TNR.v

Jesse has summarised the COMEX explosive situation for us this week. Gold LBMA fractional reserve system is under The Bank Run now.
Big boyz know too well about it and have positioned themselves well in advance before the Syria escalation. We are just wondering: How would they know about it in advance?
And by the way, this is what happened with Gold after 2003: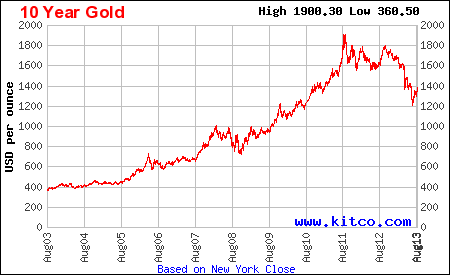 Turd Ferguson: More Evidence That JPM Has Cornered Comex Gold GLD, GDX, GDXJ, MUX, TNR.v

"We continue to build up our puzzle together for The Crime Of The Century - Gold Market Manipulation by the banksters. Planet Ponzi run by the banksters is very cynical in its attempts to push everybody to the worthless FIAT IOUs by all means necessary.
Turd Ferguson provides very interesting findings on the recent events behind the curtain in the gold market and what could happen next.
It appears that the Boyz from Goldman Sachs and JPMorgan know too well where the Real Value is and they were shaking the tree very hard to get out of Gold short positions and accumulate longs from the weak hands in the market place, just before the Syria geopolitical card will be played out."
Guess Which "Bearish" Bank Bought A Record Amount Of GLD In Q2 GLD, GDX, GDXJ, MUX, TNR.v
"Zero Hedge reports what we have already suspected, but now it is the matter of fact and we have the clear answer Who Was Buying. We must be close to that Waking Up Moment Peter Schiff is talking about."
ZeroHedge:
GLD ETF Investors Unable To Get Physical Gold
Today's AM fix was USD 1,340.25, EUR 1,008.54 and GBP 847.46 per ounce.
Yesterday's AM fix was USD 11,365.25, EUR 1,028.98 and GBP 865.73 per ounce.
Gold fell $.20 or .02% yesterday, closing at $1,364.60/oz. Silver rose $0.18 or .78%, closing at $23.14. At 0.11 GMT, Platinum climbed $1.89 or .1% to $1,469.49/oz, while palladium fell $3.04 or .4% to $688.47/oz.
Gold prices fell sharply again just prior to European markets opening, in aggressive selling which saw gold quickly fall from $1,355/oz to $1,343/oz at 0754 GMT. Support at $1,360/oz was breached overnight and gold should now test support at $1,320/oz.

In the event of one of these banks engaging in dodgy accounting, malpractice or becoming insolvent, one would be an unsecured creditor of one or all of the many custodians and sub custodians who are primarily banks.
In the event of a Lehman Brothers style systemic crisis, there is the risk that your bullion would be subject to a "bail-in" or could be nationalised by an insolvent sovereign nation."