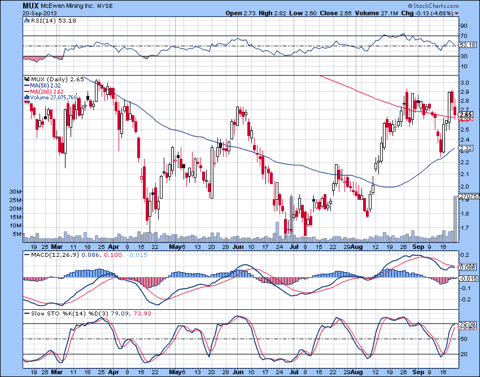 Shorts in McEwen Mining can be in a serious trouble on Monday. The news was released after the market closed on Friday and the addition to NYSE Arca Gold Miners Index is effective by Monday September 23rd. By the end of the trading day all managers tracking this index, including Market Vectors Gold Minex Index GDX will have to add McEwen Mining to its portfolio.
The news was already in the market as we saw a very big volatility and volume on Friday: MUX was trading between 2.82 and 2.60 with close at 2.65 on Volume of more than 27 mil shares. Friday was a down day in miners with Gold down $39.5 to $1325.6, on Monday buying pressure should propel the stock higher, depending on the Gold price action.
Interesting to note that MUX added to GDX and not to GDXJ which tracks junior miners, we are looking forward to further catalyst for this company now with Los Azules PEA coming by the end of this month. Now McEwen mining will have the very wide investment audience to listen to this developing story.
TNR Gold - McEwen Mining New Los Azules Copper PEA Due By End Of September TNR.v, MUX

As we have written extensively before, the coming Catalyst for McEwen Mining and, particularly, for TNR Gold will be the new PEA on Los Azules Copper which is now confirmed to be released by the end of September.
Rick Rule On Gold & Resources: "The Stage Is Set For An Absolutely Dramatic Recovery" TNR.v, MUX
"TNR Gold provides even more risky and leveraged special situation play and now depends on Rob McEwen's Midas Touch - company holds 1 million shares of McEwen Mining and have back-in right into the part of Los Azules project. Insiders are accumulating the company shares, holding the majority stake in the company and provided long term debt which has financed Shotgun Gold project 43-101 resource estimate in Alaska this year."
McEwen Mining:
McEwen Mining Added to NYSE Arca Gold Miners Index

Download this Press Release (PDF 1.26 MB)
TORONTO, ONTARIO--(Marketwired - Sept. 20, 2013) - McEwen Mining Inc. (NYSE:MUX)(TSX:MUX) is pleased to announce that the Company has been included in the NYSE Arca Gold Miners Index (GDM), the preeminent index covering the gold mining industry, which is tracked by the Market Vectors Gold Miners Index ETF (NYSEARCA:GDX). The effective date of the inclusion isSeptember 23, 2013. The Gold Miners Index is comprised of publicly traded companies focused on gold and silver mining around the world.
"McEwen Mining's inclusion in the NYSE Arca Gold Miners Index is recognition of the continued execution of our growth strategy and is an important step towards our goal of qualifying for theS&P 500," statedRob McEwen, Chairman and CEO.
For more information about the NYSE Arca Gold Miners Index please visit:
http://www.nyse.com/about/listed/lcddata.html?ticker=GDM
About McEwen Mining ( www.mcewenmining.com )
The goal of McEwen Mining is to qualify for inclusion in the S&P 500 by creating a high growth gold producer focused in the Americas. McEwen Mining's principal assets consist of the San José mine in Santa Cruz, Argentina (49% interest); the El Gallo 1 mine and El Gallo 2 project inSinaloa, Mexico; the Gold Bar project in Nevada, US; the Los Azules project in San Juan,Argentina and a large portfolio of exploration properties in Argentina, Mexico and Nevada.
McEwen Mining has 297,114,359 shares issued and outstanding at September 13, 2013.Rob McEwen, Chairman and Chief Owner, owns 25% of the shares of the Company (assuming all outstanding Exchangeable Shares are exchanged for an equivalent amount of Common Shares).
CAUTION CONCERNING FORWARD-LOOKING STATEMENTS
This news release contains certain forward-looking statements and information, including "forward-looking statements" within the meaning of the Private Securities Litigation Reform Act of 1995. The forward-looking statements and information expressed, as at the date of this news release, McEwen Mining Inc.'s (the "Company") estimates, forecasts, projections, expectations or beliefs as to future events and results. Forward-looking statements and information are necessarily based upon a number of estimates and assumptions that, while considered reasonable by management, are inherently subject to significant business, economic and competitive uncertainties, risks and contingencies, and there can be no assurance that such statements and information will prove to be accurate. Therefore, actual results and future events could differ materially from those anticipated in such statements and information. Risks and uncertainties that could cause results or future events to differ materially from current expectations expressed or implied by the forward-looking statements and information include, but are not limited to, factors associated with fluctuations in the market price of precious metals, mining industry risks, political, economic, social and security risks associated with foreign operations, risks associated with the construction of mining operations and commencement of production and the projected costs thereof, risks related to litigation, the state of the capital markets, environmental risks and hazards, uncertainty as to calculation of mineral resources and reserves and other risks. Readers should not place undue reliance on forward-looking statements or information included herein, which speak only as of the date hereof. The Company undertakes no obligation to reissue or update forward-looking statements or information as a result of new information or events after the date hereof except as may be required by law. See McEwen Mining's Annual Report on Form 10-K for the fiscal year ended December 31, 2012 and other filings with the Securities and Exchange Commission, under the caption "Risk Factors", for additional information on risks, uncertainties and other factors relating to the forward-looking statements and information regarding the Company. All forward-looking statements and information made in this news release are qualified by this cautionary statement.
The NYSE and TSX have not reviewed and do not accept responsibility for the adequacy or accuracy of the contents of this news release, which has been prepared by management of McEwen Mining Inc.
Contact Information:
McEwen Mining Inc.Sheena ScotlandInvestor Relations
(647) 258-0395 ext 410 or Toll Free: (866) 441-0690
(647) 258-0408 (NYSEMKT:FAX)
McEwen Mining Inc.
Mailing Address
181 Bay Street Suite 4750
Toronto, ON M5J 2T3
PO box 792
info@mcewenmining.com
www.mcewenmining.com
Facebook: www.facebook.com/mcewenrob
Twitter: www.twitter.com/mcewenmining
Please Note our Legal Disclaimer on the Blog, including, but Not limited to:
There are NO Qualified Persons among the authors of this blog as it is defined by NI 43-101, we were NOT able to verify and check any provided information in the articles, news releases or on the links embedded on this blog; you must NOT rely in any sense on any of this information in order to make any resource or value calculation, or attribute any particular value or Price Target to any discussed securities.
We Do Not own any content in the third parties' articles, news releases, videos or on the links embedded on this blog; any opinions - including, but not limited to the resource estimations, valuations, target prices and particular recommendations on any securities expressed there - are subject to the disclosure provided by those third parties and are NOT verified, approved or endorsed by the authors of this blog in any way.
Please, do not forget, that we own stocks we are writing about and have position in these companies. We are not providing any investment advice on this blog and there is no solicitation to buy or sell any particular company.