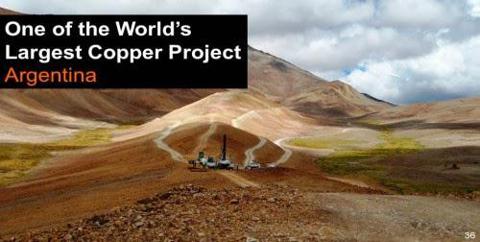 With all doom and gloom surrounding commodities this summer it is easy to miss the big picture. China is still on track of the state level long term plan to secure strategic commodities for its growth. Now we are receiving more confirmation with the news from different fronts in this modern "Art of War": engagement in building of lithium supply, seeking for investments in Gold and Silver with Eric Sprottand now these bidding war for the copper assets in South America. Interesting to note the report from Financial Times that Newmont Mining is looking at the same copper asset as well.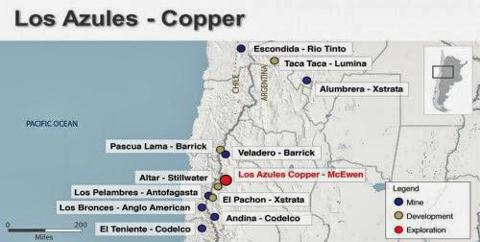 McEwen Mining and TNR Gold will receive more attention now to Los Azules copper project in Argentina. Rob McEwen has just released the new PEA on Los Azules with improved economics in last week of September and we are expecting research notes to be released with new valuations of this project.
Lumina Copper with its Taca Taca copper deposit has received a better market treatment recently and was moving steadily higher with the last print of CAD5.42 on the tape. With elections to be held in Argentina later this month the country risk perception can change dramatically.
Ganfeng Lithium Co. Ltd. Exercises Option On International Lithium Corp.'s Blackstairs Lithium Project, Ireland ILC.v, TNR.v
McEwen Mining & TNR Gold: CIBC Reiterates "Outperform" Rating for Lumina Copper MUX, TNR.v, LCC.v

"Rob McEwen is taking Taca Taca Copper deposit as the proxy for valuation of Los Azules Copper deposit. After recently released by McEwen Mining updated PEA on Los Azules we found it interesting that CIBC has reaffirmed its stock rating for Lumina Copper with CAD15.00 target price. Lumina Copper is trading now at CAD5.00 and this target price will put the valuation of Taca Taca Copper deposit at $650 million. Now you can slice it and dice it with the Mr Market mood.
Any analyst valuation will be the the pie in the sky until Mr Market will confirm it, that is why for us is very important when Insiders are voting with their own money on the valuations. Ross Beaty bought 1 million worth of stock in Lumina Copper this summer.
We are expecting now that analysts will start to put valuations in their research notes on Los Azules Copper after the updated PEA."
The Wall Street Journal:
Chinese Miners Compete for Glencore's Copper Project in Peru
By
PRUDENCE HO
and
YVONNE LEE

HONG KONG-Two of China's biggest mining companies placed bids for Glencore Xstrata GLEN.LN -0.64% PLC's Peruvian copper project, people familiar with the situation said, an unusual case of state-owned firms competing for assets outside the country.
MMG Ltd. 1208.HK -0.58% and Jiangxi Copper Co. 600362.SH +0.25% submitted separate, nonbinding offers for the mine, the people said.
At stake is one of the world's largest copper-mining assets, providing a rare opportunity for the eventual buyer.
The Las Bambas mine, which isn't producing copper yet, will cost an estimated $5.9 billion to complete.
Glencore Xstrata agreed to sell Las Bambas to get approval from China's Commerce Ministry for Glencore International PLC's $44.6 billion acquisition in May of Xstrata PLC.
The ministry also required that China would need to approve the buyer of the Peruvian asset.
The interest in Las Bambas from China, the world's largest copper buyer, underscores Beijing's continued interest in securing supplies of the metal overseas, despite the country's slowing economy.
An 8.4% decline in global copper prices this year has sparked interest from Chinese miners looking to get bargains.
But the competition between state miners for Las Bambas took analysts and bankers by surprise because the Chinese government typically designates a single bidder for overseas assets.
Many bankers had expected Beijing would decide which firm would bid to prevent state companies from competing against each other and keep the price down.
MMG, a unit of Chinese state-owned metal trader China Minmetals Corp., and Jiangxi Copper declined to comment for this article.
Chinalco Mining Corp. International 3668.HK 0.00% had expressed interest in bidding for the mine.
The company, the copper unit of Aluminum Corp. of China, 601600.SH +0.92%couldn't be reached for comment for this article and it wasn't clear whether it had bid for Las Bambas. Chinalco Mining already has a substantial presence in Peru, where the company operates the Toromocho copper mine.
The project is expected to start producing copper in the fourth quarter and reach full capacity in the third quarter of next year.
If a Chinese bid is successful for Las Bambas, the deal would be the country's biggest acquisition of an overseas copper asset.
China imports about 3.4 million tons of refined copper a year and consumes more than 30% of global production.
Chinese miners increasingly are looking abroad to secure resources. China Molybdenum Co. in July agreed to buy Rio Tinto's 80% stake in an Australian copper and gold mine for $820 million.
Glencore Xstrata in May hired BMO Capital Markets Ltd. and Credit Suisse Group AG to advise it on the Las Bambas sale.
Glencore said in September that at least three Chinese groups were expected to bid on the project. Jiangxi Copper, China's biggest copper producer by output, in Augustpublicly expressed its interest in the project.
Glencore said it expects to sign a sale deal by year-end and complete the sale by 2015.
-Alex MacDonald in London contributed to this article.
Write to Prudence Ho at prudence.ho@wsj.com and Yvonne Lee at yvonne.lee@dowjones.com"
Please Note our Legal Disclaimer on the Blog, including, but Not limited to:
There are NO Qualified Persons among the authors of this blog as it is defined by NI 43-101, we were NOT able to verify and check any provided information in the articles, news releases or on the links embedded on this blog; you must NOT rely in any sense on any of this information in order to make any resource or value calculation, or attribute any particular value or Price Target to any discussed securities.
We Do Not own any content in the third parties' articles, news releases, videos or on the links embedded on this blog; any opinions - including, but not limited to the resource estimations, valuations, target prices and particular recommendations on any securities expressed there - are subject to the disclosure provided by those third parties and are NOT verified, approved or endorsed by the authors of this blog in any way.
Please, do not forget, that we own stocks we are writing about and have position in these companies. We are not providing any investment advice on this blog and there is no solicitation to buy or sell any particular company.